Why should you choose Swagmee's Massage at Home Noida Service?
Swagmee is a trusted service provider. This means every massage therapist must meet strict criteria, such as vetting and training. For a full-body massage for men at home, all professionals must be registered. Swagmee is a trusted source for spa professionals. Your safety is guaranteed, and you can enjoy your Thai Massage or other massage for men at home. Even foot reflexologists can be trusted and confirmed.
Service delivery on time:
We understand how valuable your time is. So we ensure that our therapists arrive at your home on time and give your complete attention throughout the service. Then, they leave when the service is finished.
Experienced and well-trained Massage Therapists:
Every massage requires a trained massage therapist, and our massage therapists have at least 3 years of experience in spas. Before being allowed to work with you, they must pass a background check.
Hygiene and cleanup after service:
We pay the utmost care to cleanliness and hygiene. Disposable towels and sheets are provided for one use only. After the service, our therapists clean up the working area.
The Reasons One Should Have a regular spa at home Therapy
Five questions for men who lead a busy life:
Are you suffering from stress? According to research, a simple head and shoulder massage for 30 minutes can instantly relax the brain and calm the nerves.
Are you suffering from any type of body ache? All types of body pain can be relieved by a monthly massage for men at home. A medium-pressure Thai massage, or deep tissue massage, will ease pain in the lower back and shoulders.
Are you a regular exerciser? Massage therapy should be part of your exercise routine. Regular exercise becomes easier and more effective when you have greater flexibility. Massages reduce strain, soreness, and tension in muscles.
Do you face trouble sleeping? You will see results in minutes after a low-pressure aromatherapy massage. Regular massages improve your sleeping patterns. You will feel refreshed and awake after a deep, uninterrupted sleep.
Are you prone to getting sick easily? A regular massage can help boost immunity. A Swedish massage of 45 minutes can increase the levels of protein in the blood, which helps fight disease-causing pathogens.
How to book massage at home for men from Swagmee

Pick a Salon Service:
Select from various packages & services

Choose Your Time-slot:
We are available from 10 am-6 pm

Enjoy a Relaxing Beauty Time:
Our professionals will get in touch with you an hour before the service
This is the process for booking a day of massage at home for men Delhi by Swagmee.
Step1: Go to the Swagmee site on your PC or mobile.
Step 2: Type the Pin Code for your area into the search bar. Then, pick "Head & Body Massage" from the services menu.
Step3: Look through the various body spa services available at home and decide which ones you want to use. The benefits of each service include the type of massage, pressure level, duration, cost, and whether it is low, medium, or high pressure. Swagmee allows you to choose from many available options for body massage at home Gurgaon for men. Prices vary depending on what type of massage at home Noida you choose. For example, a Swedish full-body massage at home for men Delhi may be more costly than other types.
Step4: The benefits of using the services of a Swagmee spa therapist will be displayed on a pop-up display. Click "Book Now" and add it to your shopping basket to book the spa in-home service.
Step 5: After adding the services and paying the minimum amount, click the "proceed to checkout" button.
Step 6: You'll need to register as a new client or log into your existing account.
Step 7: Next, choose the date and time you prefer.
Step 8: Enter the new address to which you would like to receive the body massage for men at home. Or, choose from one of your saved addresses.
Step 9: The Swagmee team will contact you based on your chosen body spa at-home service. They will contact you to confirm your appointment.
Massage For Men at Home Gurgaon, Faridabad, Delhi, Noida, Ghaziabad & Greater Noida Packages
| Name | Service Time | Price |
| --- | --- | --- |
| Swedish Massage - The Muscle Relieving Therapy | 90 Min | ₹1249.00 |
| Relaxing Face Massage - The Face Relaxer | 15 Min | ₹299.00 |
| Deep Tissue Therapy - The Pain Relieving Therapy | 60 Min | ₹999.00 |
| Head Massage - The Calming Therapy | 10 Min | ₹399.00 |
| Neck & Shoulder Massage - The Relaxation Therapy | 20 Min | ₹299.00 |
| CALIX BODY POLISHING | 100 Min | ₹1749.00 |
| Head, Neck, Shoulder & Foot Massage - Premium Relaxation Therapy | 40 Min | ₹569.00 |
| Swedish Massage - The Muscle Relieving Therapy | 60 Min | ₹999.00 |
| Head, Neck & Shoulder Massage - Classic Relaxation Therapy | 40 Min | ₹419.00 |
Featured Blogs On Head & Body Massage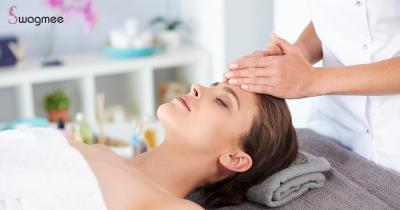 A head massage can provide many benefits, regardless of whether you are using your hands or getting one from an expert. Massages for the head can help ease tension and relieve stress. It can also help ease headache or migraine pain and lower blood pressure. It can also improve blood flow to your neck and head and boost hair growth.
Full body massage is one of the finest ways to give you the utmost pleasure and a state of total relaxation of the body. Swedish & deep tissue massages are the two most popular ones that help in healing muscles stiffness.
One of the most remarkable and relaxing things you can do is a head massage. A head massage can benefit people who suffer from severe stress or headaches. It can also help with tiredness and stress relief. There are many reasons why head massages are essential. Let's take a challenge and discover what head massaging is and how to relax with it.
All About Swagmee Spa Services
Swagmee's Massage services for men Noida offers a full-body, head, or shoulder massage at their convenience. It can be done at any time and on any day. Our male therapists are highly-trained, experienced, and arrive on time, and they are also well-equipped and use high-quality products.
How does massage for men work?
After your booking is confirmed, a male masseuse will arrive at your home on your chosen date and time. A complete spa and massage set will be provided with a portable full-sized massage bed. You can also choose to have your massage on your own bed, as our therapist will be carrying disposable sheets. The therapist will then be able to offer a variety of oils that can be used for the massage, and the therapist will also advise you. The therapist will ask you to identify any pain points or injury areas that should be targeted. After the massage, the therapist will tidy up the room before leaving your home.
What are the various massage treatments Swagmee offers?
Swedish Massage for the Full Body: The Swedish/Classic massage is recommended for beginners. Simple movements or techniques used by therapists include sliding, kneading, rhythmic tapping, friction, and shaking. People seeking pain relief can benefit from Swedish massage.
Deep Tissue Massage for the Full Body: Deep Tissue massage reduces muscle pain and inflammation. Deep Tissue massage can also help heal scar tissue or post-injury scarring at the muscle level. This causes problems in movement, and it certainly helps to eliminate stress from the body!
Foot Reflexology: Although reflexology can be applied to any limb, it is often used to treat the feet. To reduce pain in any area of the body, reflexology applies pressure to specific points on the feet. A foot massage is a great way to relax and get pain relief.
Head, neck, and shoulder massage: The simple 50-minute head, neck, and shoulder massage can help to reduce stiffness. This massage is an excellent choice for working long hours and living sedentary lives.
Difference Between Massage at Spa and Massage at Home
You can relax and unwind with a massage for men in Noida from the comfort of your own home. These massage services for men are available at salons in Delhi and spas at home for Delhi NCR men.
A service that you can do from the comfort of your own home will save you time and energy. It is not easy to travel to a spa or salon. To avoid delays, you need to rush to get to the salon in time to book your appointment and receive the treatment. Once the treatment is over, you will need to return to your house. Swagmee offers massage services for men at home on your preferred date & time. Swagmee customers shared their stories of deep, restful sleep after a Swedish massage service for men at home in Delhi.
With Swagmee, you can enjoy a relaxing massage at home. Spas and salons serve many customers at once, and therapists may be too busy to attend to their clients, or they might rush to finish treatments for other customers. Our experts are not in a rush and only handle a limited number of appointments per day, and they will give you a relaxing massage that isn't rushed.
These reasons make a body spa at home a better choice for Gurugram residents than going to a salon or spa to get a massage.
Customers in Noida also booked
Locations
Sector Chi 5 Gr Noida
Techzone - 4
Sector-4 Gr Noida
Jaypee Greens
Sector-16 Gr Noida
Sector ZETA I Gr Noida
Sector Omicron I Greater Noida
Sector Pi- II Gr Noida
Sector-10 Greater Noida West
Sector Omicron III Greater Noida
Sector Pi- 1 Gr Noida
Sector-2 Gr Noida
Sector MU 2 Greater Noida
Sector-16C Greater Noida
Swaran Nagri
Sector Omega -1 Gr Noida
Sector Chi 4 Gr Noida
Alpha-I Gr Noida
Sigma IV
Eta II
NRI City
Surajpur
Sector Chi 3 Gr Noida
Alpha-II Gr Noida
Ecotech III
Sector Phi ll Gr Noida
Sector-Pi Gr Noida
Site C Gr Noida
Sector ZETA Gr Noida
Sector Mu Gr Noida
Pari Chowk
Beta 2 Gr Noida
Sector Phi IV Greater Noida
Gurjinder Vihar
Sector-27 Greater Noida
Site B Gr Noida
Chi - Phi
Beta 1 Gr Noida
Surajpur Industrial Area
Omicron sector Gr Noida
Knowledge Park V
Omega II Gr Noida
Sector 17A
Delta II Gr Noida
Golf Course
Ecotech I
Eta Sector Gr Noida
Gamma II Gr Noida
Jalvayu Vihar
Sector-P 4 Gr Noida
Knowledge Park III
Sector Xu-I Gr Noida
Sector MU I Greater Noida
Sector Omicron 1A Greater Noida
Dankaur
Sector-22D Yamuna Expressway
Sector-4 Greater Noida West
Sector-128 Noida
Sector-78 Noida
Sector-62 Noida
Sector-93 B Noida
Sector-100 Noida
Sector-61 Noida
Sector-76 Noida
Sector-93 A Noida
Sector-45 Noida
Sector-110 Noida
Sector-120 Noida
Sector-144 Noida
Sector-151 Noida
Sector-70 Noida
Sector-93 Noida
Sector-119 Noida
Sector-104 Noida
Sector-25 Noida
Sector-44 Noida
Sector-52 Noida
Sector-108 Noida
Sector-94 Noida
Sector-43 Noida
Sector-129 Noida
Sector-124 Noida
Chhalera
Sector-53 Noida
Sector-73 Noida
Sector-152 Noida
Sector-28 Noida
Sector-117 Noida
Sector-71 Noida
Sector-135 Noida
Sector-133 Noida
Sarfabad Village
Sector-51 Noida
Hajipur
Sector-49 Noida
Sector-30 Noida
Sector-99 Noida
Block F Sector-50 Noida
Arun Vihar
Sector-92 Noida
Sector-32 Noida
Sector-15A Noida
Sector-16B Noida
Sector-36 Noida
Sector-48 Noida
Sector-42 Noida
Sector-105 Noida
Sector-22 Noida
Sector-33 Noida
Sector-126 Noida
Sector-106 Noida
Baraula
Sector 86 Faridabad
Sector 88 Faridabad
Sector 82 Faridabad
Sector 84 Faridabad
Sector 77 Faridabad
Sector 78 Faridabad
Sector 80 Faridabad
Sector 75 Faridabad
Sector 70 Faridabad
Suraj Kund
Sector 81 Faridabad
Sector 89 Faridabad
Sector 21C Faridabad
Sector 87 Faridabad
Sector 76 Faridabad
Sector 48 Faridabad
Sector 72 Faridabad
Charmwood Village
Sector 43 Faridabad
Sector 46 Faridabad
Sector 45 Faridabad
Sector-143 Faridabad
Sector 41 Faridabad
Sector 21D Faridabad
Sector 3 Faridabad
Sector 79 Faridabad
Sector 42 Faridabad
Sector 63
Sector 37 Faridabad
Sector 2 Faridabad
Sainik Colony
Sector 65 Faridabad
Sector 64 Faridabad
Ashoka Enclave
Sector 21 Faridabad
BPTP
Sector 19 Faridabad
Sector 57 Faridabad
Aravali Vihar
Sector 16A Faridabad
sector 10 Faridabad
Mathura Road
Sector 29 Faridabad
Sector 30 Faridabad
Sector 91 Faridabad
Sector 49 Faridabad
Green Valley
Sector 52 Faridabad
Sector-56A Faridabad
Ankhir
Ashoka Enclave Part-I
Lakkarpur
Shiv Colony
Rajendra Colony
Bathola
Raj Nagar Extension
Vaibhav Khand
Siddhartha Vihar
Crossing Republik
Ahinsa Khand 1
Ahinsa Khand 2
Bhopura
Ramprastha Greens
Sector-1 Vaishali
Sector-4 Vaishali
Shalimar garden
Judges Enclave
Ankur Vihar
Govind Puram
Sector-5 Vaishali
Lal Kuan
Kaushambi
Sector-3 Vaishali
Nyay Khand 1
Mehrauli
Sahibabad
Sector-15 Vasundhara
Pratap Vihar
Sector-3 Vasundhara
Wave City
Sector-9 Vaishali
Dundahera
Shahpur Bamheta
Shalimar Garden Extension I
Kamma 1
Shalimar Garden Extension II
Mohan Nagar
Sector-14 Vasundhara
Madhuban Bapudham
Ramprastha
Sector-17 Vasundhara
Sector-2 Vaishali
Loni
Nyay Khand 2
Sector-5 Vasundhara
Niti Khand 1
Bamheta
Sector-18 Vasundhara
Sector-23 Sanjay Nagar
Niti Khand 3
Dilshad Plaza
Nehru Nagar III
Sain Vihar
Chander Nagar
Avantika Colony
Gyan Khand 3
Kinauni Village
Sector 2B Vasundhara
Sector-5 Rajendra Nagar
Raj Nagar
Chiranjeev Vihar
Surya Nagar
Gyan Khand 2
Bhuapur
Sector-13 Vasundhara
Sector-4 Vasundhara
Anand Vihar
Abhay Khand 3
Abhay Khand 2
Tronica City
Delhi Ghaziabad Road
Wazirabad
Shakti Khand 3
Shakti Khand 2
Chipiyana Buzurg
Vaishali Extension
Neelmani Colony
Rampuri
Sector-6 Vaishali
Sehani Khurd
Sector-11 Vasundhara
Sector 4B Vasundhara
Sector 6 Vasundhara
Sector-2 Rajendra Nagar
Sector 4A Vasundhara
Sector-4C Vasundhara
Nyay Khand III
Sector-12 Pratap Vihar
Gangapuram
Sector-7 Vaishali
Kavi Nagar
Brij Vihar
G T Road
Shastri Nagar
Nandgram
Lajpat Nagar - Ghaziabad
Dadri
Gandhi Nagar
Sanjay Nagar
Gyan Khand 1
Sector-65 Gurgaon
Sector-102 Gurgaon
Sector-109 Gurgaon
Sector-81 Gurgaon
Sector-84 Gurgaon
Sector-83 Gurgaon
Sector-86 Gurgaon
Sector-69 Gurgaon
Sector-108 Gurgaon
Sohna
Sector-90 Gurgaon
Sector-104 Gurgaon
Sector-54 Gurgaon
Sector-79 Gurgaon
Sector-56 Gurgaon
Sector-37D Gurgaon
Sector-85 Gurgaon
Sector-70A Gurgaon
Sector-92 Gurgaon
Sector-82 Gurgaon
Sector-67 Gurgaon
Sector-48 Gurgaon
Sector-68 Gurgaon
Sector-49 Gurgaon
Sector-66 Gurgaon
Nirvana Country
Sector-62 Gurgaon
Sector-59 Gurgaon
Sector-77 Gurgaon
Sector-91 Gurgaon
Sector-106 Gurgaon
Sector-70 Gurgaon
Sector-113 Gurgaon
Sector-72 Gurgaon
Sector-103 Gurgaon
Sector-112 Gurgaon
DLF CITY PHASE 5
Sector-107 Gurgaon
Sector-61 Gurgaon
Sector-60 Gurgaon
Sector-82A Gurgaon
Sector-47 Gurgaon
Sector-110 Gurgaon
Sector-89 Gurgaon
Sector-99 Gurgaon
Sector-95 Gurgaon
Sector-88A Gurgaon
Gwal Pahari
Sector-71 Gurgaon
Sector-37C Gurgaon
Sector-111 Gurgaon
Sector-52 Gurgaon
Sector-50 Gurgaon
Sector-53 Gurgaon
DLF CITY PHASE 2
DLF CITY PHASE 4
Sector-22 Gurgaon
Sector-93 Gurgaon
Sector-110 A Gurgaon
Sector-57 Gurgaon
Palam Vihar
Sushant Lok Phase - 1
Sector-42 Gurgaon
Sector-67A Gurgaon
Sector-33 Gurgaon
Sector-28 Gurgaon
Sector-43 Gurgaon
Sector-30 Gurgaon
sector-58 Gurgaon
DLF CITY PHASE 1
DLF CITY PHASE 3
Sector-36A Gurgaon
Sector-51 Gurgaon
Sector-78 Gurgaon
Sector-99A Gurgaon
Sector-3 Gurgaon
Sector-63 Gurgaon
Sector-55 Gurgaon
MG Road
Sector-31 Gurgaon
Sector-63A Gurgaon
Sector-76 Gurgaon
Sector-74 Gurgaon
Sector-41 Gurgaon
Sun City
Sector-2 Gurgaon
Sector-45 Gurgaon
Sector-37 Gurgaon
Sector-73 Gurgaon
South City 1
Sector-10A Gurgaon
Sector-95A Gurgaon
Ardee City
Sector-89 A Gurgaon
Chakkarpur
Sector-1A IMT Manesar
B.K Dutt Colony
S.D.A
Sarita Vihar
Saket
Sector-D Vasant Kunj
Sector-E Vasant Kunj
Alaknanda
Chattarpur Enclave Phase 2
Jasola
Kishangarh Village
Okhla
Kalkaji Extension
Sector-B Vasant Kunj
Kalkaji
Defence Colony
Sector-C Vasant Kunj
Chattarpur Extension
Munirka
Sheikh Sarai
Malviya Nagar
Khirki Extension
Vasant Vihar
Neb Sarai
Greater Kailash II
Sector-A Vasant Kunj
Hauz Khas
Devli
Safdarjung Enclave
East of Kailash
Khanpur
Phase-2 Sheikh Sarai
Tughlakabad Extension
Shaheen Bagh
C R Park
Jamia Nagar
Gautam Nagar
Sultanpur
Rajpur Khurd Extension
Sukhdev Vihar
Lado Sarai
Vijay Mandal Enclave
Green Park Extension
Kapashera
Kalu Sarai
Pulpehladpur
Ghitorni
Masjid moth
Panchsheel Enclave
Gulmohar Enclave
Mandi
Lajpat Nagar II
Abul Fazal Enclave I
Zakir Nagar
Dera Mandi
Satbari
Green Park Main
Arjun Nagar
Geetanjali Enclave
IGNOU Road
Badarpur
Jogabai
Munirka Vihar
Lajpat Nagar
New Friends Colony
Gulmohar park
Govind Puri
Kailash Colony
Mahipalpur
Aaya Nagar
Gangotri Enclave
Aurangzeb Road
Gadaipur
Giri Nagar
Sunlight Colony
Arjun Garh
Katwaria Sarai
Ashram
Sriniwas Puri
Shahpur Jat
Freedom Fighter Enclave
Madangir
Pocket A Sarita Vihar
Ghaffar Manzil Colony
Rajpur Khurd
Rangpuri
New Manglapuri
Neeti Bagh
Okhla Phase 1
Mahipalpur Extension
Okhla Vihar
Jaitpur Extension
Safdarjung
Green Park
Westend
Moti Nagar
Janakpuri
Rajouri garden
Hari Nagar
Lok Nayak Puram
Mahavir Enclave
Mohan Garden
Palam Colony
Nawada
Punjabi Bagh
DG 2 Block Vikaspuri
West Patel Nagar
Om Vihar
D Block Vikaspuri
Bakkarwala
Bodella
Uttam Nagar West
Tilak Nagar
Hastsal
Kirti Nagar
Peeragarhi
Karampura
Vishnu Garden
F Block Vikaspuri
Patel Nagar
Paschim Puri
Mundka
J Block Vikaspuri
Mansa Ram Park
Uttam Nagar East
Naraina
Meera Bagh
Narain Vihar
G Block Vikaspuri
Ganesh Nagar
New Moti Nagar
Punjabi Bagh West
Rajouri Garden Extension
Rajapuri
Nanhey Park
Najafgarh
Raja garden
Virender Nagar
Madipur
Mianwali Nagar
A6 Block Paschim Vihar
A Block Vikaspuri
Ashok Nagar
Tagore Garden Extension
Sainik Nagar
Ajay Enclave
Param Puri
Ramesh Nagar
Lajwanti Garden
Old Rajinder Nagar
Subhash Nagar
Nangloi
New Rohtak Road
Shyam Vihar - I
Sunder Vihar
A2 Block Paschim Vihar
A3 Block Paschim Vihar
H Block Vikaspuri
A1 Block Janakpuri
Ranjit Nagar
Chand Nagar
Chanakya Place I
Manglapuri
New Uttam Nagar
Mansarovar garden
Jail Road
Tagore Garden
Inderpuri
Ambica Vihar
Najafgarh Road
Pusa Institute
Baljeet Nagar
Ranjeet Nagar
Shivaji Marg Phase I
A1 Block Paschim Vihar
A4 Block Paschim Vihar
A5 Block Paschim Vihar
B3 Block Paschim Vihar
B5 Block Paschim Vihar
Krishna Park
A2 Block Janakpuri
B1 Block Janakpuri
B 3B Block Janakpuri
C1 A Block Janakpuri
Punjabi Bagh East
Guru Nanak Nagar
Jaidev Park
Sagarpur East
Keshopur
Mahavir Nagar New
Sector-13 Rohini
Sector-28 Rohini
Sector-29 Rohini
Sector-34 Rohini
Sector-14 Rohini
Sector-18 Rohini
Shalimar Bagh
Narela
Sector-15 Rohini
Keshav Puram
Burari
Sector-8 Rohini
Sector-35 Rohini
Jahangir Puri
Ashok Vihar
Sector-23 Rohini
Ashok Vihar Phase-1
Sector-16 Rohini
Ashok Vihar Phase-4
AC Block Shalimar Bagh
Siraspur
West Shalimar Bagh
Sector-A9 Narela
Sector-7 Rohini
Sector-17 Rohini
Sector-3 Rohini
Mukherjee Nagar
Prashant Vihar
Gulabi Bagh
Loknayak Puram
Sector-11 Rohini
Ashok Vihar Phase-2
Uttari Pitampura
Rampura
Civil Lines
Sector-19 Rohini
Ashok Vihar Phase-3
AD Block Shalimar Bagh
Sector-A5 Narela
Lawrance Road
Sector-5 Rohini
Azadpur
Bawana
Sector-2 Rohini
Sector-6 Rohini
Sector-21 Rohini
Model Town Phase-3
Poorvi Pitampura
Dakshini Pitampura
Timar Pur
Rithala
Sector-20 Rohini
Sector-22 Rohini
AN Block Shalimar Bagh
DA Block West Shalimar Bagh
AD Block Pitampura
Sector-A10 Narela
Vijay Nagar
Engineer Enclave
Kapil Vihar
Nirankari Colony
Harsh Vihar
East Shalimar Bagh
BW Block West Shalimar Bagh
Mohammadpur Majri
Sainik Vihar
Vijay Vihar
West Enclave
Baba Colony
Rana Partap Bagh
Kamal Pur
Kamla Nagar
Shakti Nagar
Saraswati Vihar
Sant Nagar
Malka Ganj
Kohat Enclave
Jawahar Nagar
Kalyan Vihar
Tri Nagar
Shivaji Marg
Derawal Nagar
Maharana Pratap Enclave
Sector-1 Rohini
Sector-4 Rohini
Sector-25 Rohini
Vaishali
CA Block West Shalimar Bagh
Adarsh Nagar Extension
Indira Nagar
JJ Colony Wazirpur
Sector-A6 Narela
Sector-B4 Narela
Old Gupta Colony
Mayur Vihar - II
Patparganj
Vasundhra Enclave
Akshardham
Mayur Vihar - III
Dilshad Colony
Kondli Gharoli
Laxmi Nagar
GTB Enclave
KarKardooma
Gazipur
Geeta Colony
Chilla
Krishna Nagar
Mansarovar Park
West Vinod Nagar
Pandav Nagar
New Ashok Nagar
New Kondli
Shakarpur
Mandawali
Kondli
Sunder Nagari
Yamuna Vihar
Guru Angad Nagar
Vishwas Nagar
Shreshtha Vihar
Jhilmil Colony
Jyoti Nagar West
Naveen Shahdara
Ram Nagar
Paryatan Vihar
IP Enclave
Vivek Vihar
Bhajanpura
Vinod Nagar
Jagatpuri
Dayanand Vihar
Chander Vihar
Swasthya Vihar
Nirman Vihar
Bank Enclave
Gorakh Park West
Guru Angad Nagar West
Joshi Colony
Kabool nagar
Maujpur
New Modern Shahdara
Rajgarh Colony
Rohitash Nagar West
Shashi Garden
Shastri Park
Vivek Vihar Phase I
Babarpur Village
Bhola Nath Nagar
Trilokpuri
Madhu Vihar
Ram Nagar Extension
Lalita Park
DaryaGanj
Prasad Nagar
Connaught Place
Motia Khan
Janpath
Paharganj
Tilak Marg
Rajinder Nagar
Old Rajender Nagar
Rajendra Place
Sadar Bazar
Amrita Shergill Marg
Kishan Ganj
Dev Nagar
Nizamuddin West
Sector-11 Dwarka
Sector-22 Dwarka
Sector-5 Dwarka
Sector-19 Dwarka
Sector-18A Dwarka
Sector-7 Dwarka
Sector-23 Dwarka
Sector-9 Dwarka
Sector-13 Dwarka
Sector-3 Dwarka
Sector-2 Dwarka
Sector-14 Dwarka
Sector-18B Dwarka
Sector-17 Dwarka
Sector-19B Dwarka
Sector-1 Dwarka
Sector-23B Dwarka
Sector-18 Dwarka
Sector-16B Dwarka
Palam
Sector-26 Dwarka
Pocket-1 Sector 6 Dwarka
Palam Extension
Sector-8 Dwarka
Kakrola
Nasirpur
Sector-16 Dwarka
Sector-27 Dwarka
Sector-1A Dwarka
Bijwasan
Bindapur
Raj Nagar I
Pocket-2 Sector 6 Dwarka
Patel Garden
Sewak Park
Bharthal
Sector-15 Dwarka
Suraj Vihar
Bamnoli
L Zone
Are you a professional massage therapist looking for customers?
Collaborations that work well produce great products, excellent services and create lasting relationships. We are eager to meet with you, learn more about your abilities, and create something amazing together.
Click on the " Join Now " button to start your journey.
Customer Questions & Answers
Question:
How long will the benefits of waxing last?
Answer:
The benefit of waxing is you'll remain completely free of hair for a minimum of two weeks following your appointment.
By Adil Khan on 27 February, 2022
Customer Testimonials

Excellent Massage! The masseuse was perfect & friendly- he was able to address all my body pains and created an overall ambience that was relaxing & calming—highly recommended!

My experience with Swagmee has always been wonderful.

It was my first experience with deep tissue massage, and the massage expert by Swagmee made sure that I will remember it forever.

The massage therapist was an expert in his field, knew each & everything about the pressure points of my body. Felt completely relaxed after the massage treatment.
Swagmee FAQ'S
How much is an at-home massage treatment beneficial for me?
Massage can be an effective relaxation tool, but it can also provide a significant health benefit. It can be much simpler to relax at home than to travel to another place for a massage.
How often should I get a full body massage for men at home in Delhi?
Your financial budget and emotional stress are two factors that influence the frequency of your massage sessions. More sessions will bring you more benefits.
Do I need to shower after a massage?
After a massage, a relaxing hot (not cold) bath will enhance the benefits and allow your body to relax fully. To help you relax fully, we recommend you take a hot bath.
What about my phone?
Although it is possible, we recommend against it as it will distract you from the purpose of your spa visit.
What is the space required for a body massaging at home in Noida ?
An expert will need at least 6 feet by 10 feet to move comfortably.
Are massages quieter than usual?
It's entirely up to you! We are open to talking throughout the session.
Is it safe to get a massage after a physical training session?
An oil massage is an excellent option at this time. Massages can help relax the body and flush out lactic acids from your muscles.
Which regions are you covering?
We offer massage services for men at home in Delhi, Noida, Gurugram, Faridabad, Greater Noida, Noida, and Ghaziabad.
What happens when muscles are massaged?
Massage therapy relaxes muscles, which decreases pain and muscle spasms.
Do I need to shave my legs before a massage?
Shaving is a good idea, but it should be done at least four hours before your appointment.
What is the best way for massage therapists to know where knots are located?
Massage therapists can sense where tension occurs by looking at the neck, back, and shoulders. This allows them to release tension by using deep compression with their thumbs, fingers, elbow, and elbow. They can hold the pressure for between 20-30 seconds.
Does it make sense to fall asleep while receiving a massage?
Even if the client is asleep, a therapist can still give a quality massage, and it's not rude or insulting. The therapist actually feels complimented if you fall asleep through a massage.
What's the popping sensation during a massage?
The body becomes more capable of flushing out toxins by breaking down the accumulated waste. This feeling can make some clients feel uncomfortable, and others may describe it as good pain, as they immediately feel better.
How is a massage good for men?
Massage Therapy helps relax tired muscles and promotes healing, so the quality of work does not suffer. Massage Therapy can also help prevent injury in those involved in sports.
What is the cost of your Swedish Massage therapy?
Our Swedish Massage therapy starts at Rs. 969.
Do you have a male or a female Therapist?
Our team includes both male and female therapists who are skilled and certified. A female therapist will provide massage services for women, while male therapists will help with men.
Can I Get a Massage After an Injury?
Consult your doctor before you book any massage therapy if you have suffered an injury in the recent past.
Does massage actually work?
Massage has real psychological and physical benefits.
What time does a full-body massage take?
The full body massage takes about 60 minutes to complete.
When is the best time to massage?
Schedule your massage for a time when you have fewer things to do. This will ensure that you get the most out of your massage. Depending on what works best for you, you can have your massage before you report to work in the morning, during lunch break, or evening.