What makes our Facial Cleanup Services For Men unique at Noida, Greater Noida, Delhi, Faridabad, Gurugram, and Ghaziabad
Do you think your skin has lost its radiance? Do you worry about how your tan may affect your appearance? You should be familiar with cleaning and facials. The good news is that Swagmee has figured out how to give yourself a facial at home. We can put you in touch with the greatest professionals with years of experience who can provide you with a variety of facial treatment alternatives.
To maintain the beauty and radiance of their skin, we feel that every man should get a monthly facial and visit for regular clean-ups. Only recognized and certified facial specialists are sent to your home. Massages, facial masks, scrubs, peels, and other skin treatments are available from our trained professionals.
Here is the reason why Swagmee at-home beauty services are a good option for you.
Reduce Time Spent On Skin Maintenance
It's reasonable to feel like you can't book an appointment, or go to the salon, stand for hours, and get your hair and makeup done in today's fast-paced world! If this is the case, Swagmee is most likely the best choice for you.
Swagmee is a big blessing in our hurried lives, especially in large cities, when everyone is busy and has nothing to do. All you have to do is go to our website and tell us you want a soothing facial at home, and we'll send a beauty expert to your door at the time you specify. Our entire high-quality service is distinguished by the convenience with which you may use it.
Various Beauty Packages
The Swagmee team is made up of highly qualified individuals with years of experience. They understand what they're doing and the advantages of various packages. At Swagmee, you may choose from a variety of effective facial treatments. If you're searching for a unique facial, choose the Radiance facial, which includes under-eye treatments and cleansers for both dry and oily skin types.
Sit back with a chilled smoothie and tell our experts what you're searching for, and they'll recommend the best options for you. All from the convenience of your home! What could be better than a home makeover, right?
Beauty Services At Doorstep Through One Call
Consider the effort, energy, and time spent traveling through congested streets to reach your spa. We understand how you feel! As a result, having our facials and cleansing treatments at home will help you avoid making unnecessary compromises. Be confident that your facial will not be costly, and that you will leave with nothing but appreciation for the high quality of service you received.
Are you seeking a personalized face treatment at a convenient location and time? Pick up your phone and call us to schedule a facial appointment at your home.
Hows It Works

Pick a Salon Service:
Select from various packages & services

Choose Your Time-slot:
We are available from 10 am-6 pm

Enjoy a Relaxing Beauty Time:
Our professionals will get in touch with you an hour before the service
This is the procedure for booking the Facial & Cleanup For Men At Home Greater Noida package by Swagmee.
Step1: On your Pc or mobile device, visit the Swagmee website.
Step 2: In the search bar, enter your area's pin code. Then, from the service menu, select "men's facial clean up at home service."
Step3: Look over the variety of men's facial clean up at home services on the menu and select which one you want to go with. The benefits of each service include the type of service, duration, and price. Swagmee also allows you to select from a variety of options for men's facial treatment at home in Greater Noida. Prices may differ depending on the type of facial & cleanup for men at home Greater Noida you select. You can also select the facial & cleanup services individually as per your requirement. For example, you can select the o3+ Dermomelan Anti-ageing Facial for men at home Delhi or you can choose the VLCC Tightening Cleanup for men at home Faridabad.
Step4: A pop-up banner shows the benefits of Swagmee's men's facial & cleanup at home service. To book your appointment for the facial & cleanup for men at home, Click the "Book Now" option and add it to your cart.
Step 5: You will either register yourself as a new customer or login into your existing account.
Step 6: After you've selected the services and select a date and time that is comfortable for you.
Step 7: Select the mode of your payment and proceed.
Step 8: Enter the address where you want the facial & cleanup for men at home Faridabad to be delivered. Alternatively, select one of your already saved addresses.
Step 9: After that, select "proceed to checkout."
Step 10: The Swagmee team will contact you to assist with your chosen men's facial cleanup at home. They'll contact you to confirm your appointment for a facial & cleanup for men at home in, Faridabad, Gurgaon, Delhi, Noida, Ghaziabad, and Greater Noida.
Facial
| Name | Service Time | Price |
| --- | --- | --- |
| O3+ Bridal Groom Facial | 100 Min | ₹1699.00 |
| Vedic Line Bio White Facial (For Dry Skin) | 60 Min | ₹799.00 |
| VLCC Anti-tan Facial | 60 Min | ₹499.00 |
| Lotus Radiant Golden Glow Facial | 60 Min | ₹660.00 |
| O3+ Shine & Glow Facial | 70 Min | ₹1399.00 |
| Vedic Line Bio White Facial (For Oily Skin) | 60 Min | ₹799.00 |
| VLCC Tightening Facial | 60 Min | ₹499.00 |
| Lotus Radiant Pearl Facial | 60 Min | ₹620.00 |
| Cheryl's Tan Clear Facial | 60 Min | ₹699.00 |
| Vedic Line Moroccan Argan Oil Facial | 60 Min | ₹699.00 |
| O3+ Dermomelan Anti-ageing Facial | 60 Min | ₹1199.00 |
| Cheryl's Glo Vite Facial Kit | 60 Min | ₹699.00 |
| VLCC Fruit Facial | 60 Min | ₹499.00 |
| Sara Gold Facial | 60 Min | ₹720.00 |
Clean Up
| Name | Service Time | Price |
| --- | --- | --- |
| VLCC Tightening Cleanup | 40 Min | ₹399.00 |
| O3+ D-tan Cleanup | 30 Min | ₹699.00 |
| VLCC Fruit Cleanup | 40 Min | ₹399.00 |
| O3+ Pore Cleanup | 30 Min | ₹699.00 |
| VLCC Anti-tan Cleanup | 40 Min | ₹399.00 |
Featured Blogs On Face Cleansing At Home
A facial treatment can help you get a more attractive skin. It also helps to cleanse and regenerate your skin which helps to make it healthier. In addition to improving the appearance that your face has, the correct kind of facial could also remove specific skin issues and flaws, such as wrinkles, acne and age spots.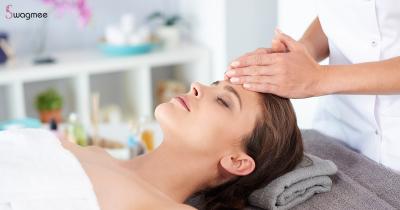 The skin needs to be looked after regularly. Even if you do visit a salon or contact a home salon often, it's not enough to replace the regular face clean up at home regime which you can perform. Cleaning your face at home will keep your face soft and naturally healthy.
Do you also think getting a facial is a little too fussy for the likes of your manly skin? Then think again!! Skin damage caused by your shaving routine cannot be repaired with ordinary soap and water. Guys, perhaps more than women, require facials due to their coarser skin and wider pores. Still not persuaded? Read this blog to get an idea about it.
All About Swagmee
Swagmee provides you with the top professional in the field of the beauty industry in Delhi/NCR. At your convenience, our beauty experts will provide you with the most effective cleansing face treatment. What exactly are you waiting for? Contact us on Swagmee right now! A facial is a quick and easy way to exfoliate, hydrate, and nourish your skin. Facials are among the best treatments for your skin, and we also provide face cleaning. Pick up your phone and join us to experience the best hospitality with our professional team of beauticians in the comfort of your home.
Here are a few reasons to employ our well-certified beauty professionals
All beauticians are well certified & hygienic.
Beauty specialists provide at-home services.
Top-class beauty services at a reasonable price.
Effective & efficient beauty services.
Premium-grade beauty products & tools.
Much More Than Facial & Clean up For Men
Swagmee is one complete solution for all of your beauty salon requirements. Aside from facials, we also provide other beauty services such as manicures and pedicures, hair care, pre-bridal services, body polishing, and much more. If you want to achieve your beautiful hair goals or have a smooth and stunning body, contact us immediately and we'll take care of the rest.
Customers in Noida also booked
Locations
Sector Chi 5 Gr Noida
Techzone - 4
Sector-4 Gr Noida
Jaypee Greens
Sector-16 Gr Noida
Sector ZETA I Gr Noida
Sector Omicron I Greater Noida
Sector Pi- II Gr Noida
Sector-10 Greater Noida West
Sector Omicron III Greater Noida
Sector Pi- 1 Gr Noida
Sector-2 Gr Noida
Sector MU 2 Greater Noida
Sector-16C Greater Noida
Swaran Nagri
Sector Omega -1 Gr Noida
Sector Chi 4 Gr Noida
Alpha-I Gr Noida
Sigma IV
Eta II
NRI City
Surajpur
Sector Chi 3 Gr Noida
Alpha-II Gr Noida
Ecotech III
Sector Phi ll Gr Noida
Sector-Pi Gr Noida
Site C Gr Noida
Sector ZETA Gr Noida
Sector Mu Gr Noida
Pari Chowk
Beta 2 Gr Noida
Sector Phi IV Greater Noida
Gurjinder Vihar
Sector-27 Greater Noida
Site B Gr Noida
Chi - Phi
Beta 1 Gr Noida
Surajpur Industrial Area
Omicron sector Gr Noida
Knowledge Park V
Omega II Gr Noida
Sector 17A
Delta II Gr Noida
Golf Course
Ecotech I
Eta Sector Gr Noida
Gamma II Gr Noida
Jalvayu Vihar
Sector-P 4 Gr Noida
Knowledge Park III
Sector Xu-I Gr Noida
Sector MU I Greater Noida
Sector Omicron 1A Greater Noida
Dankaur
Sector-22D Yamuna Expressway
Sector-4 Greater Noida West
Sector-128 Noida
Sector-78 Noida
Sector-62 Noida
Sector-93 B Noida
Sector-100 Noida
Sector-61 Noida
Sector-76 Noida
Sector-93 A Noida
Sector-45 Noida
Sector-110 Noida
Sector-120 Noida
Sector-144 Noida
Sector-151 Noida
Sector-70 Noida
Sector-93 Noida
Sector-119 Noida
Sector-104 Noida
Sector-25 Noida
Sector-44 Noida
Sector-52 Noida
Sector-108 Noida
Sector-94 Noida
Sector-43 Noida
Sector-129 Noida
Sector-124 Noida
Chhalera
Sector-53 Noida
Sector-73 Noida
Sector-152 Noida
Sector-28 Noida
Sector-117 Noida
Sector-71 Noida
Sector-135 Noida
Sector-133 Noida
Sarfabad Village
Sector-51 Noida
Hajipur
Sector-49 Noida
Sector-30 Noida
Sector-99 Noida
Block F Sector-50 Noida
Arun Vihar
Sector-92 Noida
Sector-32 Noida
Sector-15A Noida
Sector-16B Noida
Sector-36 Noida
Sector-48 Noida
Sector-42 Noida
Sector-105 Noida
Sector-22 Noida
Sector-33 Noida
Sector-126 Noida
Sector-106 Noida
Baraula
Sector 86 Faridabad
Sector 88 Faridabad
Sector 82 Faridabad
Sector 84 Faridabad
Sector 77 Faridabad
Sector 78 Faridabad
Sector 80 Faridabad
Sector 75 Faridabad
Sector 70 Faridabad
Suraj Kund
Sector 81 Faridabad
Sector 89 Faridabad
Sector 21C Faridabad
Sector 87 Faridabad
Sector 76 Faridabad
Sector 48 Faridabad
Sector 72 Faridabad
Charmwood Village
Sector 43 Faridabad
Sector 46 Faridabad
Sector 45 Faridabad
Sector-143 Faridabad
Sector 41 Faridabad
Sector 21D Faridabad
Sector 3 Faridabad
Sector 79 Faridabad
Sector 42 Faridabad
Sector 63
Sector 37 Faridabad
Sector 2 Faridabad
Sainik Colony
Sector 65 Faridabad
Sector 64 Faridabad
Ashoka Enclave
Sector 21 Faridabad
BPTP
Sector 19 Faridabad
Sector 57 Faridabad
Aravali Vihar
Sector 16A Faridabad
sector 10 Faridabad
Mathura Road
Sector 29 Faridabad
Sector 30 Faridabad
Sector 91 Faridabad
Sector 49 Faridabad
Green Valley
Sector 52 Faridabad
Sector-56A Faridabad
Ankhir
Ashoka Enclave Part-I
Lakkarpur
Shiv Colony
Rajendra Colony
Bathola
Raj Nagar Extension
Vaibhav Khand
Siddhartha Vihar
Crossing Republik
Ahinsa Khand 1
Ahinsa Khand 2
Bhopura
Ramprastha Greens
Sector-1 Vaishali
Sector-4 Vaishali
Shalimar garden
Judges Enclave
Ankur Vihar
Govind Puram
Sector-5 Vaishali
Lal Kuan
Kaushambi
Sector-3 Vaishali
Nyay Khand 1
Mehrauli
Sahibabad
Sector-15 Vasundhara
Pratap Vihar
Sector-3 Vasundhara
Wave City
Sector-9 Vaishali
Dundahera
Shahpur Bamheta
Shalimar Garden Extension I
Kamma 1
Shalimar Garden Extension II
Mohan Nagar
Sector-14 Vasundhara
Madhuban Bapudham
Ramprastha
Sector-17 Vasundhara
Sector-2 Vaishali
Loni
Nyay Khand 2
Sector-5 Vasundhara
Niti Khand 1
Bamheta
Sector-18 Vasundhara
Sector-23 Sanjay Nagar
Niti Khand 3
Dilshad Plaza
Nehru Nagar III
Sain Vihar
Chander Nagar
Avantika Colony
Gyan Khand 3
Kinauni Village
Sector 2B Vasundhara
Sector-5 Rajendra Nagar
Raj Nagar
Chiranjeev Vihar
Surya Nagar
Gyan Khand 2
Bhuapur
Sector-13 Vasundhara
Sector-4 Vasundhara
Anand Vihar
Abhay Khand 3
Abhay Khand 2
Tronica City
Delhi Ghaziabad Road
Wazirabad
Shakti Khand 3
Shakti Khand 2
Chipiyana Buzurg
Vaishali Extension
Neelmani Colony
Rampuri
Sector-6 Vaishali
Sehani Khurd
Sector-11 Vasundhara
Sector 4B Vasundhara
Sector 6 Vasundhara
Sector-2 Rajendra Nagar
Sector 4A Vasundhara
Sector-4C Vasundhara
Nyay Khand III
Sector-12 Pratap Vihar
Gangapuram
Sector-7 Vaishali
Kavi Nagar
Brij Vihar
G T Road
Shastri Nagar
Nandgram
Lajpat Nagar - Ghaziabad
Dadri
Gandhi Nagar
Sanjay Nagar
Gyan Khand 1
Sector-65 Gurgaon
Sector-102 Gurgaon
Sector-109 Gurgaon
Sector-81 Gurgaon
Sector-84 Gurgaon
Sector-83 Gurgaon
Sector-86 Gurgaon
Sector-69 Gurgaon
Sector-108 Gurgaon
Sohna
Sector-90 Gurgaon
Sector-104 Gurgaon
Sector-54 Gurgaon
Sector-79 Gurgaon
Sector-56 Gurgaon
Sector-37D Gurgaon
Sector-85 Gurgaon
Sector-70A Gurgaon
Sector-92 Gurgaon
Sector-82 Gurgaon
Sector-67 Gurgaon
Sector-48 Gurgaon
Sector-68 Gurgaon
Sector-49 Gurgaon
Sector-66 Gurgaon
Nirvana Country
Sector-62 Gurgaon
Sector-59 Gurgaon
Sector-77 Gurgaon
Sector-91 Gurgaon
Sector-106 Gurgaon
Sector-70 Gurgaon
Sector-113 Gurgaon
Sector-72 Gurgaon
Sector-103 Gurgaon
Sector-112 Gurgaon
DLF CITY PHASE 5
Sector-107 Gurgaon
Sector-61 Gurgaon
Sector-60 Gurgaon
Sector-82A Gurgaon
Sector-47 Gurgaon
Sector-110 Gurgaon
Sector-89 Gurgaon
Sector-99 Gurgaon
Sector-95 Gurgaon
Sector-88A Gurgaon
Gwal Pahari
Sector-71 Gurgaon
Sector-37C Gurgaon
Sector-111 Gurgaon
Sector-52 Gurgaon
Sector-50 Gurgaon
Sector-53 Gurgaon
DLF CITY PHASE 2
DLF CITY PHASE 4
Sector-22 Gurgaon
Sector-93 Gurgaon
Sector-110 A Gurgaon
Sector-57 Gurgaon
Palam Vihar
Sushant Lok Phase - 1
Sector-42 Gurgaon
Sector-67A Gurgaon
Sector-33 Gurgaon
Sector-28 Gurgaon
Sector-43 Gurgaon
Sector-30 Gurgaon
sector-58 Gurgaon
DLF CITY PHASE 1
DLF CITY PHASE 3
Sector-36A Gurgaon
Sector-51 Gurgaon
Sector-78 Gurgaon
Sector-99A Gurgaon
Sector-3 Gurgaon
Sector-63 Gurgaon
Sector-55 Gurgaon
MG Road
Sector-31 Gurgaon
Sector-63A Gurgaon
Sector-76 Gurgaon
Sector-74 Gurgaon
Sector-41 Gurgaon
Sun City
Sector-2 Gurgaon
Sector-45 Gurgaon
Sector-37 Gurgaon
Sector-73 Gurgaon
South City 1
Sector-10A Gurgaon
Sector-95A Gurgaon
Ardee City
Sector-89 A Gurgaon
Chakkarpur
Sector-1A IMT Manesar
B.K Dutt Colony
S.D.A
Sarita Vihar
Saket
Sector-D Vasant Kunj
Sector-E Vasant Kunj
Alaknanda
Chattarpur Enclave Phase 2
Jasola
Kishangarh Village
Okhla
Kalkaji Extension
Sector-B Vasant Kunj
Kalkaji
Defence Colony
Sector-C Vasant Kunj
Chattarpur Extension
Munirka
Sheikh Sarai
Malviya Nagar
Khirki Extension
Vasant Vihar
Neb Sarai
Greater Kailash II
Sector-A Vasant Kunj
Hauz Khas
Devli
Safdarjung Enclave
East of Kailash
Khanpur
Phase-2 Sheikh Sarai
Tughlakabad Extension
Shaheen Bagh
C R Park
Jamia Nagar
Gautam Nagar
Sultanpur
Rajpur Khurd Extension
Sukhdev Vihar
Lado Sarai
Vijay Mandal Enclave
Green Park Extension
Kapashera
Kalu Sarai
Pulpehladpur
Ghitorni
Masjid moth
Panchsheel Enclave
Gulmohar Enclave
Mandi
Lajpat Nagar II
Abul Fazal Enclave I
Zakir Nagar
Dera Mandi
Satbari
Green Park Main
Arjun Nagar
Geetanjali Enclave
IGNOU Road
Badarpur
Jogabai
Munirka Vihar
Lajpat Nagar
New Friends Colony
Gulmohar park
Govind Puri
Kailash Colony
Mahipalpur
Aaya Nagar
Gangotri Enclave
Aurangzeb Road
Gadaipur
Giri Nagar
Sunlight Colony
Arjun Garh
Katwaria Sarai
Ashram
Sriniwas Puri
Shahpur Jat
Freedom Fighter Enclave
Madangir
Pocket A Sarita Vihar
Ghaffar Manzil Colony
Rajpur Khurd
Rangpuri
New Manglapuri
Neeti Bagh
Okhla Phase 1
Mahipalpur Extension
Okhla Vihar
Jaitpur Extension
Safdarjung
Green Park
Westend
Moti Nagar
Janakpuri
Rajouri garden
Hari Nagar
Lok Nayak Puram
Mahavir Enclave
Mohan Garden
Palam Colony
Nawada
Punjabi Bagh
DG 2 Block Vikaspuri
West Patel Nagar
Om Vihar
D Block Vikaspuri
Bakkarwala
Bodella
Uttam Nagar West
Tilak Nagar
Hastsal
Kirti Nagar
Peeragarhi
Karampura
Vishnu Garden
F Block Vikaspuri
Patel Nagar
Paschim Puri
Mundka
J Block Vikaspuri
Mansa Ram Park
Uttam Nagar East
Naraina
Meera Bagh
Narain Vihar
G Block Vikaspuri
Ganesh Nagar
New Moti Nagar
Punjabi Bagh West
Rajouri Garden Extension
Rajapuri
Nanhey Park
Najafgarh
Raja garden
Virender Nagar
Madipur
Mianwali Nagar
A6 Block Paschim Vihar
A Block Vikaspuri
Ashok Nagar
Tagore Garden Extension
Sainik Nagar
Ajay Enclave
Param Puri
Ramesh Nagar
Lajwanti Garden
Old Rajinder Nagar
Subhash Nagar
Nangloi
New Rohtak Road
Shyam Vihar - I
Sunder Vihar
A2 Block Paschim Vihar
A3 Block Paschim Vihar
H Block Vikaspuri
A1 Block Janakpuri
Ranjit Nagar
Chand Nagar
Chanakya Place I
Manglapuri
New Uttam Nagar
Mansarovar garden
Jail Road
Tagore Garden
Inderpuri
Ambica Vihar
Najafgarh Road
Pusa Institute
Baljeet Nagar
Ranjeet Nagar
Shivaji Marg Phase I
A1 Block Paschim Vihar
A4 Block Paschim Vihar
A5 Block Paschim Vihar
B3 Block Paschim Vihar
B5 Block Paschim Vihar
Krishna Park
A2 Block Janakpuri
B1 Block Janakpuri
B 3B Block Janakpuri
C1 A Block Janakpuri
Punjabi Bagh East
Guru Nanak Nagar
Jaidev Park
Sagarpur East
Keshopur
Mahavir Nagar New
Sector-13 Rohini
Sector-28 Rohini
Sector-29 Rohini
Sector-34 Rohini
Sector-14 Rohini
Sector-18 Rohini
Shalimar Bagh
Narela
Sector-15 Rohini
Keshav Puram
Burari
Sector-8 Rohini
Sector-35 Rohini
Jahangir Puri
Ashok Vihar
Sector-23 Rohini
Ashok Vihar Phase-1
Sector-16 Rohini
Ashok Vihar Phase-4
AC Block Shalimar Bagh
Siraspur
West Shalimar Bagh
Sector-A9 Narela
Sector-7 Rohini
Sector-17 Rohini
Sector-3 Rohini
Mukherjee Nagar
Prashant Vihar
Gulabi Bagh
Loknayak Puram
Sector-11 Rohini
Ashok Vihar Phase-2
Uttari Pitampura
Rampura
Civil Lines
Sector-19 Rohini
Ashok Vihar Phase-3
AD Block Shalimar Bagh
Sector-A5 Narela
Lawrance Road
Sector-5 Rohini
Azadpur
Bawana
Sector-2 Rohini
Sector-6 Rohini
Sector-21 Rohini
Model Town Phase-3
Poorvi Pitampura
Dakshini Pitampura
Timar Pur
Rithala
Sector-20 Rohini
Sector-22 Rohini
AN Block Shalimar Bagh
DA Block West Shalimar Bagh
AD Block Pitampura
Sector-A10 Narela
Vijay Nagar
Engineer Enclave
Kapil Vihar
Nirankari Colony
Harsh Vihar
East Shalimar Bagh
BW Block West Shalimar Bagh
Mohammadpur Majri
Sainik Vihar
Vijay Vihar
West Enclave
Baba Colony
Rana Partap Bagh
Kamal Pur
Kamla Nagar
Shakti Nagar
Saraswati Vihar
Sant Nagar
Malka Ganj
Kohat Enclave
Jawahar Nagar
Kalyan Vihar
Tri Nagar
Shivaji Marg
Derawal Nagar
Maharana Pratap Enclave
Sector-1 Rohini
Sector-4 Rohini
Sector-25 Rohini
Vaishali
CA Block West Shalimar Bagh
Adarsh Nagar Extension
Indira Nagar
JJ Colony Wazirpur
Sector-A6 Narela
Sector-B4 Narela
Old Gupta Colony
Mayur Vihar - II
Patparganj
Vasundhra Enclave
Akshardham
Mayur Vihar - III
Dilshad Colony
Kondli Gharoli
Laxmi Nagar
GTB Enclave
KarKardooma
Gazipur
Geeta Colony
Chilla
Krishna Nagar
Mansarovar Park
West Vinod Nagar
Pandav Nagar
New Ashok Nagar
New Kondli
Shakarpur
Mandawali
Kondli
Sunder Nagari
Yamuna Vihar
Guru Angad Nagar
Vishwas Nagar
Shreshtha Vihar
Jhilmil Colony
Jyoti Nagar West
Naveen Shahdara
Ram Nagar
Paryatan Vihar
IP Enclave
Vivek Vihar
Bhajanpura
Vinod Nagar
Jagatpuri
Dayanand Vihar
Chander Vihar
Swasthya Vihar
Nirman Vihar
Bank Enclave
Gorakh Park West
Guru Angad Nagar West
Joshi Colony
Kabool nagar
Maujpur
New Modern Shahdara
Rajgarh Colony
Rohitash Nagar West
Shashi Garden
Shastri Park
Vivek Vihar Phase I
Babarpur Village
Bhola Nath Nagar
Trilokpuri
Madhu Vihar
Ram Nagar Extension
Lalita Park
DaryaGanj
Prasad Nagar
Connaught Place
Motia Khan
Janpath
Paharganj
Tilak Marg
Rajinder Nagar
Old Rajender Nagar
Rajendra Place
Sadar Bazar
Amrita Shergill Marg
Kishan Ganj
Dev Nagar
Nizamuddin West
Sector-11 Dwarka
Sector-22 Dwarka
Sector-5 Dwarka
Sector-19 Dwarka
Sector-18A Dwarka
Sector-7 Dwarka
Sector-23 Dwarka
Sector-9 Dwarka
Sector-13 Dwarka
Sector-3 Dwarka
Sector-2 Dwarka
Sector-14 Dwarka
Sector-18B Dwarka
Sector-17 Dwarka
Sector-19B Dwarka
Sector-1 Dwarka
Sector-23B Dwarka
Sector-18 Dwarka
Sector-16B Dwarka
Palam
Sector-26 Dwarka
Pocket-1 Sector 6 Dwarka
Palam Extension
Sector-8 Dwarka
Kakrola
Nasirpur
Sector-16 Dwarka
Sector-27 Dwarka
Sector-1A Dwarka
Bijwasan
Bindapur
Raj Nagar I
Pocket-2 Sector 6 Dwarka
Patel Garden
Sewak Park
Bharthal
Sector-15 Dwarka
Suraj Vihar
Bamnoli
L Zone
Are You A Beauty Professional Looking For The Customers?
We do provide online beauty services for households. We are also an internet-based network for beauty care professionals that wish to grow their business and increase sales. Swagmee is the place to be if you want to increase the number of consumers you service. If you are an individual, we will assist you in connecting with new clients.
Click the " Join Now " button to begin your journey to becoming a top-class beauty expert.
Customer Questions & Answers
Question:
What is the duration of a facial?
Answer:
A facial lasts for 60-90 minutes. Although it all depends on the variety of the facial you choose.
By Sanjay Singh on 12 April, 2022
Question:
Can facial cause pimples or acne?
Answer:
Yes, it is normal that facial cause pimples or acne.
By Vikash Pandey on 19 April, 2022
Question:
What are some dos after a facial?
Answer:
It is advised to keep yourself hydrated.
Always use a serum that contains vitamin C.
By Vikrant Sinha on 27 April, 2022
Question:
Do men need facials too?
Answer:
Yes, men also need facials too for making the skin moisturized and unclog the pores.
By Vibhakar Mukherjee on 3 May, 2022
Question:
Do swagmee provide their salon services in Mumbai?
Answer:
No, swagmee provides its beauty services in Delhi, Gurgaon, Greater Noida, Ghaziabad Faridabad, and Noida only.
By Bikram on 08 May, 2022
Customer Testimonials

It was my first time using a home salon service by Swagmee and man! I can honestly say that this was the best facial service I've ever had.

Awesome service! The best part of their beauty service is that they follow all the hygiene protocols.

Swagmee's expert understood just what to do. He was courteous and didn't rush through the process.
Swagmee FAQ'S
What are the benefits of a facial?
A facial can be beneficial for you in numerous ways:
It detoxifies your skin.
It gives you smooth & glowing skin.
It relaxes your facial muscles.
Is cleanup & facial services for men available for the Noida location?
Yes, we offer cleanup & facial services for men at home Noida.
Which brands' products do you use for facial & cleanup?
Cheryl
Vedic Line
Lotus
Sara
O3+
VLCC
What is the basic price of your facial for men at home Faridabad?
The basic cost of the facial for men at home Faridabad is 480/-.
Are the facials differ from cleanups?
Yes, both are different services. A facial entails face washing, eliminating dirt & bacteria from the skin while adding moisture, and improving blood circulation with the use of a face mask & massage. Cleanups, on the other hand, are only a deep cleaning procedure that helps in the removal of all built-up debris, dead skin cells, excess oil, and sebum from the top layer of the skin.
Is it okay to wash the face after a facial or cleanup?
No, if you want excellent results then it is advised to avoid washing your face for the rest of the day after you get a facial. You can wash your face the next day.
Name the places other than Faridabad that are covered by swagmee?
You may also receive our beauty treatments in Delhi, Gurgaon, Noida, Ghaziabad, and Greater Noida in addition to Swagmee salon at home Faridabad.
What is the need to use a face mask?
When you apply skincare products to your face, many of them evaporate. It takes some time for those ingredients to mix with your skin. The face mask creates a barrier that keeps the ingredients in place & prevents evaporation As a result, the skin appears plumper & brighter.
What are the 6 products for maintaining good skin?
Cleanser
Toner
Serum
Eye Cream
Moisturizer
Face Mask
Can I reap the benefits of the cleanup in the facial?
Yes, you can as the facial includes the cleanup in it.
Is there anything I have to arrange before my facial & cleanup appointment?
No, there is no need to arrange anything before your appointment. As the beauticians carry their proper tools & beauty kits with them.
Does the cost of your facial services vary from location to location?
Swagmee provides a transparent pricing model that is consistent across all locations. Whether you are getting beauty service with our salon at any location. You notice no change in prices.
Name some DIY face masks for men.
These are some DIY face masks for men:
Honey & Banana Face Mask
Aloe Vera & Cucumber Face Mask
Milk & Almond Powder Face Mask
Yoghurt, Gram Flour & Turmeric Face Mask
Is it necessary to use a specific brand's product to acquire a good skin texture?
No, you can choose any beauty product that suits your skin the best.
How often should I use a face mask?
It is advised to use a face mask once a week.
Are all your beauticians safe?
Yes, our all beauticians are safe. We do a proper background check of every beautician who joins us.
What is the basic cost of a cleanup for men Greater Noida?
The basic cost of a cleanup for men Greater Noida is 390/-.
Can I book two different beauty services at a time?
Yes, you can book yourself for the two different beauty services at a time.
How often a cleanup or facial should be done?
A cleanup or facial should be done once a month.
How can I choose the best & effective skincare kit?
You can choose a skincare kit as per your skin requirements or you can contact our beauty professionals at support@swagmee.com.