Clean skin is a goal for many people, and it's impossible to achieve when your skin is full of pimples, acne and dirt from sun exposure, pollution, and other mischiefs from unhealthy lifestyles. According to our experts, cleaning your skin regularly can keep your skin troubles at low levels. It's time to up-level your routine of beauty and enjoy the benefits of cleanliness to maintain healthy skin.
The Benefits Of Clean Up
Helps keep your skin clean from harmful bacteria as well as pollution, dirt and excess oil, thus giving your face a new appearance. Simple ingredients such as glycerine aid in removing excess oil from your skin.
Skin rejuvenation is improved by a proper cleaning that can eliminate blackheads that block your skin. Cleaning out the pores improves skin's texture repair cells and helps slow the process of skin ageing.
Hydrates the skin. It moisturizes your skin and helps prevent dry winter skin, summer rashes and keeps your skin moisturized and soft.
Help keep acne and blemishes at bay by eliminating dead cells with clean-up to reveal glowing skin that is free of pimples, acne, and other issues.
Reduces tan- including tomato in your ingredients for cleaning up reduces the appearance of tan and skin the appearance of pigmentation.
8 Easy Steps to Take for Clean Up at the Home

Going out in the present adds to risk. If you're employed, there's another reason you shouldn't prefer spending your productive time outside. Relax, our experts know the struggle, which is why they've put together eight easy steps to follow the easy clean-up process from the comfort of your own home.
Step 1 - Wash your face with your regular face cleanser, and then rinse with lukewarm water. Apply toner as soon as you've finished washing.
Step 2 - Pour some cleanser on an old cotton ball and clean your face using it to clear the pores.
Step 3 - Boil a little liquid in the steamer, or vessel while exposing your skin to steam for the time that your skin can tolerate it. The steam unblocks pores and eliminates the dirt.
Step 4 - Use an ice cube to rub on your face, gently massaging it using circular movements. This will help soothe the skin after the intense steam treatment.
Step 5 - Continue to scrub your face with the scrub you prefer for 5-10 minutes.
Step 6 - Once the scrub starts to dry, apply honey on your face and let it sit over your face for between 5 to 8 mins. Honey helps prevent pimples and gives glowing skin.
Step 7 - Put on a face mask that you like. Put two cucumber slices on your eyes and let them rest until you've been relaxed for about 15 or 20 minutes. After the face mask has dried, wash your face using lukewarm water.
Step 8 - Dry your face using a soft towel and apply a tanner. Apply an oil that moisturizes your skin.
These steps will help you get soft, glowing skin that is free of dirt in only 20 minutes.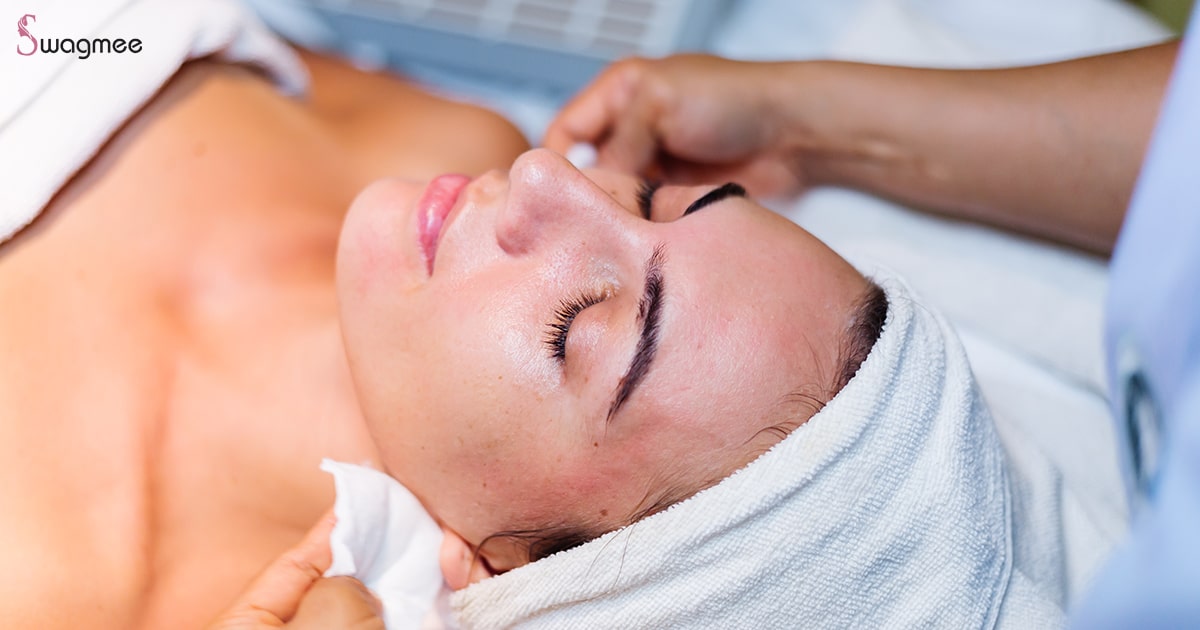 Another Method (Completely Natural)
Did you know that your kitchen contains all the essential ingredients to make an ideal home face cleaning remedy?
What You Need: Tomatoes Lemon, honey. Yes, That's all you need!
Procedure
Mash the tomatoes until they form an emulsion with a thick consistency.
Pour two teaspoons of lemon juice into the container.
Mix them well and store them in the refrigerator for approximately 10 to 15 minutes.
Then, add honey to the mix.
Showtime! Apply this mix on your face using only your hands or using a clean brush.
Let it sit for around 20 minutes, then rinse using normal water.
Safe Zone
Be aware of the application of anything on the eye area below the eyes.
Use gentle hands on your face. Do not rub too hard.
Be sure to use a clean, dry towel to rub dry.
Do not overdo the cleaning each day. It is suggested to wash up each week regularly.
If you have children at home, make sure you keep your kits for cleaning out of reach.
Avoid using any products with chemicals since they may have negative effects on your skin.
Facial and Clean-up are the same thing?
Many people struggle to choose between facial or clean-up. In truth, the majority of people think that they're identical but they're different! While both include regular steps such as cleaning scrubs, blackhead, and whitehead extraction, followed by a facial massage, the latter is a bit more specific, with steps such as massage. Additionally, cleaning can be performed every two weeks, however, facials are recommended every 4 to 6 weeks.
Pamper yourself
Are you too bored to go to the salon to do your regular cleaning? You can manage your home-based clean-up because you now know what you can do and how to do it. Your face is the main focal area of your body. it deserves to be treated with care and it doesn't require a professional for this when you can become a pro at it yourself. Until then, book an appointment with Swagmee salon at home services today.
FAQ's
How Often Should a Face Clean-up be done?
Cleansing your face should be performed at least once every two weeks to get the most effective results.
What is the Difference Between a Face Cleanup and a Facial?
Regular facial clean-ups performed every two weeks can assist in getting rid of dirt, grime and debris. They also remove dead skin cells that can cause to darken the skin and lead to breakouts and skin issues. Facials cover everything that is required to clean your face however, they will include a relaxing and comfortable massage for the face.
How To Clean Up Your Face?
Face cleaning involves specific steps like cleansing, steaming, scrubbing, toning the face, applying a facial pack and moisturizing.
Is Clean Up Good For The Face?
Cleansing the face can help keep your skin clean of debris and sweat. It also helps remove make-up, sweat dirt, and oil that has accumulated. It aids in loosening pores and getting rid of blackheads.
What is the cost of your clean up service?
Our clean up services start at just Rs. 390. Hurry & book now.