What makes our beauty Salon services at home most unique in Noida, Faridabad, Delhi, Ghaziabad, Greater Noida And Gurugram
Swagmee, Top Rated Salon Parlour at home service provider is a team of well-trained beauty experts, experienced & skilled professionals who are perfectly equipped to serve people who are looking for at-home beauty and grooming services. Here we follow a simple approach - "Hygienic Services, Branded Products & Customers Demands"
Hygiene - Our Top Priority!
No matter what the service is but we make sure to be hygienic always. Our beauticians make sure to wear head caps, gloves and other such equipment that gives a healthy turn to our services.
Branded Products - Our Essentials!
We believe to offer you the best services and that can be only done when used with the best products. We use top branded products that ensure amazing results.
Customer Demand - Our Responsibility!
Your demand is a command for us. Whenever you ask for a service related to beauty or grooming, the only answer our beauticians will have is "Yes Madam",i.e., because Swagmee has all types of services starting from face and body beauty to hair prettiness and all these beauty services are now available in Delhi, Noida, Ghaziabad, Gurugram & Faridabad.
How it Works

Pick a Salon Service:
Select from various packages & services

Choose Your Time-slot:
We are available from 10 am-6 pm

Enjoy a Relaxing Beauty Time:
Our professionals will get in touch with you an hour before the service
Top Rated at Home Beauty Salon Services - Delhi NCR
Now get amazing beauty services at your home within your comfort with Swagmee, a salon at home in Noida where beauty comes with comfort. Experience amazing hair, face & body beauty with our experienced, top beauticians and that too at user-friendly prices. Also, you don't have to care about hygiene as our beauticians provide 100% hygienic services by using branded products. Book parlour at home now & enjoy relaxing beautifying time!
Get The Best Salon & Parlour Services
All about Swagmee Salon & Parlour at Home
Offering you all the salon, parlour and spa services at your doorstep, Swagmee is one of India's top home salons. Getting that beautiful face, body and hair is now easy and comfortable with us. We make sure to fulfill all your beauty needs within your comfort. Our beauticians are well-trained to provide you top class services and also we use branded products that are directly sourced from the brands. Either it is waxing, manicure-pedicure, facial or it is hair spa, hair color and other such services, we are here to cater all your salon and parlor needs; just a click away from you!
Why to Choose Swagmee Home Salon Services?
Step into the new normal with our parlour at home. Going to parlour is not bad but having those professional salon and parlour services at your own home within our own comfort is more amazing. It brings you multiple benefits when you deal with us:
It saves your lot of time of traveling and having appointments.
You can have personal attention of the beautician. She is no hurry to attend other clients.
You don't have to worry about hygiene and safety as all beauticians wear all safety gears.
Quality is not compromised at all. All beauticians here are well-experienced holding atleast 3 years of experience.
It brings you a more flexible experience. You can choose a particular beautician, can have services at your own decided time and your place too.
We are Here to Make You More Stylish and Prettier
Swagmee Salon at Home Beauty & Parlour Services Benefits
Running on a busy schedule and still want to maintain your beauty? What's better than a salon at home then? It will save you a lot of time and energy. With us you can get the different salon and parlour services even in a better way at your home only:-
Waxing Services at Home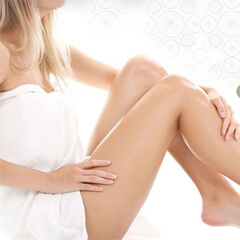 Get rid of facial and body hair without going to parlour now. Just get in touch with us and our beautician will get your waxing done at your home. Services Starting from Rs. 144 only. Book Now!
Benefits of Waxing
No More Shaving Cuts
Reduces Tanning
Prevents Fast Hair Growth
Smooth & Nourished Skin
No More Tired Parlour Visits, No More Face & Body Hair!
Facial & Cleanup Services at Home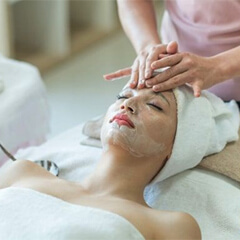 Facial & Cleanup is spa therapy that makes your skin clearer, smoother and glowing. Right from removing dead cells to relaxing your facial muscles, it can do wonders to your face skin. Choose your facial & cleanup type and get it done at your place. Services Starting from Just Rs. 320. Book Now!
Benefits of Facial & Cleanup
Cleanses Skin
Promotes Blood Circulation
Younger Looking Skin
Open up All the Pores
Eliminates Eye Bags
Face Beauty Matters, Let Your Face Glow!
Skin bleaching and de-tanning is used to lighten the darker skin areas by reducing tanning and enhancing glow. Getting the bleaching & de-tanning treatment is just a few clicks away now. Get it done right now!
Benefits of Bleach & De-tan
Glowing Skin
No More Threading Pain
Even Skin Tone
Reduces Pigmentation Marks
Reduces Tanning Excessively
Make A Difference to Your Normal Beauty Skin; Make it More Beautiful!
You know your hair beauty matters, but do you think regular shampoos and conditioners are just enough to make them pretty? No! You need to take care of them amazingly. Try out hair spa, it will give your hair the potion they are missing & get them colored to go with the swag.
Benefits of Hair Spa & Hair Color
Removes Impurities
Moisturizes Hair & Scalp
Reduces Dandruff
Shiny Hair
Reduces Frizz
Beautiful, Thick, Shiny Hair Always Leaves a Good Lasting Impression!
Mani-Pedi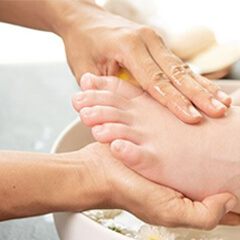 Manicure & pedicure refers to the curation and care of nails. Also, it is must to have these treatments once in a while from a professional nail salon. With us, get these services at your doorstep in a pampering manner starting from Rs. 250 only. Book Now!
Benefits of Manicure & Pedicure
Good Nail Health
Boosts Blood Circulation
Pretty Hands & Feet
Relaxing Massage
It Is Not Bad to Get Obsessed with Pretty Hands & Feet!
Pre-bridal grooming is a must for every girl who wants to look perfectly gorgeous on her big day. Flawless skin, sparkling killy eyes, bouncy hair, pretty hands & feet; what else a bride wants? Get this all done in a single click and that too at your own place.
Benefits of pre-bridal grooming
Smoother & Glowing Skin
Shiny & Beautiful Hair
Pretty Nails
Relaxing Grooming Time
Glow on Girls, It's Your Day!
Long hectic work schedules can make your body tiring and it can also adversely affect your daily working adversely. Call out our beauticians who are well trained to offer a professional massage and charge up yourself while letting your head & body relax.
Benefits of Head & Body Massage
Detoxifies Body
Relaxes Mind
Boosts Memory
Improve Circulation
Prevents Hair Damage
Have a Professional Pampering Experience at Your Home!
Threading is a popular and amazing alternative to waxing and plucking. Shaped up eyebrows, clear forehead, upper lips and side locks, all make your face look more beautiful. Get it done quickly with Swagme Home Salon and flaunt your beauty.
Benefits of Threading
No Chemicals
Less Pain
Less Time Consuming
More Natural Eyebrows Look
Shape up Your Brows & Make up Your Look!
Beauticians Available for Salon & Parlour at Home Services
207 Beauty Service Professionals Present in Delhi NCR, Noida, Faridabad, Gurugram & Ghaziabad
Janki
Indirapuram, Ghaziabad, Uttar Pradesh, India
Sangeeta Singh
Great hair spa experience after a long time! Janki was awesome in her job. Thanks a lot for giving me such a nice hair spa.
Punita Yadav
Did a great job with eyebrow threading and waxing in a very relaxed atmosphere. Would highly recommend Janki Ji to others as well.
Mamta
Noida, Gautam Budh Nagar, Uttar Pradesh, India
Susmita Rathor
Mamta was super nice and friendly. I would prefer her again for my facials & waxing. Very friendly, clean, and caring about what you want.
Supriya Seth
Best beauty services at the doorstep. The threading & waxing done by Mamta was good. Thanks a lot, Mam.
Priyanka
Vaishali , Ghaziabad, Uttar Pradesh, India
Sonia
South Delhi, New Delhi, India
Kiran Singh
The pre-bridal services were unparalleled ! and the communication by the team was amazing. They respond with immediate effect. The beautician was just perfect at her job.
Featured Blogs on Latest Beauty Tips
Experience the luxury of personalised pampering with Swagmee super salon at home. Transform your space into a sanctuary of beauty and relaxation, where expert professionals bring top-tier treatments directly to you. Enjoy a range of services, from rejuvenating facials to flawless hairstyling, all in the comfort of your own home. Elevate your self-care routine with Swagmee convenience and expertise.
All About Swagmee Salon & Parlour at Home Service near me
We are Salon & Grooming service providers! Celebrating beauty and self-care, Swagmee is an ambitious initiative to provide an easily accessible, trusted and user-friendly platform where multiple users can get at-home salon services by booking desired slots online.
Rate Card
Customers in Noida also booked
Locations
Sector Chi 5 Gr Noida
Techzone - 4
Sector-4 Gr Noida
Jaypee Greens
Sector-16 Gr Noida
Sector ZETA I Gr Noida
Sector Omicron I Greater Noida
Sector Pi- II Gr Noida
Sector-10 Greater Noida West
Sector Omicron III Greater Noida
Sector Pi- 1 Gr Noida
Sector-2 Gr Noida
Sector MU 2 Greater Noida
Sector-16C Greater Noida
Swaran Nagri
Sector Omega -1 Gr Noida
Sector Chi 4 Gr Noida
Alpha-I Gr Noida
Sigma IV
Eta II
NRI City
Surajpur
Sector Chi 3 Gr Noida
Alpha-II Gr Noida
Ecotech III
Sector Phi ll Gr Noida
Sector-Pi Gr Noida
Site C Gr Noida
Sector ZETA Gr Noida
Sector Mu Gr Noida
Pari Chowk
Beta 2 Gr Noida
Sector Phi IV Greater Noida
Gurjinder Vihar
Sector-27 Greater Noida
Site B Gr Noida
Chi - Phi
Beta 1 Gr Noida
Surajpur Industrial Area
Omicron sector Gr Noida
Knowledge Park V
Omega II Gr Noida
Sector 17A
Delta II Gr Noida
Golf Course
Ecotech I
Eta Sector Gr Noida
Gamma II Gr Noida
Jalvayu Vihar
Sector-P 4 Gr Noida
Knowledge Park III
Sector Xu-I Gr Noida
Sector MU I Greater Noida
Sector Omicron 1A Greater Noida
Dankaur
Sector-22D Yamuna Expressway
Sector-4 Greater Noida West
Sector-128 Noida
Sector-78 Noida
Sector-62 Noida
Sector-93 B Noida
Sector-100 Noida
Sector-61 Noida
Sector-76 Noida
Sector-93 A Noida
Sector-45 Noida
Sector-110 Noida
Sector-120 Noida
Sector-144 Noida
Sector-151 Noida
Sector-70 Noida
Sector-93 Noida
Sector-119 Noida
Sector-104 Noida
Sector-25 Noida
Sector-44 Noida
Sector-52 Noida
Sector-108 Noida
Sector-94 Noida
Sector-43 Noida
Sector-129 Noida
Sector-124 Noida
Chhalera
Sector-53 Noida
Sector-73 Noida
Sector-152 Noida
Sector-28 Noida
Sector-117 Noida
Sector-71 Noida
Sector-135 Noida
Sector-133 Noida
Sarfabad Village
Sector-51 Noida
Hajipur
Sector-49 Noida
Sector-30 Noida
Sector-99 Noida
Block F Sector-50 Noida
Arun Vihar
Sector-92 Noida
Sector-32 Noida
Sector-15A Noida
Sector-16B Noida
Sector-36 Noida
Sector-48 Noida
Sector-42 Noida
Sector-105 Noida
Sector-22 Noida
Sector-33 Noida
Sector-126 Noida
Sector-106 Noida
Baraula
Sector 86 Faridabad
Sector 88 Faridabad
Sector 82 Faridabad
Sector 84 Faridabad
Sector 77 Faridabad
Sector 78 Faridabad
Sector 80 Faridabad
Sector 75 Faridabad
Sector 70 Faridabad
Suraj Kund
Sector 81 Faridabad
Sector 89 Faridabad
Sector 21C Faridabad
Sector 87 Faridabad
Sector 76 Faridabad
Sector 48 Faridabad
Sector 72 Faridabad
Charmwood Village
Sector 43 Faridabad
Sector 46 Faridabad
Sector 45 Faridabad
Sector-143 Faridabad
Sector 41 Faridabad
Sector 21D Faridabad
Sector 3 Faridabad
Sector 79 Faridabad
Sector 42 Faridabad
Sector 63
Sector 37 Faridabad
Sector 2 Faridabad
Sainik Colony
Sector 65 Faridabad
Sector 64 Faridabad
Ashoka Enclave
Sector 21 Faridabad
BPTP
Sector 19 Faridabad
Sector 57 Faridabad
Aravali Vihar
Sector 16A Faridabad
sector 10 Faridabad
Mathura Road
Sector 29 Faridabad
Sector 30 Faridabad
Sector 91 Faridabad
Sector 49 Faridabad
Green Valley
Sector 52 Faridabad
Sector-56A Faridabad
Ankhir
Ashoka Enclave Part-I
Lakkarpur
Shiv Colony
Rajendra Colony
Bathola
Raj Nagar Extension
Vaibhav Khand
Siddhartha Vihar
Crossing Republik
Ahinsa Khand 1
Ahinsa Khand 2
Bhopura
Ramprastha Greens
Sector-1 Vaishali
Sector-4 Vaishali
Shalimar garden
Judges Enclave
Ankur Vihar
Govind Puram
Sector-5 Vaishali
Lal Kuan
Kaushambi
Sector-3 Vaishali
Nyay Khand 1
Mehrauli
Sahibabad
Sector-15 Vasundhara
Pratap Vihar
Sector-3 Vasundhara
Wave City
Sector-9 Vaishali
Dundahera
Shahpur Bamheta
Shalimar Garden Extension I
Kamma 1
Shalimar Garden Extension II
Mohan Nagar
Sector-14 Vasundhara
Madhuban Bapudham
Ramprastha
Sector-17 Vasundhara
Sector-2 Vaishali
Loni
Nyay Khand 2
Sector-5 Vasundhara
Niti Khand 1
Bamheta
Sector-18 Vasundhara
Sector-23 Sanjay Nagar
Niti Khand 3
Dilshad Plaza
Nehru Nagar III
Sain Vihar
Chander Nagar
Avantika Colony
Gyan Khand 3
Kinauni Village
Sector 2B Vasundhara
Sector-5 Rajendra Nagar
Raj Nagar
Chiranjeev Vihar
Surya Nagar
Gyan Khand 2
Bhuapur
Sector-13 Vasundhara
Sector-4 Vasundhara
Anand Vihar
Abhay Khand 3
Abhay Khand 2
Tronica City
Delhi Ghaziabad Road
Wazirabad
Shakti Khand 3
Shakti Khand 2
Chipiyana Buzurg
Vaishali Extension
Neelmani Colony
Rampuri
Sector-6 Vaishali
Sehani Khurd
Sector-11 Vasundhara
Sector 4B Vasundhara
Sector 6 Vasundhara
Sector-2 Rajendra Nagar
Sector 4A Vasundhara
Sector-4C Vasundhara
Nyay Khand III
Sector-12 Pratap Vihar
Gangapuram
Sector-7 Vaishali
Kavi Nagar
Brij Vihar
G T Road
Shastri Nagar
Nandgram
Lajpat Nagar - Ghaziabad
Dadri
Gandhi Nagar
Sanjay Nagar
Gyan Khand 1
Sector-65 Gurgaon
Sector-102 Gurgaon
Sector-109 Gurgaon
Sector-81 Gurgaon
Sector-84 Gurgaon
Sector-83 Gurgaon
Sector-86 Gurgaon
Sector-69 Gurgaon
Sector-108 Gurgaon
Sohna
Sector-90 Gurgaon
Sector-104 Gurgaon
Sector-54 Gurgaon
Sector-79 Gurgaon
Sector-56 Gurgaon
Sector-37D Gurgaon
Sector-85 Gurgaon
Sector-70A Gurgaon
Sector-92 Gurgaon
Sector-82 Gurgaon
Sector-67 Gurgaon
Sector-48 Gurgaon
Sector-68 Gurgaon
Sector-49 Gurgaon
Sector-66 Gurgaon
Nirvana Country
Sector-62 Gurgaon
Sector-59 Gurgaon
Sector-77 Gurgaon
Sector-91 Gurgaon
Sector-106 Gurgaon
Sector-70 Gurgaon
Sector-113 Gurgaon
Sector-72 Gurgaon
Sector-103 Gurgaon
Sector-112 Gurgaon
DLF CITY PHASE 5
Sector-107 Gurgaon
Sector-61 Gurgaon
Sector-60 Gurgaon
Sector-82A Gurgaon
Sector-47 Gurgaon
Sector-110 Gurgaon
Sector-89 Gurgaon
Sector-99 Gurgaon
Sector-95 Gurgaon
Sector-88A Gurgaon
Gwal Pahari
Sector-71 Gurgaon
Sector-37C Gurgaon
Sector-111 Gurgaon
Sector-52 Gurgaon
Sector-50 Gurgaon
Sector-53 Gurgaon
DLF CITY PHASE 2
DLF CITY PHASE 4
Sector-22 Gurgaon
Sector-93 Gurgaon
Sector-110 A Gurgaon
Sector-57 Gurgaon
Palam Vihar
Sushant Lok Phase - 1
Sector-42 Gurgaon
Sector-67A Gurgaon
Sector-33 Gurgaon
Sector-28 Gurgaon
Sector-43 Gurgaon
Sector-30 Gurgaon
sector-58 Gurgaon
DLF CITY PHASE 1
DLF CITY PHASE 3
Sector-36A Gurgaon
Sector-51 Gurgaon
Sector-78 Gurgaon
Sector-99A Gurgaon
Sector-3 Gurgaon
Sector-63 Gurgaon
Sector-55 Gurgaon
MG Road
Sector-31 Gurgaon
Sector-63A Gurgaon
Sector-76 Gurgaon
Sector-74 Gurgaon
Sector-41 Gurgaon
Sun City
Sector-2 Gurgaon
Sector-45 Gurgaon
Sector-37 Gurgaon
Sector-73 Gurgaon
South City 1
Sector-10A Gurgaon
Sector-95A Gurgaon
Ardee City
Sector-89 A Gurgaon
Chakkarpur
Sector-1A IMT Manesar
B.K Dutt Colony
S.D.A
Sarita Vihar
Saket
Sector-D Vasant Kunj
Sector-E Vasant Kunj
Alaknanda
Chattarpur Enclave Phase 2
Jasola
Kishangarh Village
Okhla
Kalkaji Extension
Sector-B Vasant Kunj
Kalkaji
Defence Colony
Sector-C Vasant Kunj
Chattarpur Extension
Munirka
Sheikh Sarai
Malviya Nagar
Khirki Extension
Vasant Vihar
Neb Sarai
Greater Kailash II
Sector-A Vasant Kunj
Hauz Khas
Devli
Safdarjung Enclave
East of Kailash
Khanpur
Phase-2 Sheikh Sarai
Tughlakabad Extension
Shaheen Bagh
C R Park
Jamia Nagar
Gautam Nagar
Sultanpur
Rajpur Khurd Extension
Sukhdev Vihar
Lado Sarai
Vijay Mandal Enclave
Green Park Extension
Kapashera
Kalu Sarai
Pulpehladpur
Ghitorni
Masjid moth
Panchsheel Enclave
Gulmohar Enclave
Mandi
Lajpat Nagar II
Abul Fazal Enclave I
Zakir Nagar
Dera Mandi
Satbari
Green Park Main
Arjun Nagar
Geetanjali Enclave
IGNOU Road
Badarpur
Jogabai
Munirka Vihar
Lajpat Nagar
New Friends Colony
Gulmohar park
Govind Puri
Kailash Colony
Mahipalpur
Aaya Nagar
Gangotri Enclave
Aurangzeb Road
Gadaipur
Giri Nagar
Sunlight Colony
Arjun Garh
Katwaria Sarai
Ashram
Sriniwas Puri
Shahpur Jat
Freedom Fighter Enclave
Madangir
Pocket A Sarita Vihar
Ghaffar Manzil Colony
Rajpur Khurd
Rangpuri
New Manglapuri
Neeti Bagh
Okhla Phase 1
Mahipalpur Extension
Okhla Vihar
Jaitpur Extension
Safdarjung
Green Park
Westend
Moti Nagar
Janakpuri
Rajouri garden
Hari Nagar
Lok Nayak Puram
Mahavir Enclave
Mohan Garden
Palam Colony
Nawada
Punjabi Bagh
DG 2 Block Vikaspuri
West Patel Nagar
Om Vihar
D Block Vikaspuri
Bakkarwala
Bodella
Uttam Nagar West
Tilak Nagar
Hastsal
Kirti Nagar
Peeragarhi
Karampura
Vishnu Garden
F Block Vikaspuri
Patel Nagar
Paschim Puri
Mundka
J Block Vikaspuri
Mansa Ram Park
Uttam Nagar East
Naraina
Meera Bagh
Narain Vihar
G Block Vikaspuri
Ganesh Nagar
New Moti Nagar
Punjabi Bagh West
Rajouri Garden Extension
Rajapuri
Nanhey Park
Najafgarh
Raja garden
Virender Nagar
Madipur
Mianwali Nagar
A6 Block Paschim Vihar
A Block Vikaspuri
Ashok Nagar
Tagore Garden Extension
Sainik Nagar
Ajay Enclave
Param Puri
Ramesh Nagar
Lajwanti Garden
Old Rajinder Nagar
Subhash Nagar
Nangloi
New Rohtak Road
Shyam Vihar - I
Sunder Vihar
A2 Block Paschim Vihar
A3 Block Paschim Vihar
H Block Vikaspuri
A1 Block Janakpuri
Ranjit Nagar
Chand Nagar
Chanakya Place I
Manglapuri
New Uttam Nagar
Mansarovar garden
Jail Road
Tagore Garden
Inderpuri
Ambica Vihar
Najafgarh Road
Pusa Institute
Baljeet Nagar
Ranjeet Nagar
Shivaji Marg Phase I
A1 Block Paschim Vihar
A4 Block Paschim Vihar
A5 Block Paschim Vihar
B3 Block Paschim Vihar
B5 Block Paschim Vihar
Krishna Park
A2 Block Janakpuri
B1 Block Janakpuri
B 3B Block Janakpuri
C1 A Block Janakpuri
Punjabi Bagh East
Guru Nanak Nagar
Jaidev Park
Sagarpur East
Keshopur
Mahavir Nagar New
Sector-13 Rohini
Sector-28 Rohini
Sector-29 Rohini
Sector-34 Rohini
Sector-14 Rohini
Sector-18 Rohini
Shalimar Bagh
Narela
Sector-15 Rohini
Keshav Puram
Burari
Sector-8 Rohini
Sector-35 Rohini
Jahangir Puri
Ashok Vihar
Sector-23 Rohini
Ashok Vihar Phase-1
Sector-16 Rohini
Ashok Vihar Phase-4
AC Block Shalimar Bagh
Siraspur
West Shalimar Bagh
Sector-A9 Narela
Sector-7 Rohini
Sector-17 Rohini
Sector-3 Rohini
Mukherjee Nagar
Prashant Vihar
Gulabi Bagh
Loknayak Puram
Sector-11 Rohini
Ashok Vihar Phase-2
Uttari Pitampura
Rampura
Civil Lines
Sector-19 Rohini
Ashok Vihar Phase-3
AD Block Shalimar Bagh
Sector-A5 Narela
Lawrance Road
Sector-5 Rohini
Azadpur
Bawana
Sector-2 Rohini
Sector-6 Rohini
Sector-21 Rohini
Model Town Phase-3
Poorvi Pitampura
Dakshini Pitampura
Timar Pur
Rithala
Sector-20 Rohini
Sector-22 Rohini
AN Block Shalimar Bagh
DA Block West Shalimar Bagh
AD Block Pitampura
Sector-A10 Narela
Vijay Nagar
Engineer Enclave
Kapil Vihar
Nirankari Colony
Harsh Vihar
East Shalimar Bagh
BW Block West Shalimar Bagh
Mohammadpur Majri
Sainik Vihar
Vijay Vihar
West Enclave
Baba Colony
Rana Partap Bagh
Kamal Pur
Kamla Nagar
Shakti Nagar
Saraswati Vihar
Sant Nagar
Malka Ganj
Kohat Enclave
Jawahar Nagar
Kalyan Vihar
Tri Nagar
Shivaji Marg
Derawal Nagar
Maharana Pratap Enclave
Sector-1 Rohini
Sector-4 Rohini
Sector-25 Rohini
Vaishali
CA Block West Shalimar Bagh
Adarsh Nagar Extension
Indira Nagar
JJ Colony Wazirpur
Sector-A6 Narela
Sector-B4 Narela
Old Gupta Colony
Mayur Vihar - II
Patparganj
Vasundhra Enclave
Akshardham
Mayur Vihar - III
Dilshad Colony
Kondli Gharoli
Laxmi Nagar
GTB Enclave
KarKardooma
Gazipur
Geeta Colony
Chilla
Krishna Nagar
Mansarovar Park
West Vinod Nagar
Pandav Nagar
New Ashok Nagar
New Kondli
Shakarpur
Mandawali
Kondli
Sunder Nagari
Yamuna Vihar
Guru Angad Nagar
Vishwas Nagar
Shreshtha Vihar
Jhilmil Colony
Jyoti Nagar West
Naveen Shahdara
Ram Nagar
Paryatan Vihar
IP Enclave
Vivek Vihar
Bhajanpura
Vinod Nagar
Jagatpuri
Dayanand Vihar
Chander Vihar
Swasthya Vihar
Nirman Vihar
Bank Enclave
Gorakh Park West
Guru Angad Nagar West
Joshi Colony
Kabool nagar
Maujpur
New Modern Shahdara
Rajgarh Colony
Rohitash Nagar West
Shashi Garden
Shastri Park
Vivek Vihar Phase I
Babarpur Village
Bhola Nath Nagar
Trilokpuri
Madhu Vihar
Ram Nagar Extension
Lalita Park
DaryaGanj
Prasad Nagar
Connaught Place
Motia Khan
Janpath
Paharganj
Tilak Marg
Rajinder Nagar
Old Rajender Nagar
Rajendra Place
Sadar Bazar
Amrita Shergill Marg
Kishan Ganj
Dev Nagar
Nizamuddin West
Sector-11 Dwarka
Sector-22 Dwarka
Sector-5 Dwarka
Sector-19 Dwarka
Sector-18A Dwarka
Sector-7 Dwarka
Sector-23 Dwarka
Sector-9 Dwarka
Sector-13 Dwarka
Sector-3 Dwarka
Sector-2 Dwarka
Sector-14 Dwarka
Sector-18B Dwarka
Sector-17 Dwarka
Sector-19B Dwarka
Sector-1 Dwarka
Sector-23B Dwarka
Sector-18 Dwarka
Sector-16B Dwarka
Palam
Sector-26 Dwarka
Pocket-1 Sector 6 Dwarka
Palam Extension
Sector-8 Dwarka
Kakrola
Nasirpur
Sector-16 Dwarka
Sector-27 Dwarka
Sector-1A Dwarka
Bijwasan
Bindapur
Raj Nagar I
Pocket-2 Sector 6 Dwarka
Patel Garden
Sewak Park
Bharthal
Sector-15 Dwarka
Suraj Vihar
Bamnoli
L Zone
Are You A Professional Beautician Looking for Customers?
Great products, services and long life relationships come from great collaborations. We are looking forward to start a conversation with you, learn more about you, your ability and buid something amazing together. If you think you have that talent in beautifying then what are you waiting for?
Click the " Join Now " button and take a step towards your growing journey.
Customer Questions & Answers
Question:
Can facial really glow up my face?
Answer:
Yes, with facial you can achieve more smoother and glowing skin that you will definitely love.
By Saloni Singh on 5 October, 2021
Question:
In terms of hygiene which wax is most preferable?
Answer:
Although Swagmee is intended to provide all services hygienically, still if you want a more specific solution for hygienic and safe wax then go on for Rica Roll-on packages.
By Mahima Mukherjee on 27 September, 2021
Question:
Is Roll-On Wax risky?
Answer:
No, not at all! It is one of the best waxing type you can go for.
By Neha on 29 September, 2021
Question:
I am having so much dandruff in my hair. What should I use?
Answer:
While choosing Swagmee Hair Spa service, take an anti-dandruff ampoule add-on. It will really help you.
By Sweta Singh on 23 September, 2021
Customer Testimonials

I have recently tried the wax and facial services of Swagmee and can definitely say that they are really good at this. They know how to work professionally and hygienically. I really loved their services and going to choose them only from now onwards for salon at-home services.

Amazing Experience! Swagmee is the perfect salon at-home service provider. Right from using branded, hygienic products to providing professional services, they know how to impress customers. Thanks Swagmee for such a great beauty relaxing time!

I really liked the facial which I had last week from this home salon. The massage was really amazing and I'm feeling that the product really worked on my skin.
Swagmee FAQ'S
How do I opt for a salon at home service?
You just need to visit our website and browse through the
services
, select the service of your choice, your preferred date and time. Insert your address and it's done.
How often should I opt for a facial as per Noida's atmosphere?
It is advisable that you go for a facial once a month as the pollution level in Delhi NCR can make your skin look dull.
Are your beauticians well trained and reliable?
We have a training centre in Noida, where we provide 6-months of professional training to each beautician.
What type of beauty care services does Swagmee provide?
We provide all kinds of beauty care
services at home
, including but not limited to waxing, de-tanning, massage therapy, pedicure and manicure and spa at home. You can also ask the beautician if you have any special requests.
Are your services hygienic and safe?
We at Swagmee follow strict client safety protocols as per WHO recommended guidelines.
Do I need to book an appointment in advance?
Yes, you need to book a slot for at least 1 day in advance. Based on the availability and distance your appointment will be confirmed.
What kind of payment options are accepted?
We accept multiple payment options including cash, credit card, debit card and online payments.
Can I book an expert of my preference?
Being a prominent salon at home service provider in Noida, Swagmee provides you with the option of choosing a beauty expert of your choice, subject to availability.
Why choose Swagmee salon at home services in Noida?
At Swagmee we have a group of certified beauty professionals to take care of all your skincare needs. We follow strict guidelines for clients safety and hygiene.
What is the minimum bill amount?
At Swagmee we don't believe in digging a hole in the client's pocket, so the minimum bill amount is just Rs. 699 per person, which is inclusive of all taxes.
Which equipment and products will the expert carry to my doorstep?
Our experts will come to your home with all the products needed for your selected package. For clients safety, disposable sheets and single-use equipment will be used.
Do you have any cancellation policy?
Providing outstanding services to all the clients is our motto. So we would request you to cancel the appointment at least 4 hours in advance or else cancellation charges ranging from 100 to 200 will be charged.
Is Swagmee serving only in Noida?
Except Noida, Swagmee services are also available in Ghaziabad, Faridabad, Greater Noida etc.
What if I don't get satisfied with the service I requested?
Our team will make sure that you get completely satisfied with your selected service but in case you are not, feel free to reach us at +919818925186. We will make sure that all your queries and issues will be resolved.
How do I select a perfect skincare package for me?
Reach us at our customer helpline and our expert beautician will guide you on which packages will suit your skin type along with some other tips.
How can I protect my skin from Noida pollution?
Use only natural beauty products to keep your skin refreshed. You can also book an appointment with Swagmee salon at home and all your skincare needs would be taken care of.
What product lines do you carry?
At Swagmee we only use branded beauty products. We source directly from the manufacturer to make sure no altered products are used.
What happens if the beautician arrives late for the service?
As you must be familiar with traffic conditions in Delhi NCR, we would request you to bear a little with us. You can also reschedule or cancel the booking before we reach your doorstep.
Will the Swagmee team leave my place clean and tidy?
With Swagmee you don't need to worry about the cleanliness. Our team will leave your place the same as it was before.
Are there any additional charges from the prices listed on your website?
No, there are no hidden or travel charges. All the listed prices are inclusive of taxes.
What are your work timings if I opt for a salon at home Gurugram?
If you're living in Gurugram, you can book an appointment on any day of the week to get your preferred service between 10 AM to 6 PM.
What is the offered price for the pre-bridal package for the salon at home Ghaziabad location?
No matter where do you stay in Delhi & NCR region. Our Pre-bridal Grooming packages start from ₹3,444. For more details visit our website.
Why I should opt for salon at home Noida instead of visiting parlor?
There are a few reasons for selecting Salon at Home Noida.
Time-saving
Personalized beauty services
More relaxing experience
Safe, secure & hygienic
How can I book an appointment with Swagmee salon at home Delhi?
It's very simple, you just need to follow these simple steps to book your appointment with Swagmee Salon:
Visit our website www.swagmee.com.
On home page click on the service you want. It will redirect you to a detailed service page.
Choose service and click the "Book Now" option, then you'll go to the checkout page where you need to fill in the required details.
After this, our Swagmee Team will contact you to confirm your booking.
What are the different types of waxing services provided by your Salon at Home Faridabad?
Our salon at home Greater Noida offers you Choco Honey Wax, Rica Wax, and Rica Roll-on Wax services. To know more visit the waxing service page.
What all payment options do you accept?
We accept multiple payment options including cash, credit card, debit card and online payments.
Can I book only manicure and pedicure services?
What are those things that a bride should take care of to get maximum results?
Take 8-hour sleep daily, stay hydrated, don't compromise with diet, and avoid oily food.