What makes our Pre-Bridal services unique in Noida, Greater Noida, Delhi, Gurugram, Ghaziabad And Faridabad
You are done with choosing the wedding date. The venue has also been decided. What next? It's not the photographer, or the makeup artist. It's your skin care regime! For all the brides who are looking for comforting beauty and grooming services, we got you covered!
Gorgeous Hair
Glowing Face
Flawless Skin
Get all done at your home within your comfort.
Let's get you ready for your Big Day!
We not only bring you the comforting and convenient beauty services but we also serve you the care and beauty you deserve. By following a simple approach of "High quality products, Customer needs and Hygiene protocols," we make sure to offer the best home parlour and spa services that let you fulfill all your beauty desires efficiently and effortlessly.
Hygiene Protocols- Our Preference
Hygiene is our top-most priority. Our beauticians keep the area hygienic as well as they themselves make sure to wear head caps, gloves and other such equipment which gives our services a healthy turn.
High Quality Products- Our Choice
We want to serve the brides with our best services and this can be done with the help of high quality products. We make sure to use the best products available out there and all of them are directly sourced from brands.
Customer Needs- Our Duty
We make sure to fulfill all your beauty demands. This is the reason you will get your response as "yes madam", when a bride asks for beauty or grooming services. All the brides want to look gorgeous on their D-Day, so we provide all the services beginning from face and body beauty to hair wellness.
How it Works

Pick a Salon Service:
Select from various packages & services

Choose Your Time-slot:
We are available from 10 am-6 pm

Enjoy a Relaxing Beauty Time:
Our professionals will get in touch with you an hour before the service
Classic Pre-bridal Grooming
| Classic Pre-bridal Grooming | Brands | Days |
| --- | --- | --- |
| Facial | Sara Gold Facial | 1 Day |
| Face Bleach | Dabur Oxy Face Bleach | 1 Day |
| Body Bleach | Nature's Essence Bleach | 1 Day |
| Full Body Wax | Choco Honey Wax | 1 Day |
| Bikini Wax | Rica Brazilian (Peel-off) Wax | 1 Day |
| Body Polishing | Sea Soul Body Polishing | 1 Day |
| Manicure & Pedicure | Sara Mani-pedi | 1 Day |
| Thread Work | Thread Work | 1 Day |
Luxury Pre-bridal Grooming
| Luxury Pre-bridal Grooming | Brands | Days |
| --- | --- | --- |
| Facial | O3+ Bridal Facial | 1 Day |
| Face Bleach | Dabur Oxy Face Bleach | 1 Day |
| Body Bleach | Nature's Essence Bleach | 1 Day |
| Full Body Wax | Rica Wax | 1 Day |
| Bikini Wax | Rica Brazilian (Peel-off Wax) | 1 Day |
| Body Polishing | Sea Soul Body Polishing | 1 Day |
| Manicure & Pedicure | O3+ Mani-pedi | 1 Day |
| Head Massage | Normal Head Massage | 1 Day |
| Thread Work | Normal Threading | 1 Day |
Magnificence Pre-Bridal Grooming
Magnificence Pre-Bridal Grooming
Brands
Days
Bridal Facial
O3+
1 Day
Face Bleach
Dabur Oxy Bleach
1 Day
Body Bleach
Nature's Essence Bleach
1 Day
Full Body Bleach/De-tan
Nature Essence Body
Bleach/Raaga De-tan
1 Day
Full Body Wax
Rica Roll-on
1 Day
Full Face Wax
Rica Peel-off
1 Day
Body Polishing
Calix
1 Day
Mani-Pedi
O3+
1 Day
Hair Spa
Senskin
1 Day
Thread Work (Full Face)
Normal Threading Tools
1 Day
Normal Hair Cut
Normal Hair Cut Tools
1 Day
Featured Blogs on Latest Beauty Tips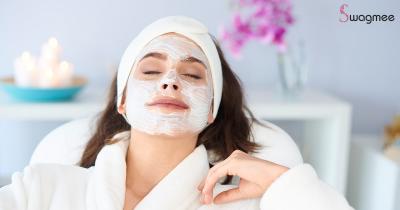 The dress is done and now you need to think about your wedding's beauty. We've compiled 8 tips for executing your pre bridal regime that will ensure you look stunning as an angel on your wedding day. They will answer all your concerns that concern bridal beauty routines and eliminating sudden zits. Simply say "I will follow these bridal beauty guidelines and be prepared to be amazed!
Pre-bridal treatment is essential for all brides to be. Every bride wants flawless skin and hair, and to look beautiful and elegant on her most important day. The pre-wedding packages for brides include the essential skincare and hair care regime that will give you a glowing complexion and smooth hair.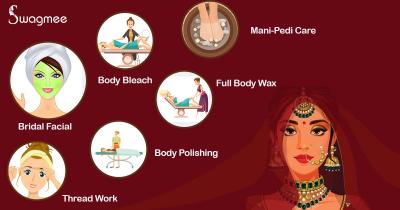 While booking a pre-bridal package it is essential to ensure that you are getting all those things that are required to get a perfect skin. It is always advisable that you must book pre-bridal grooming services at home as it offers numerous benefits such as high level of convenience, maximum results, relaxing experience, and much more.
Get Top Rated Pre-Bridal services at home in Delhi, Noida, Ghaziabad, Gurugram and Faridabad
We know it is your Big Day girl and you prefer comfortness and perfectness over anything now. Don't worry! With our pre-bridal home grooming services you will get all your beauty needs fulfilled as you want. These home beauty services will not only do wonders to your hair and body but also soothes your mind and soul as you will feel more relaxed. So cheers up to the relaxing glamouring experience and before your wedding shenanigans start, pamper yourself. Book parlour at home and enjoy the time at the comfort of your home.
Much More Than Pre-Bridal Grooming
Swagmee is a one stop solution for all your salon services. Along with pre-bridal grooming, we also offer other beauty services like waxing, facial, manicure-pedicure, body polishing, etc. So, whether you are looking to achieve pretty hair goals or want to have a smooth, gliding body, just get in touch with us and we will handle the rest.
Customers in Noida also booked
Locations
Sector Chi 5 Gr Noida
Techzone - 4
Sector-4 Gr Noida
Jaypee Greens
Sector-16 Gr Noida
Sector ZETA I Gr Noida
Sector Omicron I Greater Noida
Sector Pi- II Gr Noida
Sector-10 Greater Noida West
Sector Omicron III Greater Noida
Sector Pi- 1 Gr Noida
Sector-2 Gr Noida
Sector MU 2 Greater Noida
Sector-16C Greater Noida
Swaran Nagri
Sector Omega -1 Gr Noida
Sector Chi 4 Gr Noida
Alpha-I Gr Noida
Sigma IV
Eta II
NRI City
Surajpur
Sector Chi 3 Gr Noida
Alpha-II Gr Noida
Ecotech III
Sector Phi ll Gr Noida
Sector-Pi Gr Noida
Site C Gr Noida
Sector ZETA Gr Noida
Sector Mu Gr Noida
Pari Chowk
Beta 2 Gr Noida
Sector Phi IV Greater Noida
Gurjinder Vihar
Sector-27 Greater Noida
Site B Gr Noida
Chi - Phi
Beta 1 Gr Noida
Surajpur Industrial Area
Omicron sector Gr Noida
Knowledge Park V
Omega II Gr Noida
Sector 17A
Delta II Gr Noida
Golf Course
Ecotech I
Eta Sector Gr Noida
Gamma II Gr Noida
Jalvayu Vihar
Sector-P 4 Gr Noida
Knowledge Park III
Sector Xu-I Gr Noida
Sector MU I Greater Noida
Sector Omicron 1A Greater Noida
Dankaur
Sector-22D Yamuna Expressway
Sector-4 Greater Noida West
Sector-128 Noida
Sector-78 Noida
Sector-62 Noida
Sector-93 B Noida
Sector-100 Noida
Sector-61 Noida
Sector-76 Noida
Sector-93 A Noida
Sector-45 Noida
Sector-110 Noida
Sector-120 Noida
Sector-144 Noida
Sector-151 Noida
Sector-70 Noida
Sector-93 Noida
Sector-119 Noida
Sector-104 Noida
Sector-25 Noida
Sector-44 Noida
Sector-52 Noida
Sector-108 Noida
Sector-94 Noida
Sector-43 Noida
Sector-129 Noida
Sector-124 Noida
Chhalera
Sector-53 Noida
Sector-73 Noida
Sector-152 Noida
Sector-28 Noida
Sector-117 Noida
Sector-71 Noida
Sector-135 Noida
Sector-133 Noida
Sarfabad Village
Sector-51 Noida
Hajipur
Sector-49 Noida
Sector-30 Noida
Sector-99 Noida
Block F Sector-50 Noida
Arun Vihar
Sector-92 Noida
Sector-32 Noida
Sector-15A Noida
Sector-16B Noida
Sector-36 Noida
Sector-48 Noida
Sector-42 Noida
Sector-105 Noida
Sector-22 Noida
Sector-33 Noida
Sector-126 Noida
Sector-106 Noida
Baraula
Sector 86 Faridabad
Sector 88 Faridabad
Sector 82 Faridabad
Sector 84 Faridabad
Sector 77 Faridabad
Sector 78 Faridabad
Sector 80 Faridabad
Sector 75 Faridabad
Sector 70 Faridabad
Suraj Kund
Sector 81 Faridabad
Sector 89 Faridabad
Sector 21C Faridabad
Sector 87 Faridabad
Sector 76 Faridabad
Sector 48 Faridabad
Sector 72 Faridabad
Charmwood Village
Sector 43 Faridabad
Sector 46 Faridabad
Sector 45 Faridabad
Sector-143 Faridabad
Sector 41 Faridabad
Sector 21D Faridabad
Sector 3 Faridabad
Sector 79 Faridabad
Sector 42 Faridabad
Sector 63
Sector 37 Faridabad
Sector 2 Faridabad
Sainik Colony
Sector 65 Faridabad
Sector 64 Faridabad
Ashoka Enclave
Sector 21 Faridabad
BPTP
Sector 19 Faridabad
Sector 57 Faridabad
Aravali Vihar
Sector 16A Faridabad
sector 10 Faridabad
Mathura Road
Sector 29 Faridabad
Sector 30 Faridabad
Sector 91 Faridabad
Sector 49 Faridabad
Green Valley
Sector 52 Faridabad
Sector-56A Faridabad
Ankhir
Ashoka Enclave Part-I
Lakkarpur
Shiv Colony
Rajendra Colony
Bathola
Raj Nagar Extension
Vaibhav Khand
Siddhartha Vihar
Crossing Republik
Ahinsa Khand 1
Ahinsa Khand 2
Bhopura
Ramprastha Greens
Sector-1 Vaishali
Sector-4 Vaishali
Shalimar garden
Judges Enclave
Ankur Vihar
Govind Puram
Sector-5 Vaishali
Lal Kuan
Kaushambi
Sector-3 Vaishali
Nyay Khand 1
Mehrauli
Sahibabad
Sector-15 Vasundhara
Pratap Vihar
Sector-3 Vasundhara
Wave City
Sector-9 Vaishali
Dundahera
Shahpur Bamheta
Shalimar Garden Extension I
Kamma 1
Shalimar Garden Extension II
Mohan Nagar
Sector-14 Vasundhara
Madhuban Bapudham
Ramprastha
Sector-17 Vasundhara
Sector-2 Vaishali
Loni
Nyay Khand 2
Sector-5 Vasundhara
Niti Khand 1
Bamheta
Sector-18 Vasundhara
Sector-23 Sanjay Nagar
Niti Khand 3
Dilshad Plaza
Nehru Nagar III
Sain Vihar
Chander Nagar
Avantika Colony
Gyan Khand 3
Kinauni Village
Sector 2B Vasundhara
Sector-5 Rajendra Nagar
Raj Nagar
Chiranjeev Vihar
Surya Nagar
Gyan Khand 2
Bhuapur
Sector-13 Vasundhara
Sector-4 Vasundhara
Anand Vihar
Abhay Khand 3
Abhay Khand 2
Tronica City
Delhi Ghaziabad Road
Wazirabad
Shakti Khand 3
Shakti Khand 2
Chipiyana Buzurg
Vaishali Extension
Neelmani Colony
Rampuri
Sector-6 Vaishali
Sehani Khurd
Sector-11 Vasundhara
Sector 4B Vasundhara
Sector 6 Vasundhara
Sector-2 Rajendra Nagar
Sector 4A Vasundhara
Sector-4C Vasundhara
Nyay Khand III
Sector-12 Pratap Vihar
Gangapuram
Sector-7 Vaishali
Kavi Nagar
Brij Vihar
G T Road
Shastri Nagar
Nandgram
Lajpat Nagar - Ghaziabad
Dadri
Gandhi Nagar
Sanjay Nagar
Gyan Khand 1
Sector-65 Gurgaon
Sector-102 Gurgaon
Sector-109 Gurgaon
Sector-81 Gurgaon
Sector-84 Gurgaon
Sector-83 Gurgaon
Sector-86 Gurgaon
Sector-69 Gurgaon
Sector-108 Gurgaon
Sohna
Sector-90 Gurgaon
Sector-104 Gurgaon
Sector-54 Gurgaon
Sector-79 Gurgaon
Sector-56 Gurgaon
Sector-37D Gurgaon
Sector-85 Gurgaon
Sector-70A Gurgaon
Sector-92 Gurgaon
Sector-82 Gurgaon
Sector-67 Gurgaon
Sector-48 Gurgaon
Sector-68 Gurgaon
Sector-49 Gurgaon
Sector-66 Gurgaon
Nirvana Country
Sector-62 Gurgaon
Sector-59 Gurgaon
Sector-77 Gurgaon
Sector-91 Gurgaon
Sector-106 Gurgaon
Sector-70 Gurgaon
Sector-113 Gurgaon
Sector-72 Gurgaon
Sector-103 Gurgaon
Sector-112 Gurgaon
DLF CITY PHASE 5
Sector-107 Gurgaon
Sector-61 Gurgaon
Sector-60 Gurgaon
Sector-82A Gurgaon
Sector-47 Gurgaon
Sector-110 Gurgaon
Sector-89 Gurgaon
Sector-99 Gurgaon
Sector-95 Gurgaon
Sector-88A Gurgaon
Gwal Pahari
Sector-71 Gurgaon
Sector-37C Gurgaon
Sector-111 Gurgaon
Sector-52 Gurgaon
Sector-50 Gurgaon
Sector-53 Gurgaon
DLF CITY PHASE 2
DLF CITY PHASE 4
Sector-22 Gurgaon
Sector-93 Gurgaon
Sector-110 A Gurgaon
Sector-57 Gurgaon
Palam Vihar
Sushant Lok Phase - 1
Sector-42 Gurgaon
Sector-67A Gurgaon
Sector-33 Gurgaon
Sector-28 Gurgaon
Sector-43 Gurgaon
Sector-30 Gurgaon
sector-58 Gurgaon
DLF CITY PHASE 1
DLF CITY PHASE 3
Sector-36A Gurgaon
Sector-51 Gurgaon
Sector-78 Gurgaon
Sector-99A Gurgaon
Sector-3 Gurgaon
Sector-63 Gurgaon
Sector-55 Gurgaon
MG Road
Sector-31 Gurgaon
Sector-63A Gurgaon
Sector-76 Gurgaon
Sector-74 Gurgaon
Sector-41 Gurgaon
Sun City
Sector-2 Gurgaon
Sector-45 Gurgaon
Sector-37 Gurgaon
Sector-73 Gurgaon
South City 1
Sector-10A Gurgaon
Sector-95A Gurgaon
Ardee City
Sector-89 A Gurgaon
Chakkarpur
Sector-1A IMT Manesar
B.K Dutt Colony
S.D.A
Sarita Vihar
Saket
Sector-D Vasant Kunj
Sector-E Vasant Kunj
Alaknanda
Chattarpur Enclave Phase 2
Jasola
Kishangarh Village
Okhla
Kalkaji Extension
Sector-B Vasant Kunj
Kalkaji
Defence Colony
Sector-C Vasant Kunj
Chattarpur Extension
Munirka
Sheikh Sarai
Malviya Nagar
Khirki Extension
Vasant Vihar
Neb Sarai
Greater Kailash II
Sector-A Vasant Kunj
Hauz Khas
Devli
Safdarjung Enclave
East of Kailash
Khanpur
Phase-2 Sheikh Sarai
Tughlakabad Extension
Shaheen Bagh
C R Park
Jamia Nagar
Gautam Nagar
Sultanpur
Rajpur Khurd Extension
Sukhdev Vihar
Lado Sarai
Vijay Mandal Enclave
Green Park Extension
Kapashera
Kalu Sarai
Pulpehladpur
Ghitorni
Masjid moth
Panchsheel Enclave
Gulmohar Enclave
Mandi
Lajpat Nagar II
Abul Fazal Enclave I
Zakir Nagar
Dera Mandi
Satbari
Green Park Main
Arjun Nagar
Geetanjali Enclave
IGNOU Road
Badarpur
Jogabai
Munirka Vihar
Lajpat Nagar
New Friends Colony
Gulmohar park
Govind Puri
Kailash Colony
Mahipalpur
Aaya Nagar
Gangotri Enclave
Aurangzeb Road
Gadaipur
Giri Nagar
Sunlight Colony
Arjun Garh
Katwaria Sarai
Ashram
Sriniwas Puri
Shahpur Jat
Freedom Fighter Enclave
Madangir
Pocket A Sarita Vihar
Ghaffar Manzil Colony
Rajpur Khurd
Rangpuri
New Manglapuri
Neeti Bagh
Okhla Phase 1
Mahipalpur Extension
Okhla Vihar
Jaitpur Extension
Safdarjung
Green Park
Westend
Moti Nagar
Janakpuri
Rajouri garden
Hari Nagar
Lok Nayak Puram
Mahavir Enclave
Mohan Garden
Palam Colony
Nawada
Punjabi Bagh
DG 2 Block Vikaspuri
West Patel Nagar
Om Vihar
D Block Vikaspuri
Bakkarwala
Bodella
Uttam Nagar West
Tilak Nagar
Hastsal
Kirti Nagar
Peeragarhi
Karampura
Vishnu Garden
F Block Vikaspuri
Patel Nagar
Paschim Puri
Mundka
J Block Vikaspuri
Mansa Ram Park
Uttam Nagar East
Naraina
Meera Bagh
Narain Vihar
G Block Vikaspuri
Ganesh Nagar
New Moti Nagar
Punjabi Bagh West
Rajouri Garden Extension
Rajapuri
Nanhey Park
Najafgarh
Raja garden
Virender Nagar
Madipur
Mianwali Nagar
A6 Block Paschim Vihar
A Block Vikaspuri
Ashok Nagar
Tagore Garden Extension
Sainik Nagar
Ajay Enclave
Param Puri
Ramesh Nagar
Lajwanti Garden
Old Rajinder Nagar
Subhash Nagar
Nangloi
New Rohtak Road
Shyam Vihar - I
Sunder Vihar
A2 Block Paschim Vihar
A3 Block Paschim Vihar
H Block Vikaspuri
A1 Block Janakpuri
Ranjit Nagar
Chand Nagar
Chanakya Place I
Manglapuri
New Uttam Nagar
Mansarovar garden
Jail Road
Tagore Garden
Inderpuri
Ambica Vihar
Najafgarh Road
Pusa Institute
Baljeet Nagar
Ranjeet Nagar
Shivaji Marg Phase I
A1 Block Paschim Vihar
A4 Block Paschim Vihar
A5 Block Paschim Vihar
B3 Block Paschim Vihar
B5 Block Paschim Vihar
Krishna Park
A2 Block Janakpuri
B1 Block Janakpuri
B 3B Block Janakpuri
C1 A Block Janakpuri
Punjabi Bagh East
Guru Nanak Nagar
Jaidev Park
Sagarpur East
Keshopur
Mahavir Nagar New
Sector-13 Rohini
Sector-28 Rohini
Sector-29 Rohini
Sector-34 Rohini
Sector-14 Rohini
Sector-18 Rohini
Shalimar Bagh
Narela
Sector-15 Rohini
Keshav Puram
Burari
Sector-8 Rohini
Sector-35 Rohini
Jahangir Puri
Ashok Vihar
Sector-23 Rohini
Ashok Vihar Phase-1
Sector-16 Rohini
Ashok Vihar Phase-4
AC Block Shalimar Bagh
Siraspur
West Shalimar Bagh
Sector-A9 Narela
Sector-7 Rohini
Sector-17 Rohini
Sector-3 Rohini
Mukherjee Nagar
Prashant Vihar
Gulabi Bagh
Loknayak Puram
Sector-11 Rohini
Ashok Vihar Phase-2
Uttari Pitampura
Rampura
Civil Lines
Sector-19 Rohini
Ashok Vihar Phase-3
AD Block Shalimar Bagh
Sector-A5 Narela
Lawrance Road
Sector-5 Rohini
Azadpur
Bawana
Sector-2 Rohini
Sector-6 Rohini
Sector-21 Rohini
Model Town Phase-3
Poorvi Pitampura
Dakshini Pitampura
Timar Pur
Rithala
Sector-20 Rohini
Sector-22 Rohini
AN Block Shalimar Bagh
DA Block West Shalimar Bagh
AD Block Pitampura
Sector-A10 Narela
Vijay Nagar
Engineer Enclave
Kapil Vihar
Nirankari Colony
Harsh Vihar
East Shalimar Bagh
BW Block West Shalimar Bagh
Mohammadpur Majri
Sainik Vihar
Vijay Vihar
West Enclave
Baba Colony
Rana Partap Bagh
Kamal Pur
Kamla Nagar
Shakti Nagar
Saraswati Vihar
Sant Nagar
Malka Ganj
Kohat Enclave
Jawahar Nagar
Kalyan Vihar
Tri Nagar
Shivaji Marg
Derawal Nagar
Maharana Pratap Enclave
Sector-1 Rohini
Sector-4 Rohini
Sector-25 Rohini
Vaishali
CA Block West Shalimar Bagh
Adarsh Nagar Extension
Indira Nagar
JJ Colony Wazirpur
Sector-A6 Narela
Sector-B4 Narela
Old Gupta Colony
Mayur Vihar - II
Patparganj
Vasundhra Enclave
Akshardham
Mayur Vihar - III
Dilshad Colony
Kondli Gharoli
Laxmi Nagar
GTB Enclave
KarKardooma
Gazipur
Geeta Colony
Chilla
Krishna Nagar
Mansarovar Park
West Vinod Nagar
Pandav Nagar
New Ashok Nagar
New Kondli
Shakarpur
Mandawali
Kondli
Sunder Nagari
Yamuna Vihar
Guru Angad Nagar
Vishwas Nagar
Shreshtha Vihar
Jhilmil Colony
Jyoti Nagar West
Naveen Shahdara
Ram Nagar
Paryatan Vihar
IP Enclave
Vivek Vihar
Bhajanpura
Vinod Nagar
Jagatpuri
Dayanand Vihar
Chander Vihar
Swasthya Vihar
Nirman Vihar
Bank Enclave
Gorakh Park West
Guru Angad Nagar West
Joshi Colony
Kabool nagar
Maujpur
New Modern Shahdara
Rajgarh Colony
Rohitash Nagar West
Shashi Garden
Shastri Park
Vivek Vihar Phase I
Babarpur Village
Bhola Nath Nagar
Trilokpuri
Madhu Vihar
Ram Nagar Extension
Lalita Park
DaryaGanj
Prasad Nagar
Connaught Place
Motia Khan
Janpath
Paharganj
Tilak Marg
Rajinder Nagar
Old Rajender Nagar
Rajendra Place
Sadar Bazar
Amrita Shergill Marg
Kishan Ganj
Dev Nagar
Nizamuddin West
Sector-11 Dwarka
Sector-22 Dwarka
Sector-5 Dwarka
Sector-19 Dwarka
Sector-18A Dwarka
Sector-7 Dwarka
Sector-23 Dwarka
Sector-9 Dwarka
Sector-13 Dwarka
Sector-3 Dwarka
Sector-2 Dwarka
Sector-14 Dwarka
Sector-18B Dwarka
Sector-17 Dwarka
Sector-19B Dwarka
Sector-1 Dwarka
Sector-23B Dwarka
Sector-18 Dwarka
Sector-16B Dwarka
Palam
Sector-26 Dwarka
Pocket-1 Sector 6 Dwarka
Palam Extension
Sector-8 Dwarka
Kakrola
Nasirpur
Sector-16 Dwarka
Sector-27 Dwarka
Sector-1A Dwarka
Bijwasan
Bindapur
Raj Nagar I
Pocket-2 Sector 6 Dwarka
Patel Garden
Sewak Park
Bharthal
Sector-15 Dwarka
Suraj Vihar
Bamnoli
L Zone
Are You A Professional Beautician Looking for Customers?
Great products, services and long life relationships come from great collaborations. We are looking forward to start a conversation with you, learn more about you, your ability and build something amazing together. If you think you have that talent in beautifying then what are you waiting for?
Click the " Join Now " button and take a step towards your growing journey.
Customer Questions & Answers
Question:
Can pre-bridal grooming really help me to look better on my wedding?
Answer:
Yes, Of course! You can look good with bridal makeup but pre-bridal grooming is must for that enhanced glow. It will not only help you to look more beautiful but will also help to make you feel relaxed that is must every to-be bride.
By Kusum Singh on 18 October, 2021
Question:
Are Swagmee pre-bridal services available in Faridabad?
Answer:
Yes, Swagmee pre-bridal services are available in Faridabad. Apart from Faridabad, these services are also available in Delhi, Noida, Ghaziabad & Gurugram.
By Sunita Singh on 30 November, 2021
Question:
In how much time Magnificence Pre-Bridal Grooming service will be completed?
Answer:
Magnificence Pre-Bridal Grooming service will take up to 6-7 hours.
By Deepika Khanna on 3 December, 2021
Question:
Are your beauticians well-trained?
Answer:
All Swagmee beauticians are well experienced and well-trained. They have an amazing training center in Noida for the beauticians
By Kavita Singh on 4 December, 2021
Question:
Is pre-bridal facial is enough to glow on my face?
Answer:
Yes, pre-bridal facial will enhance your face glow. Also, other services included in package like face wax and face bleach will make it look perfect.
By Huma Khatoon on 7 December, 2021
Customer Testimonials

Perfect services. The hair spa, hair color, facial, body massage everything is awesome. Loved it! Thanks for making my wedding preparation time relaxing and loving.

I really appreciate the work of Janvi. She is such a professional. I feel like I got the best glow ever on my wedding. Thanks to my pre-bridal beauty package.

Thank You for providing the last minute booking. It was such a blessing that I can get the beauty service at my home itself.
Swagmee FAQ'S
What is included in pre-bridal grooming services?
Why should a bride take pre-bridal sessions?
Yes, you can look good with makeup on your wedding day. However, if you want to look perfect then you must not skip the pre-bridal grooming session at all.
What is the cost of your pre-bridal grooming session?
Different packages have different costs. Kindly visit our website to know more.
Do I need to book an appointment for a pre-bridal session in advance?
Yes, you need to book a slot for at least 1 day in advance. Based on the availability and distance your appointment will be confirmed.
How your pre-bridal services can help me to get effective skin and hair nourishment before your wedding?
Our pre-bridal packages involve different skin and hair nourishing beauty services which include body polishing, facial, hair spa, etc.
How many days before the wedding this service should be taken?
Pre-wedding services should be taken 2 or 3 days before your first wedding function.
How much time it will take to complete the whole pre-bridal grooming service?
All pre-bridal packages involve 1-day service only. However, the number of hours may vary as per packages.
Do you provide body polishing in the pre-bridal package for the Ghaziabad location?
Salon at home Ghaziabad pre-bridal packages involve different beauty services and body polishing is one of them too.
In how many cities, Swagmee offers salon at home service?
You can easily get a Swagmee salon at home services in Delhi, Noida, Ghaziabad, Gurgaon, Faridabad, and Greater Noida.
What all beauty services do you provide in Gurgaon?
Our Salon at home Gurgaon offers Waxing, Facial & Cleanup, Bleach & De-tan, Hair Care, Mani-pedi, Pre-bridal Grooming, Head & Body Massage, and Threading.
What all things should be included in pre-bridal grooming?
A bride should include all these services in her pre-bridal grooming routine:
Facials
Body Scrub
Body Polishing
Waxing
Manicure & Pedicure
Hair Spa
Hair Color
Relaxing Massage
With our salon at home Delhi NCR and other location packages, you can get all these pre-bridal services and much more within the comfort of your home.
Is it possible to schedule this service as per my time for the Noida location?
Swagmee salon at home Noida works from 10:00 am to 7:00 pm and you can schedule your service within this time slot.
What is the process of booking a beauty service with Swagmee salon at home Greater Noida?
You just have to follow some simple steps:
Step1: Visit the Swagmee website - www.swagmee.com
Step2: Move to the "Salon for women" section.
Step3: Choose the required services.
Step4: Select the payment method.
Step5: Choose your preferred time and location.
That's It! The rest will be handled by our team.
What are your different pre-bridal packages for the Faridabad location?
Is it necessary to get body bleach in a pre-bridal grooming service for a perfect glow?
Yes, body bleach is a necessary part of pre-bridal grooming as it offers various benefits:
Help getting rid of suntan
Gives a radiant glow
Evens up your skin tone
Reduces dullness
Offers smoother skin
Why is body polishing necessary for a bride?
It helps in eradicating dead skin cells, promoting cell regeneration, providing effective moisturization and nourishment to your skin, etc. that offers a lovely glow on your special day.
Which facial is best for a pre-bridal session?
The facial choice should depend upon your skin type. Our pre-bridal packages involve Sara Gold Facial & O3+ Bride Beauty Facial. Other than this our salon at home packages involves many more facials which includes:
Cheryl's Glo Vite Facial
VLCC Fruit Facial
Lotus Radiant Golden Glow Facial
Vedic Line Bio White Facial & Mane More.
How should I prepare my skin to look best on my wedding day?
A good skincare regime is key to look best on your wedding day.
Start caring for your skin at least 6 months prior to your wedding date. Make exfoliating, cleansing, toning, and moisturizing a major part of your daily skincare routine. Also, do not forget to take eat healthy.
Once you step into this skin-saving world you will feel that it really works. You do your part and the rest we will handle. Just get in touch with us and our Salon at home Noida beauty experts will guide you on what all you can do to have that glamouring look on your D day.