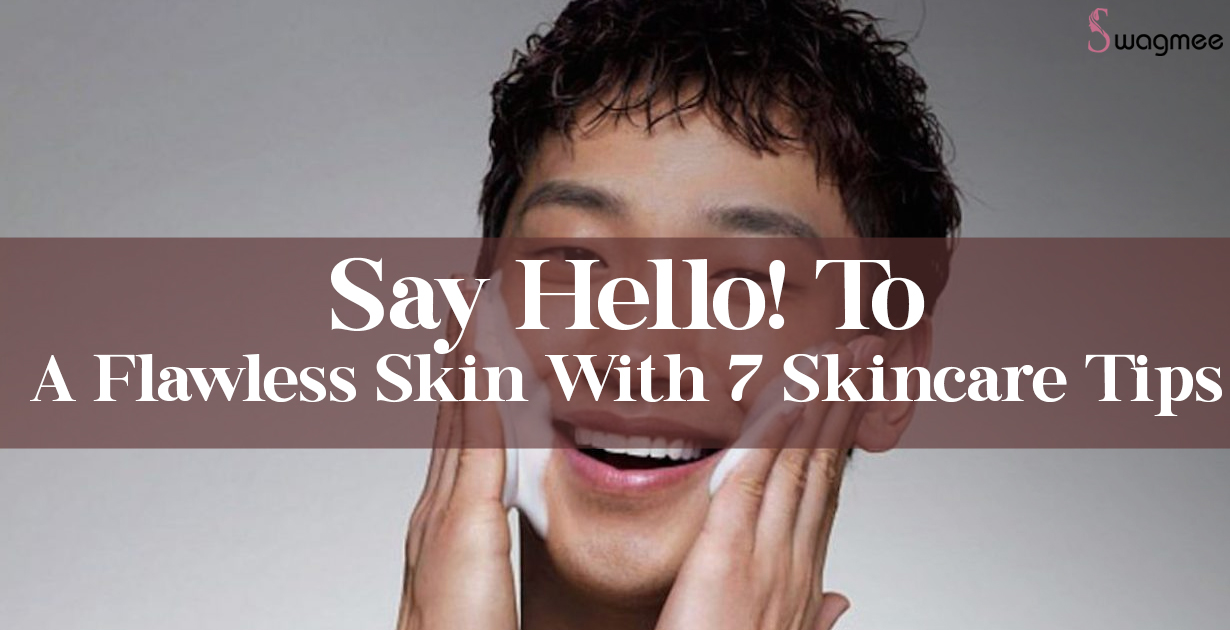 Just the same as women pay attention to their skin. men also require some basic face and body grooming to look classy and be hygienic. If your skincare routine consists just of washing your face and body with water and soap, it's time to raise your game and introduce a few skincare tips. Sticking to a simple yet effective skincare routine can not only keep you clean but will also make you feel good about yourself. To maintain skincare and make it seem flawless, simply follow the skin care tips mentioned below.
What do you mean by a skincare regime?
A skincare routine is a set of steps that you follow to keep your skin looking and feeling good. This may appear to be intimidating and overly complex. It is, however, quite easy. Consider it similar to showering.
Shampoo, conditioner, and body wash are all possible parts of your everyday shower routine. That's how it works.
Why men should have a daily skincare routine?
Men should maintain a skincare regimen because having good skin is one of the simplest ways to look attractive. It only takes a few minutes each day, and you'll be more confident with your own skin before you know it. Even something as incredibly simple as cleaning your face and applying moisturizer on a daily basis will yield positive outcomes. However, one of the main reasons we appreciate following a skincare regimen is that it helps us avoid acne breakouts. When you get up in the morning, you don't want to see acne. As a result, it's vital to use skin-renewing skincare products on a regular basis.
Step 1: Using a Cleanser to Remove Dirt and Oil
Men should keep their faces clean on a regular basis. Due to the existence of more sebaceous glands, men's skin is frequently oilier than women's. Men's glands are also larger than women's, thus they produce more oil. Your skin will be exposed to grime, grit, and filth throughout the day. They'll all stick to your skin and clog your pores. When you consider how much oil and dead skin accumulate on your face over time, it's easy to see why cleaning your face twice a day is so important.
What is the procedure to wash your face with the cleanser?
It's simple to wash your face using a cleanser. To begin, splash your face with lukewarm water. Next, squeeze a nickel-sized amount into your palm.
Then, for about 10 seconds, rub the cleaner in a circular motion on your cheeks, nose, and forehead. After that, rinse with lukewarm water to remove the cleanser.
Step 2: Use a Face Scrub to Exfoliate Your Face
Exfoliation is the technique of removing dead skin cells from the skin. Your skin should be able to shed the cells on its own in ideal circumstances, but this does not always happen. To effectively exfoliate your skin, you'll need to get a face scrub.
How Should Men Use a Face Scrub?
Exfoliate your skin after you've cleaned it with the previous ways. After that, apply the face scrub to your skin using soft massage strokes. Make sure the material can pass through your facial hair and benefit your skin. To remove the scrub, rinse with lukewarm water. Important note: Bearded males should avoid scrubbing their skin.
Step 3: Rebalance pH Levels with a Toner
Toners are needed because they assist in the restoration of pH balance and the removal of particles left behind after cleansing and exfoliation. Some toners are designed to revitalize the face, while others are designed to reduce the appearance of pores. To begin using a toner on your face, you must first determine which toner is best for your skin.
How to Apply a Skin Toner?
To begin, dab a cotton pad with your toner. After that, rub all of the areas where you applied cleanser or exfoliant. If you don't have a cotton pad, purchase a gel-based toner. After that, simply squeeze a tiny amount into both palms and rub your skin.
Step 4: Apply Serum to Rehydrate and Restore Nutrients
Be honest with yourself: Do you believe you look your age? Because of their genetic makeup, some people age faster than others. Fine lines and crow's feet can make you look years older than you are, but the right serum can help slow down the aging process (to some extent). Serum may not appear to be an essential component of a man's skincare regimen. The serum is one of the most basic strategies to keep your skin and eyes healthy.
How to Apply Serum
The serum is often supplied in a small vial with a pipette. To begin, squeeze two to three drops onto your fingertips. Apply the drops to your forehead, nose, and cheeks with a fast, circular rubbing motion.
Do the same thing with eye serum, but exclusively for your eyes. Apply the leftovers to your neck and jawline after doing this for around 10 seconds.
Step 5: Use a moisturizer to hydrate your skin
You should understand the importance of drinking enough water throughout the day. Drinking the required eight glasses of water every day will benefit your skin tremendously. Think about adding a moisturizer to your routine if you need a little extra help. This is without a doubt one of the best things you can do for your skin and one of the most crucial phases in a men's skincare routine.
What Is the Best Way for Men to Apply Moisturizer?
Apply moisturizer when your skin is still damp. In this method, the lotion retains moisture in the skin, keeping it hydrated. After each wash, it's also a good idea to moisturize your hands. While many men are concerned with the health of their facial skin, it is equally important to care for the rest of your body. Furthermore, your hands are more likely to be exposed to irritants than your face, and they may benefit from the additional protection.
Step 6: Use a Concealer to Hide Pre-Existing Acne
Nobody wants to deal with pimples. While blemishes are commonly associated with adolescence, they can persist well into adulthood. You must be able to deal with them appropriately when they appear.
When Should a Man Use Concealer?
When you have an active pimple, you merely need to use concealer. Concealer should be the final thing you apply to your skincare routine. Wait around 10 minutes after applying moisturizer to your skin before using your concealer tool.
Step 7: Use an SPF to keep your skin fresh & youthful
Sunscreen Facial cleansers and moisturizers are great for keeping your skin in good health, but you should also consider all of the ways you're harming it unknowingly. With a little planning ahead of time, you can slow down the aging process significantly. Some aspects of our men's skincare regimen can be adjusted. Use a face scrub once or twice a week, for example. We make it a point to apply sunscreen every time we go outside. For us, this is a no-brainer. Sunscreen helps protect your skin's melanin while you're outside in the sun. UV rays can burn your skin's outer layer if you don't wear sunscreen, resulting in discoloration and premature aging.
When Is It Best to Apply Sunscreen?
Apply sunscreen 30 minutes before going outside in the sun. This allows enough time for the material to soak into the skin and protect it. Many people only think about using sunscreen when it's hot outside in the summer. Even if it appears to be cold outside, the sun is still present, and it only takes 15 minutes for damage to occur.
So, this is an ideal skincare routine that should be maintained by every man However, some guys may be hesitant to engage in a men's skincare routine because they believe it will be costly. Then, it is a perfect time for making an appointment for an at-home salon service via Swagmee that serves you with quality service at a reasonable price. So, what are you waiting for? Book your slot for the salon at home Wazirabad, Delhi, Gurgaon, Faridabad, Noida, Ghaziabad, and Greater Noida now.
FAQ's
What is the best way to figure out my skin type?
Normal, oily, dry, combination, and sensitive skin are the most common classifications for the skin. However, as a result of a variety of factors such as lifestyle, hormones, and diet, your skin texture and type might vary over time. The best technique to figure out your skin type is to wash it gently and then study it for many hours without applying any products.
What are the benefits of using a moisturizer?
A good moisturizer can help prevent and treat dry skin, as well as protect sensitive skin and improve your skin's texture. Using a moisturizer daily can help your skin stay hydrated and healthy-looking.
What is the best method for dealing with sensitive skin?
The best method to handle sensitive skin is to treat it gently. Do not use a harsh cleanser or any other harsh items that may contain irritating ingredients. Always choose products that are appropriate for your skin type and have been specially developed for sensitive skin.
Is it really necessary for me to put on sunscreen every day?
Every day, you should apply sunscreen to protect your skin from damaging UV rays. Sunscreen can also help prevent skin cancer and other aging issues like fine lines, wrinkles, spots, and skin discoloration.
What are some ways for preventing the skin from aging?
Your skin will lose its suppleness and collagen over time, becoming sagging and wrinkled. However, with the right skincare routine, you can improve the appearance of your skin. Protect your skin from the sun's harmful rays by using a broad-spectrum sunscreen and topical retinoid and antioxidant treatments.