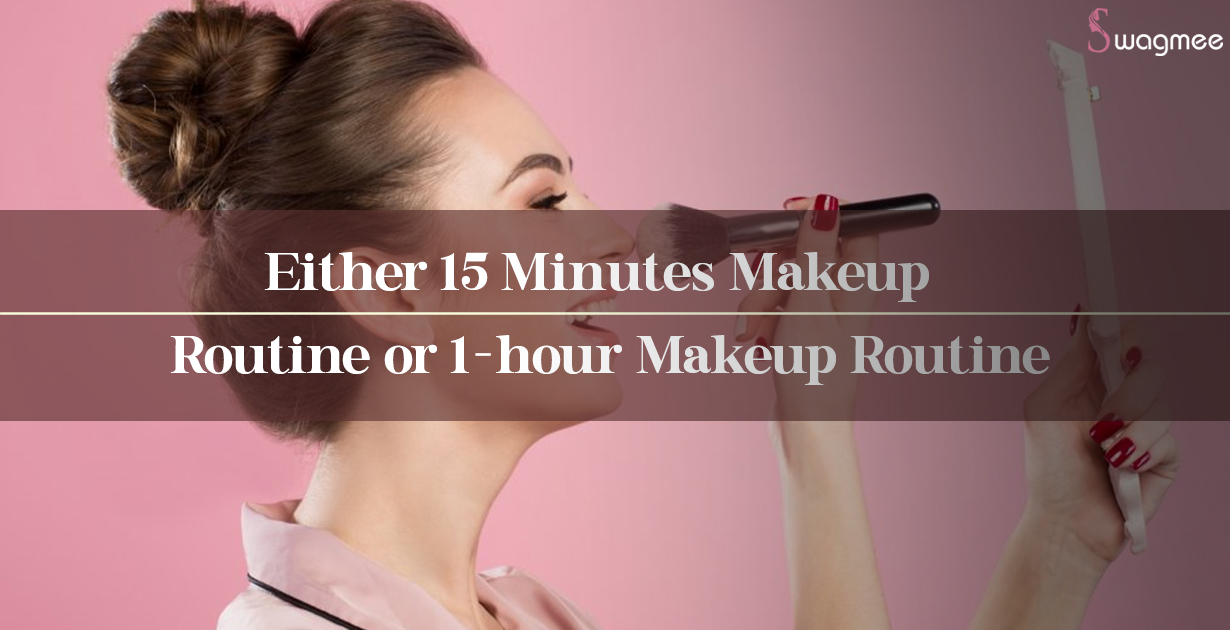 You must be in a hurry when it comes to early morning makeup and at that time you cannot jump to a lot of products. Well, we got you safe with our 15-minute makeup hack which will make you glow and glam up your face within a few minutes. This hack is suitable for every beginner and college-going or office-going makeup lover.
Start with your eyes: For quick and efficient makeup you should always start with the eyes as your eyes are the most beautiful and sparkling part of your face. And make sure that your eyebrows are flicked, if not then you can book swagmee threading at home for quick and safe threading at home. Now let your eyes do the talking. Start with applying a medium or light shade of eye shadow on the eyelids and blend it with a slightly darker color on the crease, you can use warm brown or a neutral shade for the eyelid or a slightly darker shade of brown for the crease. Then apply a thin line of eyeliner (use an eyeliner pencil or sketch for the liner to be quick) and then apply mascara on your upper and lower lashes. It will take 3 - 5 minutes.
Apply BB cream: Apply BB or CC cream on your face where you have spots and scars avoid applying it on all of your faces or you can gently pat it with a loose powder or compact for a matte finish look. Use your finger to tap and blend the product as you have to cover only a certain part of the face. Make sure your face is well moisturized and prepared before applying the BB cream. The process will take 1-2 minutes only.
Use a multi-tasking product for your lips and cheeks: You can go for a lips or cheeks tint for the rosy look or apply the tint of any of your favorite colors such as rosy pink, red, orange, or maroon depending upon your skin tone. Apply the tint in dot form on your cheeks make sure you apply it on the apples of the cheeks and on the tip of your nose for the sunset look and apply the same tint on your lips and put a gloss on it for shine. It will take you around 2-3 minutes.
Highlighting the essential points of the face: Highlighters are a very important part of the makeup routine, who doesn't want a shiny tip of the nose and highlighted cheeks? Unlike other beauty products, it can be a bit technical as you can't blend highlighter all over your face cause you don't want to look like a disco ball, it has some techniques like where to apply it such as tip & bridge of your nose. Cheeks, eyebrow bones, chin & forehead. You can also apply some on the collarbone to highlight the neck area, in case you are wearing a deep-neck top.
Makeup spray: Apply setting spray after applying all the products to set it on your face whether you apply heavy makeup or light you need a setting spray to fix the makeup. So that it can stay all day long.
You can avoid a few products such as bronzer, contour, heavy foundation, dark eye shadows, heavy blush, and concealer. Or You can watch a few makeup tutorial videos online to get in-depth knowledge about beauty hacks.
Let's jump into the 1-hour makeup routine
The 1-hour makeup routine has ample products and definitely requires plenty of time. This makeup basically goes with a party look, date night look, wedding look, or any other occasion.
When it comes to heavy makeup, you need a lot of patience and mastery but if you follow the proper steps you can achieve the look even if you are a beginner.
Prepare your skin: If you are going for an hour of makeup then it's better to prep your skin properly. Or you can book a swagmee salon at home for in-house makeup services that is safe.
Apply primer: Apply a blurring primer to blur out the large pores and to make your skin even and smooth. Never ever skip your primer if you are going for a heavy look as you don't want any acne or breakouts.
Heavy foundation: If you want full coverage use heavy foundation to cover all the blemishes, acne, and scars.
Concealer: Apply concealer on spots that you want to conceal such as dark circles, scars, acne marks, bridges of your nose, etc.
Use face powder or loose powder: Dab your face with loose powder to eliminate the oiliness from the face and set the base.
Apply blush on your cheeks: Your makeup can look really flat without adding colors to it, apply blush on your cheeks with the help of a fluffy blush for a rosy effect.
Eye makeup: You can go for an elegant or smoky look as per your dress and occasions demand, you can blend 2-3 colors for a glamorous look, apply bold and winged eyeliner for that eye catchy look, and at last apply your mascara and you can also use falsies.
Contour: Give your face dimension and depth by contouring your nose, cheekbones, jaw lines, and forehead.
Highlight the tips: Highlight the tip of your nose, the bridge of your nose, eyebrow bones, cheekbones & chin. You can also highlight the collarbone and neck area for the dewy effect.
For the 1 hour makeup look it is better that you should book a professional makeup artist or go to a salon for the makeup, visiting a salon can be a bit hectic and time-consuming so to avoid all that mess, you can just simply call the salon at your home and enjoy the services. And when it comes to salon at-home Noida, Delhi, Gurugram, Ghaziabad & Faridabad services we got you the most comfortable and convenient service by Swagmee.
FAQ's
Why is a setting spray important after makeup?
To give your makeup a perfect finish and to make it long-lasting you need to apply setting spray after the makeup, you can also apply a little bit before the makeup to moisturize your skin.
Which makeup hack is better: 15 minutes or 1 hour?
Both are equally better and beneficial on their own as the 15 minutes makeup is suitable for everyday looks such as for college or office and the 1-hour makeup is suitable for weddings, parties, dates, clubbing, and any other night or evening occasion.
What products can be avoided while doing the 15-minute makeup hack?
You can avoid a few products such as contour, bronzer, concealer, heavy foundation, dark lipstick, and dark eyeshadows.
What is the common step between a 15-minute makeup and a 1-hour makeup routine?
Prepping the skin is a common step between 15 minutes and 1-hour makeup routines, you cannot avoid this step in either of them.