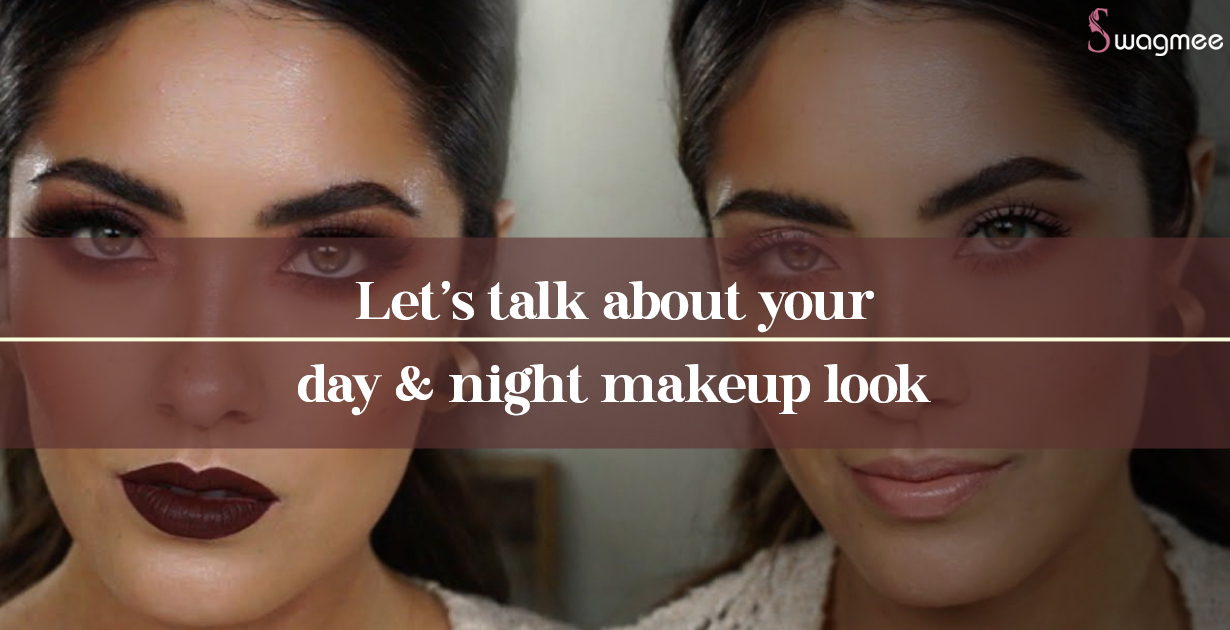 Lighting is the main factor between the day & night makeup look. Makeup can look different at the daytime and at night time. Day makeup is more about skincare then actual makeup you need your skin to shine naturally in the daylight. If you want a flawless look at the daytime start with a strong skin care regime cleansing, exfoliating, toner, serum, moisturizer, face oils, sunscreen and then you are all good to go for your day makeup look. But the makeup varies according to the occasion. If you are going on a vacation you can go for a lighter look or just even out your skin tone with a concealer to get that perfect natural look. Also, you can use a cheek tint or any light color lipstick to give your cheeks some colour that looks naturally blushed. You can also add a shimmer to your eyes and it will make your eyes pop up and will give a little flamboyance to match your outfit and the whole vibe for the day look. Although the Night/ Party look calls for a professional makeup, for that you can book our Swagmee salon at home services for achieving radiant & breathtaking look.
Start your day with bare minimum products.
Color correction and base: Day look is all about looking fresh and flawless. Start with correcting all the imperfections such as acne, scars, dark circles, fine lines and pigmentation. Then cover it with a sheer foundation for a natural look.if you want to add glow and radiance to your base then prep your skin properly with a blurring primer it will give radiance and glow to your base. You can also apply some facial oil and massage your skin for a while before applying color correction and foundation.
Concealer: Apply concealer under your eyes, bridge of your nose and blend it with your finger tip in a dabbing motion don't drag your concealer apply it evenly and also use the concealer which is one shade lighter than your foundation shade.
Eyebrow: Fill in the gaps of your eyebrows, make both the sides even and use lighter shades or natural color which matches your natural hair shade and brush them up in their natural direction.
Eye shadow: Apply light brown or pink color matching your skin tone and undertone, do not go for a darker shade try to keep it light and don't use more than 2 shades. Blend the shades on the crease with light hands if you are going for two shades then put the lighter one on the lids and blend the darker on the crease.
Lashes: You do not have to wear falsies for the day time, you could just simply curl your lashes with your mascara. If you want fuller volume then first apply it in the downwards strokes and then gently lift it up with upward stroke. Apply the mascara to your lower lash as well for the complete look.
Blush: Apply some cheeks tint or any lighter blush complementing your skin tone and apply it with light hands.
Lipstick: Use a light shade of lipstick matching your skin tone, you can use light pink color or any of your favorite nude shades. Just dab it gently on your lips for a natural look.
Shimmer: Use a light shade of highlighter for a natural look, blend it with light hands. You can also skip this part if you do not want a shimmery look.
Setting spray: Spray setting mist all over your face, so that your makeup doesn't move from its place. And stays for a longer period of time.
Night look
For Night look can go all extra and pop up your look by adding glitter and falsies to look radiant and glam. You require slightly darker shades and a bold look when it comes to the night look. It is better that you take help from any professional makeup artists, you must be thinking of going to the salon to get your makeup done and then going to the venue. Yes, it can be a bit hectic but not any more with Swagmee salon at home services calling your salon at home and getting the services done by professional makeup artists, at your house and in your comfort.
The best part of morning and night makeup is you can revamp your day makeup and turn it to a glamorous night makeup or you can start all over it again if you want a fresh look. To achieve that glowing and glamorous look follow these few little steps:
Primer: Use a good quality primer for your night look that blurs out your pores and acta as a layer to your skin to help your foundation glide smoothly on your face. It also makes your skin smoother & softer for radiant glow.
Go for a heavy base: If you are doing a night look then keep your base a bit heavy and use oil based or liquid base foundation to add the glow. Firstly even out your skin with color correctors and then apply foundation. Use a full coverage foundation so that you colour correct your pigmentation and hide your blemishes easily. Cover the areas nicely where you have hyperpigmentation. Use a foundation brush or a beauty blender to blend your foundation. Do not rub the blender on your face, just dab it gently and cover the areas using dot technique for the foundation, put small dots of foundation on your face and spray face mist over it for a dewy look and then blend it out.
Apply concealer: Apply concealer on those areas where you want to highlight such as under eyes to hide your dark circles, bridge of your nose, chin and forehead. Use a liquid concealer or cream based concealer. After concealing, dab your face with a setting/ loose powder or a compact can get rid of your fine lines and creases under eyes and even out your skin, also removes excess oil from your face.
Contouring: Give your face a fine sculpting & dimension. Contour your nose, cheekbones, fore head and all the extra flesh. Draw on the areas you want to cut and gently blend it with the help of a sponge or contouring brush. Use an angled brush for your cheekbones. And for the rest you can blend with sponge.
Highlighter: The game changer of the night is your highlighter. Apply good amount of highlighter for that glowing and radiant look. You can apply it on the tip and bridge of your nose, forehead, cheeks, eyebrow bones, chin & collar bones. It is basically to highlight the features of your face to make it look more natural and glowy.
Eyebrows & eyeshadow: Fill in your eyebrows with natural eyebrow pencil matching your original color of the brows and then brush it out. For eye shadow go for dark and shimmery colors. You can blend 2-3 shades and make your eyes do the talking.
Lipstick: Go for darker shades and put some gloss over it as it makes your lips look plump and shiny. If you want matte finish then you can avoid the gloss but do apply lip balm before applying the lipstick.
Do not skip removing your makeup after a heavy makeup session. Follow your Night time skin care routine to retain back moisture in your face.
FAQ's
Why is skincare important before going to bed?
Skincare has many benefits such as preventing breakouts, acne, and fine lines and many other skin problems. It moisturizes your skin and prepares it for the next day. It also makes your skin healthy and supple.
How to achieve the best night look?
To achieve that flawless and radiant night look you need to have great makeup skills and mastery in the art. If you are going to a party , it's better if you take salon services and if you do not have time for that then you can book a Swagmee salon at home services and enjoy the session at your comfort.
What are the important tools for day & night makeup?
The tools are pretty much the same. It includes:
Foundation brush
Sponge
Eyebrow brushes
Eyeshadow brushes
An angled contouring brush
Brush for blush
Highlighter brush
Eyelash curler
Can day look be revamped into night look?
Yes, ofcourse day look can be revamped into a night look as half of your face is done in the day time you can just add a little glitter to your eyes and shinny gloss to your lips and add a little touch ups and you are good to go for the night glam look.
Is preparing your skin important for both day & night look?
Yes, it is important to prep your skin before any type of makeup look. The makeup products include many chemicals which will harm your skin if it is not covered properly. You might have to deal with acne, instant breakouts, fine lines and dryness.