Face masks and skincare regimes aren't just for women. Men should also take care of their faces and skin in order to maintain youthful skin and complexion. Men with dry, oily, or sensitive skin require special care and attention. In this blog, I will discuss the methods of making the best face mask at home for oily skin, dry skin, and skin discoloration.
A homemade face mask can do wonders on your skin and upkeep the maintenance of your rugged & macho personality. The mask traps moisture or ingredients in the skin and forms a film that serves to hydrate, moisturize, dry, or exfoliate the skin depending on the ingredients used and the aim of the mask. As a result, face masks allow chemicals to permeate deeper into your skin in a shorter time period. In this blog, we will discuss how to make some simple yet effective face mask at home.
Yogurt And Turmeric Face Mask For Men To Remove Sun Tan
This face mask at home is intended to treat skin damage and sun tanning. Men are less likely to use sunscreen, which causes their skin to tan more easily, which is why this yogurt and turmeric face mask will be ideal for removing sun tan from the face and body.
Take one teaspoon of curd or yogurt and mix in three pinches of turmeric powder. Combine and apply to the face and other tanned body parts. Allow it to sit for 20 minutes before rinsing.
Face Mask With Milk Cream And Oats For Men With Dry Skin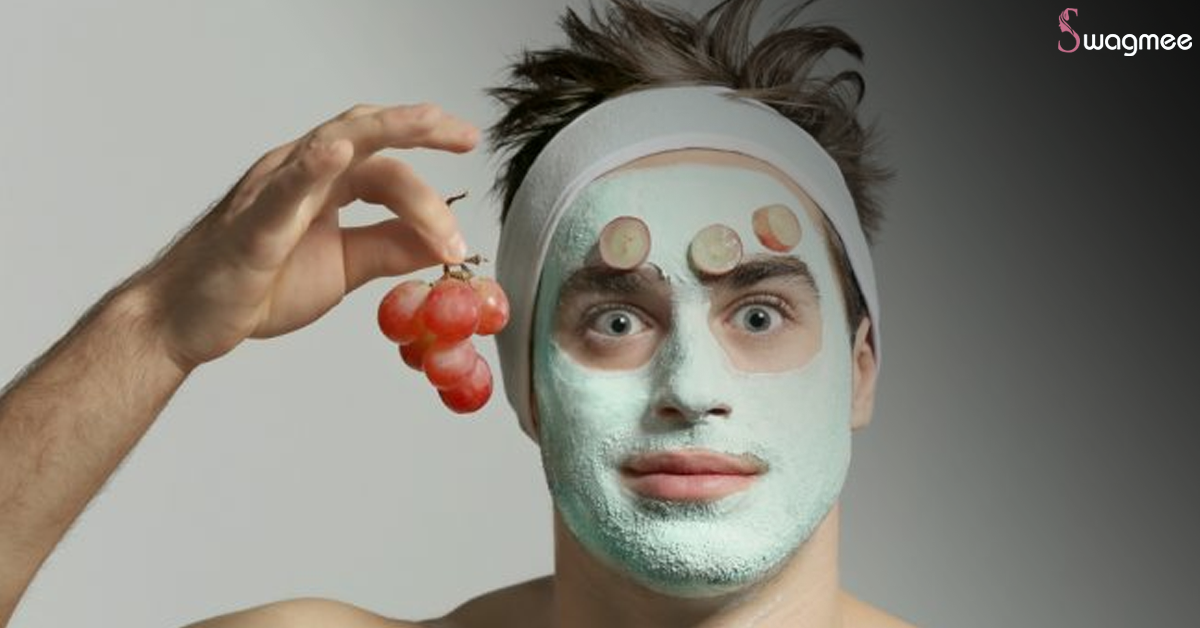 Many men suffer from dry skin, which causes their skin to become parched and flaky. Peeling skin is unsightly and worsens with shaving, so this oatmeal and milk cream face mask is ideal for dry skin.
Take half a cup of milk cream and half a cup of oatmeal. Combine the two and apply them to the face as a mask. After 20 minutes, wash your hands.
Neem Face Mask For Men Suffering From Acne And Pimples On Their Faces
Men with acne and pimple-prone skin will benefit from this face mask at home because it contains neem, which, due to its antibacterial properties, quickly clears skin infections and pimples.
To make a paste, combine 1 teaspoon of neem powder with some rose water or plain water. After 15 to 20 minutes, wash your face. You can try this three times per week. This is an excellent home remedy for acne-prone skin.
Tulsi And Mint Herbal Face Mask For Men For Acne And Bright Skin
This mint face mask is also good for acne and pimples on the face, as well as brightening the dull, shallow skin complexion. This is a men's skin herbal face mask.
Take some Tulsi and mint powder and mix them. If the powder is not available, you can substitute 10-12 Tulsi leaves and 10-12 mint leaves. Make a paste with them and some water. After 15 minutes, apply this tulsi mint paste to your face and rinse. This is suitable for all skin types and can be done three times a week.
A Face Mask Made Of Honey And Orange Juice For Men With Sensitive Skin
This is a gentle skin lightening and whitening face mask at home that is suitable for men with sensitive skin. This contains honey and orange juice, which brightens the skin without being too harsh, as the lemon juice face mask does.
1 teaspoon orange juice and 1 teaspoon honey For best results, use pure organic and natural honey. Apply this to your face and massage gently for 15 minutes. Rinse with water.
Besan Ubtan Face Mask For Men For A Shinier, Lighter Complexion
Indian brides use ubtan with besan to lighten their skin. Improve skin radiance and remove sun tan and acne. Men can also use this ubtan face mask to improve their facial complexion and get rid of dark spots.
1 teaspoon of besan, also known as gram flour, and 3 pinches turmeric With the help of some curd, make a paste of these two ingredients. This face mask's mixing agent will be curd. Apply to the face and allow to dry. After 20 minutes, wash your hands.
Men's Face Mask Of Curd And Rice Flour For Exfoliation
This is an exfoliation face mask that will remove dirt, grime, and dead skin cells from the face. Exfoliating men's face mask made from rice flour and curd is ideal for all skin types and is fantastic for achieving smooth facial skin. This men's face mask will gradually lighten acne scars and pimples. Apply some rice flour to your face and leave it on for 10 minutes. Rinse after scrubbing.
A Face Mask Of Avocado For Healing Your Dry Skin For Men
A dry skin face mask at home should contain as much hydrating moisture as feasible. Avocados are high in healthy fats as well as being delicious. This, together with the antioxidants in honey and the natural oils in almonds, will provide your skin with the moisture it requires. Ground almonds also function as a light exfoliator, removing any dead skin and grime. Make a smooth paste with avocado, honey, and ground almonds. The smoother you can mash the avocado, the easier it will be to put on your skin. Apply it to your face with your fingers and keep it on for 15-20 minutes. Rinse with lukewarm water and a washcloth.
A Banana Face Mask For Treating Your Oily Skin For Men
Bananas are more than just a source of energy. They contain potassium, fiber, antioxidants, and silica. They're wonderful for your skin when combined with vitamin B6 and vitamin C. The banana in this homemade face mask absorbs excess oil, while the lemon juice cleanses. Using oil in a face mask at home for oily skin may seem paradoxical; yet, the extra virgin olive oil will increase hydration. Skin that is prone to excessive oil production may produce even more oil if the face is very dry, worsening the problem. That is why it is still necessary to moisturize oily skin. Make a smooth paste with the banana, lemon juice, and olive oil. The smoother you can mash the banana, similar to the avocado in the mask above, the easier it will be to put on your skin. Apply with your fingertips on your face and leave on for 15 minutes. Rinse well with warm water and a washcloth.
DIY face masks for healing and treating your various skin concerns. The best part about the homemade face mask is that you can make them for yourself too as per your skin requirements and skin type. However, finding time to maintain a proper skincare routine can be a difficult job. Well! In that situation, you can book yourself with Swagmee which facilitates you with numerous skincare services for men that include a face mask, scrub, facial, bleach, and not what! So, what are you waiting for? Make your appointment today for a salon at home Vasant Kunj and dive into the pleasure of skincare services for men with the top beauty professionals at an affordable cost.
FAQ's
How often men should use a turmeric face mask?
A turmeric face mask for men should be applied 2-3 times a week.
What is the duration for applying a coffee face mask on the face?
You should apply the coffee face mask for around 15-20 minutes on your face.
Is it good to use moisturizer before applying a face mask?
Yes, it is good to use moisturizer before applying a face mask. It provides an extra boost to your skin.
Why facemasks are an essential part of skincare for men?
Facemasks are an essential part of skincare for men because they improve the skin texture & appearance.
What are some ideal DIY face masks for treating oily skin?
Aloe Vera & Turmeric Face Mask
Multani Mitti & Rosewater Face Mask
Oat Meal & Honey Face Mask
Gram Flour & Yoghurt Face Mask
Cornmeal & Yoghurt Face Mask