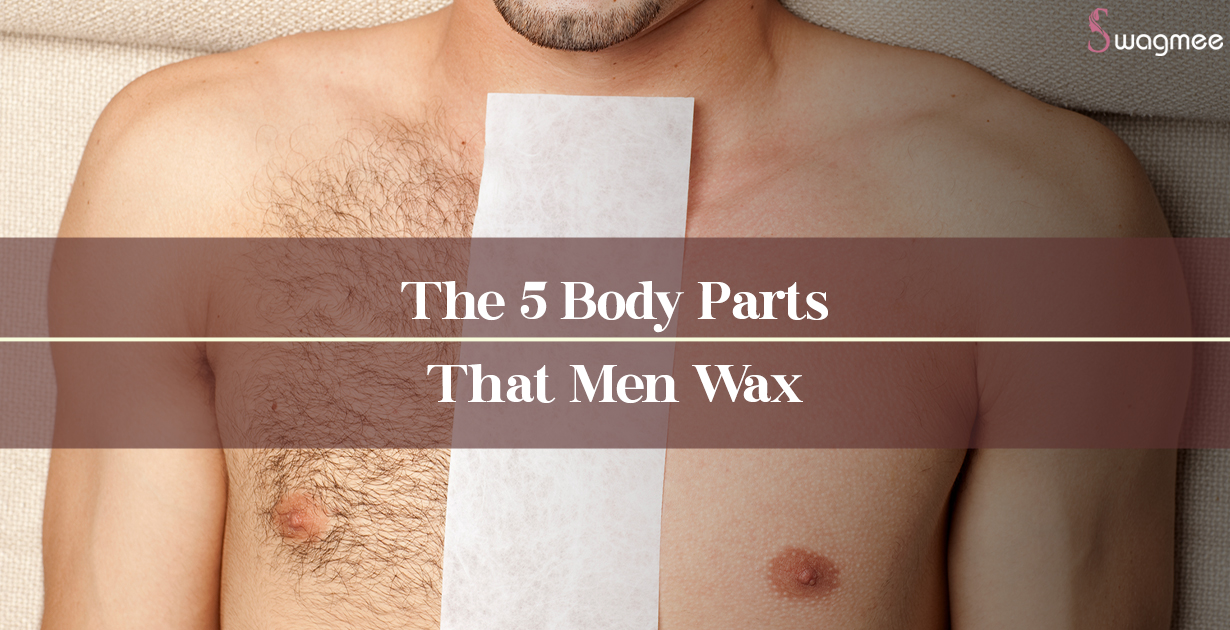 Over the last few years, a large number of men have joined the growing trend. Some men consider professional hair removal to be a measure of their masculinity, while others are afraid of the pain and discomfort associated with getting a wax.
Waxing is an excellent way to remove unwanted hair from any part of the face and body while avoiding embarrassing stubble, irritation, bumps, or ingrown hairs. Waxing allows you to have soft, smooth, and supple skin for longer periods of time. At Swagmee, we want all men to know that there is a better way to keep their mane than shaving every two days. Let's take a look at some of the body parts you should visit for your first or next wax!
We're here to tell you that there's nothing wrong with a little manscaping if it boosts your confidence. We want you to love your skin, and we know that waxing can be a great solution for those who want to improve their self-esteem, athletic performance, or hygiene.
Unlike women, most men do not go all out and get a full body wax.
However, there are five common areas where men prefer to get waxed.
Everyone wants baby-smooth skin, and rightly so!
Shoulders and back
Generally, this is the most commonly waxed area. Many men have hairy backs, and while it's not a problem, getting it waxed can sometimes make them feel more comfortable, especially if it's patchy. Obviously, "home waxing" exists, but you may encounter some difficulties waxing your own back.
Chest
Getting ready for the beach always begins with a good old chest wax. Although not everyone has a hairy chest, the main reason people get it waxed is because of the thickness of the hair. Waxing on a regular basis encourages hair to grow back thinner and slower. So, if you're wondering if it's worth the pain, consider how little you'll have to wax in the long run. Hair grows back much slower when waxed than when shaved, and waxed skin feels much smoother than shaved skin.
Legs
It may not appear to be the most popular, but you would be surprised at how many men get their legs waxed. Men, too, enjoy showing off their legs, and what better way than with smooth skin? In fact, as tattoos become more popular, some men have their legs waxed to make their tats more visible.
Private Areas
A Brazilian wax is applicable to men as well, and it makes it very easy to remove unwanted hair from your private parts, resulting in more hygienic and manageable grooming habits. Waxing makes you feel liberated, clean, and confident. It's understandable for a first-time Brazilian waxer to be nervous or embarrassed, but the Full Body Wax at Swagmee has true professionals with years of experience with proper intimate wax care. So you can rest assured that your bush is in good hands.
Waxing has the additional benefit of slowing hair growth. Waxing, rather than shaving your face, chest, or "down there," can help to slow hair growth. Waxing, rather than shaving your face, chest, or "down there," can slow hair growth, giving you more time to focus on other aspects of your grooming routine.
Stomach
Waxing the midsection removes hair from the entire abdomen section. Men grow thick coats of hair from their groins that reach their abdomen. It frequently gathers below the belly button and grows longer as it progresses. Removing this is an excellent way to clean up the stomach area.
Many men get this service done when they get their chests waxed. This way, their entire front side is smooth and hairless, as opposed to only half of it being hairless. When the shirt is removed, a clean midsection will be more appealing.
EYEBROWS
Men can benefit from brow waxing as much as women, and in fact, they may benefit more. When compared to female eyebrows, male brows develop twice as fast and twice as long. The central region will also develop faster and seem thicker in guys. Waxing is the way to go if your brows are overly thick, or imbalanced, or you want to smooth out the unibrow at the bridge of your nose.
Eyebrow waxing is a quick, efficient way to maintain the appearance of your brows, which for men might mean keeping them from becoming unruly. Waxing your brows improves and highlights the form of your brows and the depth of your eyes. When properly groomed, a good pair of brows can make all the difference.
It's the most effective method to remove hair in these or other locations and encourage improved grooming and hygiene practices. By taking care of your body and ensuring that you feel good about how you present yourself, you are demonstrating to others that you obviously respect yourself. Feeling at ease in your own skin is a critical step in maintaining your general self-esteem and mental wellness.
Waxing is unusual for men, and it evokes fear in their minds. Many people cannot bear the thought of so much pain and suffering. Shaving is their preferred method for removing unwanted hair from places like the back, chest, and legs. Waxing for men, on the other hand, is becoming increasingly popular. They've started looking for smooth legs, whether for athletics or for grooming. When compared to women, men have more hair in some areas. Waxing may sound incredibly painful, but it is not for everyone. There aren't many variations between waxing for men and shaving for women.
For a less painful and complex process, have your waxing done by a professional. It is no crime to try new hair removal methods. Our professional, knowledgeable, and trained wax specialists at Swagmee Waxing are here to make your first, or next, wax as comfortable as possible and to offer you the greatest first-time experience. Book your appointment online today and get your waxing done in the comfort of your own home at any time at any of our locations Salon at home Greater Noida.
FAQ's
Will my wax cause any discomfort?
No, we are confident that your swagmee wax will be less painful than waxes from other, generalist beauty salons, where waxing is only a small part of their treatment menu.
Should I first trim or shave my hair?
Please do not. If your hair needs to be trimmed, we'll do it as part of your treatment, so don't try it at home.
How long will my wax take?
It depends on what exactly you're having done and the extent of your hair coverage, but we guarantee that you'll be amazed by the efficiency with which swagmee therapists work.
Will my skin be sore afterwards?
We can't say no, but it is normal for a heat reaction to being seen on the skin for several hours following treatment. This may vary from mild redness to a stronger skin reaction, including red dots on the waxed area for several hours.
How do I prevent ingrown hair?
Unfortunately, ingrown hairs are more common on men's backs and chests. Scrub and rub is our general recommendation, which means exfoliate regularly and apply plenty of moisturizer to the waxed area.