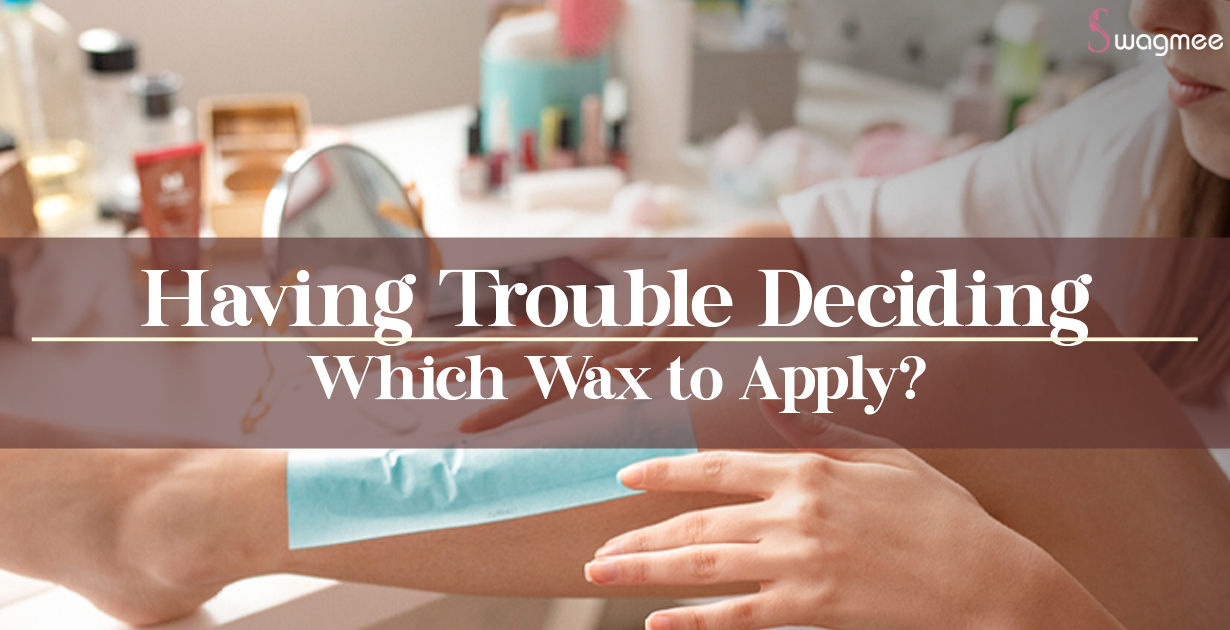 Summer is the time to gear up your middies and beach dresses and flaunt your smooth and shiny legs. Waxing, laser hair removal, and other methods are some of the many ways to achieve lustrous and silky skin. For instance, a laser hair removal treatment can remove all your hair thoroughly but it has its own sorts of disadvantages. The hair follicles are damaged during the laser hair removal procedure. Many people experience redness and irritation as a result of this procedure because of how their bodies respond to it. Ladies! The most practical, affordable, and secure way to guarantee hair-free skin is to wax. In this blog, we will discuss some interesting waxes that will make your waxing a home service a breeze!
Swagmee provides waxing at home services for the upper lip, arms, chin, underarms, and legs. You can avoid repeated shaving sessions by getting a wax treatment, which lasts longer than shaving. By selecting the right wax, you can make the hair removal process more convenient and hassle-free for yourself because different waxes respond differently to various skin types. Let's look at how to select the best wax for yourself.
Chocolate Wax
Women with delicate or sensitive skin can benefit from chocolate wax. After having their hair removed, many women experience redness, waxing bumps, rashes, and blood coming from their pores. Chocolate wax is made of all-natural components that are good for the skin, including glycerin, soybean oil, sunflower oil, olive oil, and almond oil, making it the ideal choice for extremely sensitive skin types. This kind of wax ensures de-tanning and provides good post-waxing moisturization while being less painful than its companion wax. Before scheduling an appointment for the waxing hair removal service, make sure the area to be waxed is free of any cuts, wounds, injuries, or infections. If your skin becomes red, apply ice packs or ice cubes wrapped in muslin or cotton cloth. Although this wax typically costs more than other types of wax, it also has advantages for skincare.
Regular Wax
This wax is made from the most basic ingredients: lemon and sugar or honey. This wax is best suited for skin that is too sensitive to handle the harshness of wax because it contains no chemicals. Normal wax contains ingredients that make hair removal painful. Even the smallest hair removal can be challenging due to the sugar or honey's ability to stick to the skin.
Rica Wax
This wax is also known as white chocolate wax or the original Italian wax. Colophony, a sticky substance derived from spruce or pine trees, is completely absent from it. The main cause of the redness and itching that some people experience on their waxed skin is due to this ingredient.
Pre-wax gel, after-wax lotion, and a wooden spatula should all be used, and the skin in the area to be waxed shouldn't be too loose because this increases the risk of cuts.
Sugar Wax
This type of wax, which is made from sugar, lemon, and hot water, is popular among women because it doesn't stick to the skin and can be applied to any part of the body. In order to wax effectively, hair growth must be at least 0.25 inches long. This wax assists in removing light tanning. Sugar wax rejuvenates, hydrates, and nourishes the skin. This wax should only be used on delicate skin, and it works best when applied in the opposite direction of hair growth.
Honey Wax
Since it is made of honey that has been extracted from the honeycomb, honey wax also goes by the name of beeswax. Because of its antimicrobial properties, honey is well known for having wonderful dermatological benefits. Additionally, honey is frequently used to treat skin issues like acne. However, this wax is not suggested for those attractive women with sensitive skin because it could irritate their skin and result in pain or redness.
Aloe Vera Wax
The most natural and organic wax to prevent post-wax bumps or rashes on sensitive skin is aloe vera wax. As aloe vera has excellent analgesic and antibiotic properties, it helps in the removal of hair from the legs, chest, underarm, and bikini area with ease. For those who are sick of dealing with rashes and skin burns following a waxing at home service, this kind of wax is the preferred choice. Aloe vera wax is available to help with everything from skin repair to skin smoothing. It helps to replace dead skin cells with lustrous and smooth skin by having anti-inflammatory and antioxidant properties.
Fruit Body Wax
Fruit body wax is suggested for extremely sensitive skin because it functions similarly to hard body wax. These kinds of wax are antioxidant-rich and contain vitamins that nourish the skin because they are packed with fruit extracts like berries and plum. Additionally, they can be more expensive because they are much kinder to the skin than regular soft body wax. However, using this won't leave any traces and, as an added bonus, they also function as skincare.
The secret to a more successful waxing experience is choosing the right and most appropriate wax for you. These above stated pointers have all the information you need to choose the wax that is best for your skin type, whether you are a first-time customer or have switched significantly from shaving to waxing.
Always perform a patch test to assess its effects before choosing a wax. It can also be beneficial in these circumstances to research the wax's specifications before making a decision.
Make sure your skin is prepared for both pre-and post-waxing. Additionally, look for de-tan services. By protecting your skin from the ravages of blood and redness from open pores, this preparation can work wonders for your complexion. So now that you are aware of the various wax types and which one to select based on your skin type, it's time to book yourself for a salon at home Raj Nagar, Delhi, Gurugram, Faridabad, Noida, Ghaziabad, and Greater Noida for a successful waxing hair removal session at a reasonable price.
FAQ's
What are the things that should be avoided before waxing your skin?
Before getting a wax, avoid these 7 things.
Consume alcohol or coffee.
Tanning
Swimming
Working Out
Wearing tight clothes
Shaving
Can waxing make skin darker?
Following a waxing session, post-inflammatory pigmentation may develop on your skin, making it appear darker. This means that your skin may react by producing pigment that results in dark spots as a result of the hot wax being applied to it and the ripping action.
Can I shave after waxing?
The urge to pick up a razor might tempt you to abandon your waxing regimen. You can shave after a wax, which is completely acceptable. In contrast, shaving leaves the hair with a blunt end, making it appear thicker and darker when it grows back, which might put you back where you started.
I just waxed. Can I take a shower?
It's okay to take a cool or warm shower after getting waxed. To give the skin time to heal, It is advisable to wait for at least 5-8 hours. After your wax, avoid taking hot showers or using a steam room. It's best to avoid contact with any excess moisture for at least 24 hours after waxing because hair follicles stay open for hours after the procedure.
After waxing, is aloe vera safe to apply?
Your skin needs the many healing properties found in aloe vera after being overworked during a waxing session. Following a quality waxing procedure, you ought to think about For at least five straight days, including the application of the plant's gel in your skin care routine for at least five straight days.