Dry skin can be a major problem for many in winters, our skin reacts to the change in temperature vastly. The indication might differ from one person to another and also the level of dryness. It can be controlled or resolved by various treatments, certain regimes could be followed to prevent the skin from drying. But before digging into anything further let's know about the cause and symptoms of dry skin.
Symptoms of parched skin:
Our skin has a top layer which is the epidermis also known as the skin barrier which prevents the skin from getting damaged but in winters due to a massive change in the weather, the skin becomes extremely dry which causes annoyance. There are a few signs of dry skin:
Skin tightness
Itchiness
Flaking
Redness
Cracks and fine lines
Scaling or peeling
One can suffer from all of these at the same time. The right treatment should reduce intensity.
Cause of skin being dry:
The major cause of dry skin in winters is the cold weather or low humidity-climates but apart from this, there can be more like too much scrubbing and bathing. Using products that aren't friendly with dry skin types.
Why does it need to be treated?
Skin can be cracked due to dryness which will let the bacteria enter and cause infection which further might turn into a big problem. There are high chances that the fissured skin might bleed and cause complications. To avoid all these it needs to be treated well and taken care of in the future.
Prevent your skin with these easy skincare steps:
Exfoliatin: Exfoliatin is important for dry and parched skin but it's better not to use chemical exfoliation if your skin is too dry then many exfoliants cannot suit your skin. There are a few products that are a must for the dry skin type, AHAs, it is water-based and helps the skin to lock moisture. Glycolic acid helps to prevent dead skin cells. The appliance of glycolic acid on a daily basis will help the skin in getting more smoother and soft touch.
Gentle cleanser: Many soaps and face washes might include harsh chemicals which is a big no for dry skin type try to avoid products that include alcohol or sulfates. Use products that contain Hyaluronic Acid. Hyaluronic acid, Glycerin, Ceramides, Aloe vera, Niacinamide and pH-balancing properties.
Moisturizing: Moisturizing your skin will help in ways it has many benefits like your skin will feel softer and it will be more elastic and also will keep your skin hydrated but there is also a thing you can't use every moisturizer on your face only those which are suitable for your skin type. The best way to get moisturizer inside your skin is to use it after a shower on a daily basis or on damp skin.
Limit your bathing time: Warm water or hot water might remove your skin's natural oils. Try not to bathe for more than 10 to 15 mins a day.
Friendly fabrics: Use towels that are made of natural fibers like cotton to make your skin breathe for a while and give it a rest
Is outer care enough for dewy skin?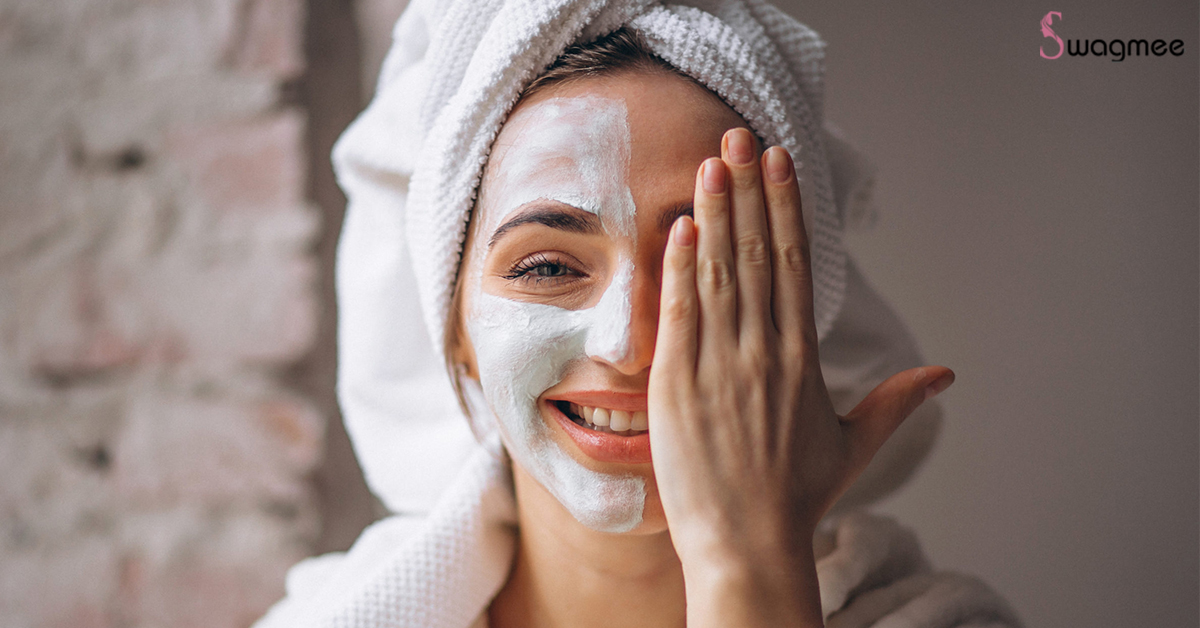 No or a big no outer care is not enough to get glowing and dewy skin, especially in the winters eating healthy and antioxidant-rich food is as important as skincare routine.
Add some really beneficial fruits and vegetables to your diet:
Carrot: Carrots are rich in vitamin C, vitamin A, and antioxidants and produce collagen. They have protein which is a good source for skin's elasticity. It helps in preventing wrinkles and fine lines and also prevents cell damage.
Beetroot: Beetroot juice can do wonders to your skin. It helps to get rid of dry skin cells, making your skin look glowing and soft. It also purifies blood and removes toxins from your body, making your skin dewy and healthy.
Green vegetables: Vegetables like spinach, mustard greens, and kale are all rich in vitamin K and anti-inflammatory properties. It has sulphur that helps reduce skin's redness and flakiness. Vitamin K helps in skin nourishment and locking moisturizer.
Broccoli: Broccoli is the easiest food item to add to your diet as it can be eaten in salads or any dish and has many benefits, it is rich in vitamins, minerals, and antioxidants that help to make the skin healthy.
Berries: Get rid of wrinkles, fine lines, and radicals in a tasty and healthy manner. Berries are rich in antioxidants, low in calories and high in vitamin C.
Vitamin D Rich Foods: It is great for metabolism, synthesis, cellular proliferation, differentiation and immune function. Vitamin D3 is most beneficial for the skin because it prevents the skin from ultraviolet rays. Oily fish such as salmon, sardines, herring and mackerel, red meat, liver, egg yolks, fortified foods like cereals and fat spreads.
There are a few nuts as well which are equally important and beneficial for glowing skin:
Walnuts: It contains anti-inflammatory properties and omega-3 fatty acids. Prevents fine lines and wrinkles. A handle full of these nuts will really be beneficial for glowing skin.
Almonds: They are rich in vitamin E, protein and fiber. It keeps the skin hydrated and also protects from certain skin diseases like acne, eczema and dark spots.
Cashews: Have acne-fighting nutrients, rich in selenium, vitamin E and zinc. Hydrating the skin and the zinc present helps boost immunity and cell growth which can repair damaged skin caused by acne
Pistachios: Includes good cholesterol and antioxidants which decreases the growth of acne by controlling blood sugar levels
FAQ's
How can you treat your skin with expert advice at your own home?
Wash your face using clean and cold water, it increases blood flow.
Get beauty sleep of 7 to 8 hours.
Use products that include antioxidants.
Drink a lot of water to detox your body.
Exercise on a regular basis.
Wear sunscreen to protect your skin from sun burns and damage.
Why should the skincare routine be followed daily?
Skincare is an essential part of our daily routine like other body organs it needs to be taken care of on a daily basis. It prevents breakouts, acne, fine lines and aging.
What are the basic steps of skincare?
Cleansing
Toning
Applying face serum.
Applying moisturizer.
Face oil
Lip balm
Sunscreen in the daytime.
Why is eating healthy important for good and glowing skin?
Fruits and vegetables are filled with powerful antioxidants, proteins, minerals and vitamins which prevent skin from breakouts and skin damage which are caused by free radicals.
Why is it important to have healthy skin?
Our skin plays a very important role in protecting our body. It is not just a layer, one should keep it healthy. It will also keep your internal organs safe and healthy. It not only defines your outer beauty but is important for your health as well. It protects your body from many viruses and bacteria on a daily basis. Getting dewy skin is not easy but it's fun and healthy. Your beauty regime holds many good qualities which are beneficial for your skin as well as for your body. We have a permanent and easy solution to your problem. Book salon at Westend, Shahpur jat, Hari Nagar, Madangir, Bakkarwala and Sarita Vihar on Swagmee's website and get exciting deals and expertise solutions. So what are you waiting for to get rid of your dry skin and get dewy skin at your home?