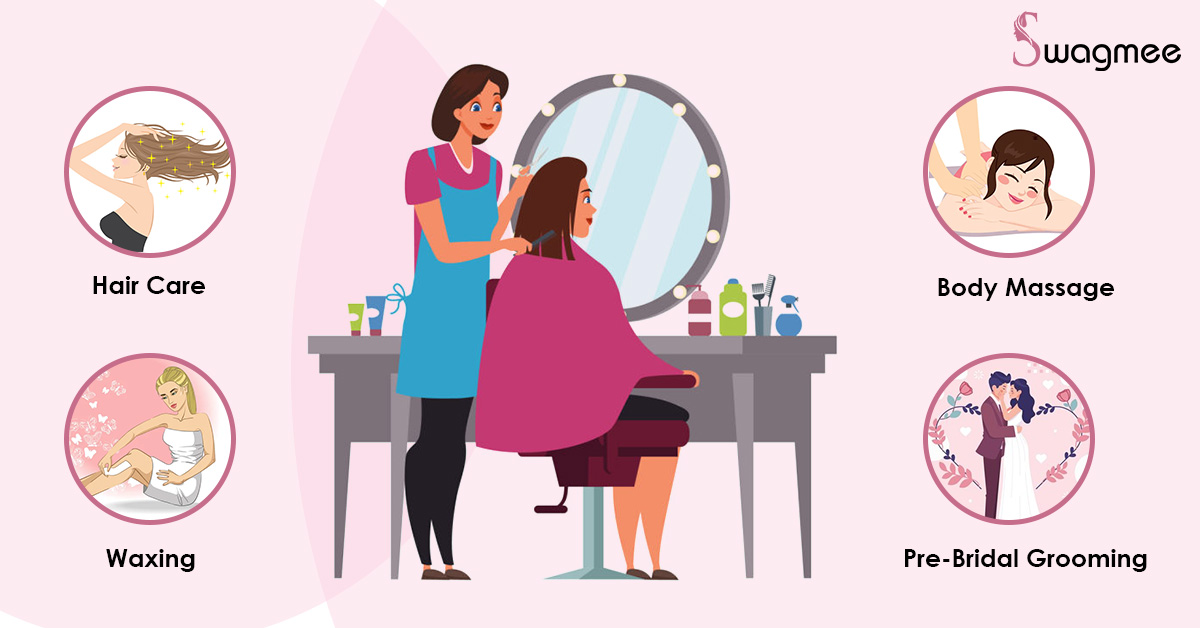 Whether you are a tomboy or a girly girl, to have a low-maintenance daily beauty regime, sometimes you have to spend a bit of time being that girl. You know, the one that goes to the salon for seven hours or spends two hours with her hair extension specialist. Because treatments like these can help you save money and time when getting dressed. Also, if you're thinking about getting a makeover or just a little bit of pampering, then heading down to a beauty salon or booking salon services at home is the next thing to do. Beauty salons are ideal places for getting a new hairstyle or any other cosmetic change.
However, when it comes to visiting a beauty salon, many people are unsure what procedures they should have done. If you're one of those people, you might want to keep reading. Even though different beauty salons give various services to their clients, you will find that many of them provide the same or comparable services. A few of the most popular beauty salon treatments are listed below, and you should absolutely take advantage of them.
Beauty Salon Services
Beauty salons provide comprehensive services related to skin health, facial aesthetics, foot care, nail manicures, and aromatherapy. They also offer meditation, oxygen therapy, mud baths, and many other treatments.
Manicures & Pedicures
A professional manicure & pedicure will always look after your cuticles. Moisturising foot and hand soak at the salon can be a wonderful experience. A foot bath, for example, has soft jets of delightfully perfumed warm water. The feet and hands are frequently moisturised with a soothing cream. You can select your favourite nail polish colours from a vast range available at the beauty spa, and skilled professionals apply the items expertly.
Facial Treatments
This could include a variety of treatments, such as exfoliation and a variety of masks. Facials & cleanup are necessary to maintain healthy, bright, and nourished skin. Because your face is exposed to sunshine, grime, and pollution, it is recommended that you get a facial clean up every other week at the very least. It removes debris, make-up, dirt, excess oil, and sweat from your skin. Facials also include hair bleaching, de-tan as well as other facial treatments. Always seek professional advice before undergoing any facial procedure to ensure the best results.
Hair Care
Haircare is something that every beauty parlour provides as it is one of the essential beauty services. Haircare is essential not only for our appearance but also for our overall health. When you take proper care of your hair, it appears best while also ensuring the health of your hair and scalp. To keep your hair as healthy as possible, you should visit a respected salon and use high-quality hair care products. Haircare also includes hair cuts, hair colouring, spas, blowout and even hot ironing, simple updos and braiding.
Waxing
Another most preferred beauty salon service is waxing. It is the most effective yet temporary method of hair removal that removes the hair at the root. New hairs do not grow back in the waxed area for up to eight weeks. Waxing can be done on almost any body part, including the eyebrows, face, bikini area, legs, arms, back, abdomen, and feet. There are different kinds of wax you can choose from and enjoy smooth, silky skin.
Body Massage
Many salons also offer unique treatments for scalp issues or full-body massages. The peaceful, restful sleep you can get from an hour of body massage is unparalleled. This is the level of a relaxing massage that can help your body and mind. It reduces stress, pain, tension, and muscle soreness and improves circulation, energy, and alertness. If you feel tired or lazy, don't forget to book yourself a good relaxing body massage session with at-home services.
Pre-Bridal Grooming
Pre-bridal grooming is all about body cleaning, facials & cleanup, getting extra hair waxed, exfoliating skin, and even making sure your nails are glossed to perfection. Salon offers different kinds of pre-bridal packages according to your wants and needs. If you're also about to get married, this is for you. Generally, a bride-to-be should begin these sessions at least two months before the wedding.
Safety Precautions are taken in Beauty Salon
With Covid-19, it's better to be a little more cautious, especially when you're going to beauty salons. It's important to know when, why, and how to utilise sterilisation and sanitation to safeguard the clients and the general public's health. A clean, safe, sanitary salon and station helps you stand out from the crowd. We made a note of all the safety steps leading salons are using while you cautiously proceed to get your highlights touched up or your fingernails cleaned up. It all comes down to a strong emphasis on safety, hygiene, social distance, and minimal touch.
It is the responsibility of the owner to maintain sanitary conditions where services are provided for the protection of their clients. Both the staff and the clients must have daily temperature checks.
Sanitised Tools
To avoid contamination, tools & equipment should always be sanitised and disinfected between clients. Many salons employ barrier solutions to disinfect their tools, and this is insufficient. Before disinfecting tools, they should be sanitised with hot soapy water regularly. Every tool and equipment should be cleaned and disinfected. Plus, the salon needs to be sanitised periodically every 90-120 minutes.
Safety Gears
At all times, the staff of these beauty services must wear complete PPE gear, which includes face masks, face shields, disposable gloves, aprons, and closed-toed shoes. They must dispose of gloves and get their aprons sterilised after each customer. Beauty salons should only use clean, disinfected, and properly stored tools and implements on clients. In fact, in at-home salon services, beauty professionals wear PPE kits and take care of everything.
When we visit a salon, the salon owners and operators are responsible for the cleanliness and hygiene of the establishment. However, if you're still worried about precautions and your safety, then opting for salon services at home is the best option for you right now. This way, you can also follow social distancing and minimise the risk of infection. If you're looking for a home salon, then Swagmee has got you covered.
FAQ's
Which beauty services are most popular?
Women's haircuts, manicures and pedicures, and hair colouring are popular treatments. Haircuts were, unsurprisingly, the most popular beauty service among women in the previous year.
What is a beauty service?
A beauty salon is a business that provides men and women with a variety of cosmetic treatments and services. Professional hair cutting and styling, manicures and pedicures, cosmetics, makeup, and makeovers are just a few of the services offered by beauty salons.
Do your beauticians bring their beauty kits?
Yes, absolutely! Our beauticians arrive with their kit, which includes all necessary gadgets, tools, disposal, and other stuff, so you don't have to worry about anything and don't have to make any arrangements.
Do you provide all kinds of salon and parlour services?
Yes, we offer a comprehensive range of famous Salon and Parlour treatments, such as waxing, facials, cleaning, manicure and pedicure, bridal grooming, hair colour, hair spa, and more.
Is beauty salon a service business?
Beauty salons, in particular, are categorised as Personal Care Services. The category is for businesses that specialise in hair, nail, and skin services.