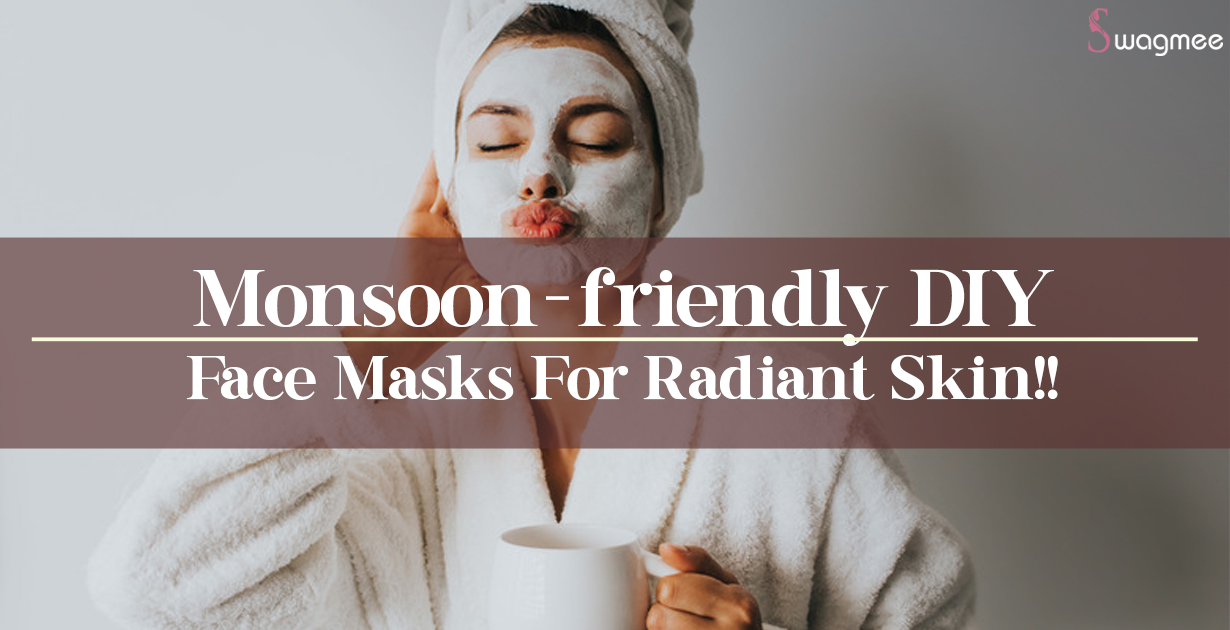 The monsoon is the time when you experience some soul-stirring moments. However, the rainy season can leave you with many skin-related diseases such as skin allergies, dryness, itchiness, etc. During the monsoon, just like you pay attention to your personal hygiene, it is also very important to pamper your skin with extra care during the rainy season. Yeah, sometimes you find it difficult and money-wasting to pamper your skin with numerous beauty products and salon facial services, but what if it turns into a pocket-friendly deal? Yes, with some easy-to-access ingredients in your magical kitchen, you can make your face monsoon-friendly on your own.
Beat This Rainy Season With Skin-friendly Face Masks!
Monsoon is the season when your skin needs some extra pampering and it becomes almost impossible for you to visit your nearby salon or pamper your skin with any of the salon facial services. To combat such problems, you can make your own face masks as per your skin conditions. In this blog, we will discuss some fantastic face masks that will help you out with combating the skin-related issues that generally arise during the rainy season.
The Sandalwood Face Mask
Being a natural ingredient, sandalwood has its own benefits, such as treating acne and pimples, fighting aging signs, etc. It also lightens dark spots and scars from your face. Making a sandalwood face mask can be a good choice for you as it makes your skin more friendly during the monsoon. So let's make a sandalwood face mask at home.
To make a sandalwood face mask, you need the following ingredients:
1 tablespoon of crushed sandalwood
¼ cup of rose water
½ teaspoon of turmeric powder
Combine 1 tablespoon of crushed sandalwood, ¼ cup of rose water and 1⁄2 teaspoon of turmeric powder in a large bowl to make a thick and fine paste. After making a fine paste, apply it to your face for 30 minutes, then rinse it off with cold water.
The Oatmeal Face Mask
Oatmeal is the next ingredient on the list for making your skin monsoon-friendly. Oatmeal is very beneficial in providing antioxidants and lowering your blood sugar levels. With the goodness of oatmeal, you can also make your own deep cleansing face mask at home. So, let's head to your kitchen to make a simple yet effective face mask at home with your kitchen ingredients.
The ingredients you need while making the oatmeal face mask are:
3 teaspoons of oatmeal
1 teaspoon of egg white
1 teaspoon of honey
1 teaspoon of curd
Mix 3 teaspoons of oatmeal, 1 teaspoon of egg white, 1 teaspoon of honey, and 1 teaspoon of curd in a mixing bowl and stir it well until you get a thick consistency. After making the paste, keep it in the refrigerator for a while. Make sure that your face is clean before applying the oatmeal paste to your face. Keep the paste on your face and then, after some time, clean it off with lukewarm water.
The Strawberry Face Mask
Who doesn't have the desire to eat juicy strawberries throughout the year? Well, most of you love to eat luscious strawberries. Strawberries aren't just tongue-friendly, but they are skin-friendly fruits that benefit your skin. With a strawberry face mask at home, you can pamper your skin in the monsoon.
You need the below-listed ingredients to make a strawberry face mask:
4-6 strawberries
1 teaspoon of strong spirit
2 teaspoons of breadcrumbs
2 teaspoons of fuller earth
2 teaspoons of rose water
Mash all the strawberries in a mixing bowl to make a fine paste. Mix 1 teaspoon of strong spirit, 2 teaspoons of breadcrumbs, 2 teaspoons of fuller earth, and 2 teaspoons of rose water into the strawberry paste and give it a good stir. After that, apply the paste to your face for around 20 minutes. Wash out the strawberry paste and wash your face with a mild face wash and cold water.
The Mint & Banana Face Mask
The next face mask at home on the list of ways to achieve beautiful skin in the rainy season is the banana and mint face mask. Bananas play an important role in making your skin supple. It boosts the skin's elasticity. On the other hand, mint removes dirt pores from your skin and revamps it to a hydrating tone. With the mint and banana mix face mask, you can easily achieve the skin quality you desire.
Several ingredients are needed by you to make this interesting face mask:
10-12 mint leaves
1 banana
Put a handful of mint leaves and half a banana into a mixing jar and grind them until you get a thick paste. After receiving a fine paste, apply it to your face for 10 minutes. Wipe out the paste with cold water.
The Almond Face Mask
You all know that almonds can benefit your mental well-being, but did you know they can work wonders on your face too? Yes, you heard it absolutely correct. Almonds can maintain the softness of your skin, which makes it an anti-aging beauty secret. It also treats your dry skin and treats blemishes and wrinkles.
To make this face mask at home, you need the following ingredients in your kitchen:
5-7 almonds
2 teaspoons of oatmeal
2 tablespoons of full-cream milk
2 teaspoons of china clay
2 drops of lemon juice
1 mashed avocado
Put a handful of almonds, 2 teaspoons of oatmeal, 2 tablespoons of full-cream milk, 2 teaspoons of china clay, 2 drops of lemon juice, and 1 mashed avocado in a jar and mix them until you get a thick and fine paste. Apply the paste to your face and, after 20 minutes, soak a cotton ball in raw milk and wipe the paste off your face. Splash some cold water on your face and apply a gentle moisturizer to your face after washing it.
The monsoon season isn't just about enjoying hot chocolates or romantic dazzling rains, but it is a period when your skin also wants some additional care and pampering. With these monsoon-friendly homemade face masks, you can give a boost to your monsoon skin care regime. Are you worried about visiting the market to purchase those ingredients for making your homemade monsoon-friendly mask? Well, in that case, you can call a beauty expert from Swagmee who will give you a mess-free facial service at your convenience at an affordable cost. So, what are you waiting for? Book yourself a salon at home Sukhdev Vihar, Delhi, Faridabad, Ghaziabad, Noida, Greater Noida,and Gurugram.
FAQ's
Is skin itching due to the monsoon?
Many people experience skin problems in the monsoon season. When the skin comes into contact with sweat or rainwater, itching and rashes are frequent issues. Actually, the monsoon season causes itching because of the increased humidity in the air and increased sweating from the heat.
Which facial is most effective in the monsoon?
Papaya facials are excellent for oily skin because of the plethora of skin issues that the monsoon brings. The oil-secreting sebaceous glands become overactive as a result of it.
Why does the monsoon make the skin so oily?
Increased humidity can cause oily skin, which opens the door to acne, greasy skin, and blackheads. Humidity can be a real nightmare for someone who already has oily skin. Oil, or sebum production is controlled by the sebaceous glands on your face.
Why does having healthy skin matter?
It's crucial to maintain healthy skin because it shields you from harmful bacteria, dirt, and other foreign objects as well as the sun's ultraviolet rays. Additionally, healthy skin serves as a sensory organ that alerts you to temperature changes, hardness, sharpness, and other physical attributes. The fluids in your body and its temperature are also better controlled.
What are some nutritious treats for the monsoon that will maintain healthy skin?
The best fruits to eat during the monsoon season are colorful fresh fruits like apples, bananas, pomegranates, papayas, avocados, and berries. These fruits contain skin-beneficial nutrients that can clear greasiness, treat acne, and give the skin a toned, nourished appearance.