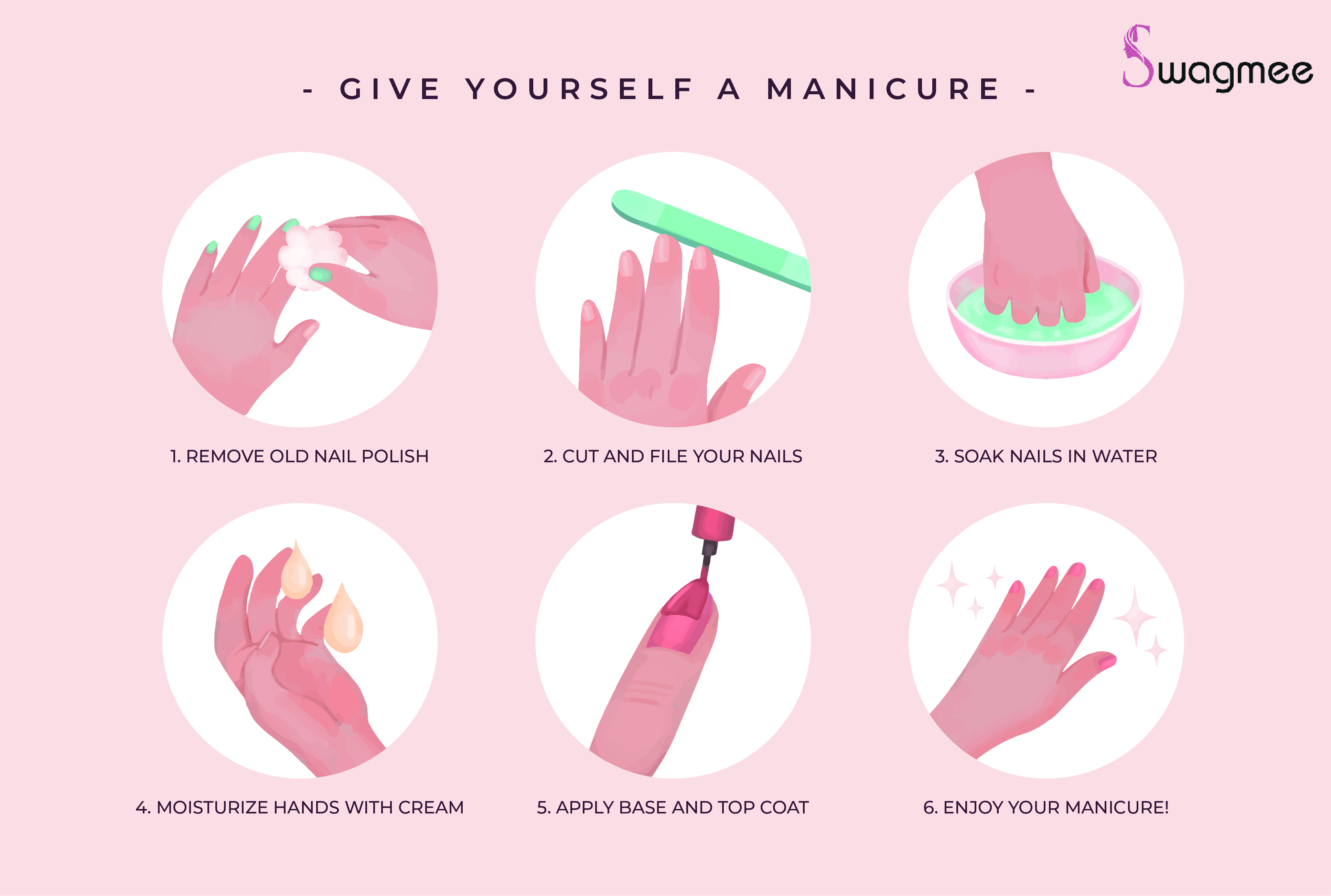 Maintaining healthy nails that look fashionable is not too expensive or time-consuming. By adopting some sort of manicure and pedicure tips, you can have strong and good-looking nails. Now the question that comes to our mind is -"Are you serious about knowing the best pedicure and manicure advice for the best results"? In this blog, we're going to throw some light on the most valuable tips that will ensure your hands and feet treatment will last longer than ever before.
As you wish for healthy and lustrous hair, and for this, you take a hair spa session for your hair. Likewise, healthy nails leave a long-lasting impression on the people you meet whether at parties, meetings or on a date. Neat, trimmed and well-maintained nails improve your overall personal appearance. Our nails work as shields to protect our hands and feet when we use them. So, nail care is very-very important for us. In a humorous way, we can say "these are good for enhancing our ability to scratch hairs on our head".
Now, it's worth noting that when it comes to maintaining your fresh manicure or pedicure, you need to stick with mani-pedi aftercare tips to keep your fingernails looking their best. If you find yourselves with no time for nails' grooming and pampering, all you need to get mani pedi service at home.
Let's shift our focus to a few useful aftercare tips for pedicure and manicure.
Useful Pedicure Aftercare Tips
Pedicure Aftercare Tips can be a game-changer if you use them wisely. By adopting these tips, you take a step forward to keep your toenails in a quintessential shape.
Most of us are habitual of wearing tightly fitted footwear but it's not a good idea. Seriously, it's not. To get the intended results, you need to wear toe shoes.
When it comes to toenails trimming, you should not cut them too short. Try not to make them grow inward.
It's advisable to wear cotton socks which are comfortable for you. Avoid any sort of tight-fitting socks.
Keep your feet dry after taking a shower or washing.
Use a foot cream that could keep your toes hydrated and moisturized for a longer period of time.
Use good quality cuticle cream or oil to keep your cuticle soft.
Manicure Aftercare Tips
Manicure Aftercare Tips can be result-oriented for you, giving you the perfect outcomes once they are in a routine.
Be careful in the selection of soap, as overexposure to soap may leave the worst effect on nails. It's good to avoid any sort of harsh soap or chemicals after the manicure.
It's advisable to wear gloves while doing a few activities like gardening, washing dishes, etc.
Take care of nail polish, prevent it from being removed.
Ask a professional nail technician before you should use a good quality base coat to keep your manicure last longer.
Apply hand cream to make your hand feel soft and moisturized.
Make sure your hands are completely dry after having a bath.
Trimming is equally important, so keep your nails at workable length. Nails should not be too short or lengthy.
Always make follow-up appointments at your preferred nail salon for nail's maintenance.
The above section is more than enough to give you a brief introduction to pedicure and manicure aftercare. But, if you're still in a dilemmatic situation then you can opt for salon at home service to ensure extra care of nails and toenails. They will provide you with add-on services including acrylic fills, shaping, buffing, acrylic files, and many more.
Giving Yourself a Manicure at Home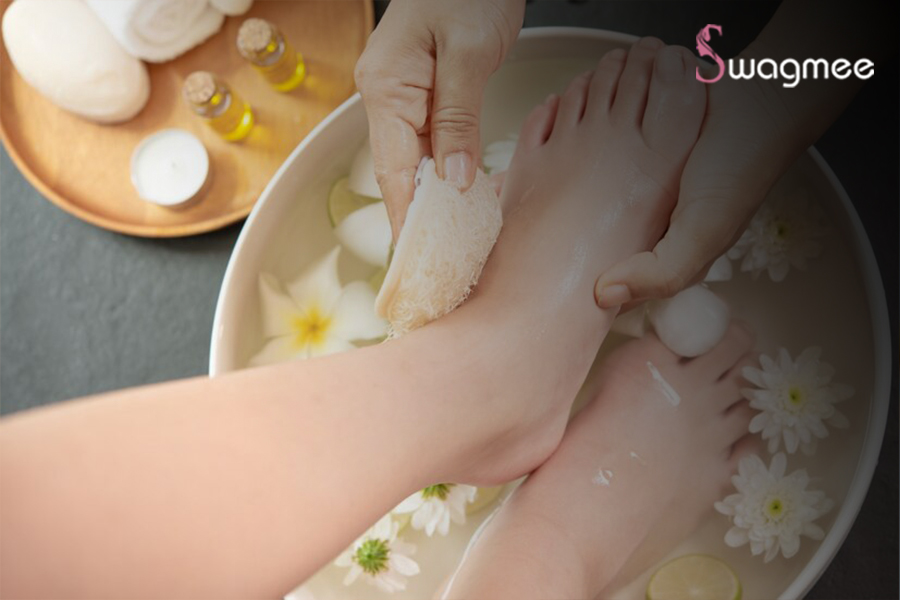 Merely talking about aftercare tips is not sufficient, if we don't talk about the mani-pedi service at home. Most women try it mani-pedi at home but lack proficiency and that drags everything to null. A few easy and simple hacks can give you salon-quality mani-pedi at home in a comfortable and relaxing environment. This will not only save your money but also time and energy. The best salon at home service provider gives their customers more ideas about pretty nails. Grab the opportunity of best-in-class manicure and pedicure services with the luxurious cosmetic treatment for hands and feet.
Apply 3-Stroke Approach
Nail technicians prefer this 3-stroke approach to achieve the best results while doing manicures. Being a novice, you shouldn't skip this approach. Use the proper way of applying nail polishing in 3 strokes. Where one stroke will be in the middle, and one stroke with the brush on each side. Once you're done, you see a super uniform finish in each nail.
Dry Your Nail Polish Faster
If you don't have enough time, why don't you try - ice water. It's a perfect no-cost solution to dry your nail polish faster.
Use cornstarch for a topcoat
If you want a matte look but don't have enough money for this. Don't worry, try to make it at your home by using multiple colours. Cornstarch will be a good option for you.
Protect Cuticles with a Balm
Prior to painting, you should use a heavy-duty lotion or a high-quality balm on cuticles for moisturization.
Use Aluminium Foil to Remove Gel or Glitter Polish
Patience is much needed for hard-to-remove nail polish. Better results would appear when you soak your cotton balls or pads in a high-quality nail polish remover, and place it on top of your nails. Now after this step, you should wrap aluminium foil around the cotton pads and nail, and leave it for approximately 10-15 minutes, allowing them to break down the tough gel. The polish will side off very quickly.
If you feel that you're not very skilful in doing all this at home, or have fear of spoiling. Now you can plan to skip the stress of DIY, take help of a professional beautician for mani pedi service at home.
FAQ's
How long does a manicure and pedicure take?
Manicure and Pedicure is a relatively quick process and usually takes 30 to 60 minutes. They are relaxing and rejuvenating, as well as essential for nail health.
Are pedicures good for you?
Yes, it's good for you as you receive a massage of your feet and lower legs that helps in promoting blood circulation in the body. It's a great way to prevent ingrown toenails, and calluses and also makes your feet feel soft and look great.
Is it necessary to go for a regular mani & pedi care?
Yes. It helps in maintaining your nails as well as hand and feet health in an effective manner.
What are various mani-pedi services at home Noida packages?
We offer the following mani-pedi packages:
Organic Sea Soul Mani-Pedi
O3+ Mani & Pedi Luxury Crystal Spa
O3+ Manicure Magnifying Charm
Organic Sea Soul Manicure
O3+ Pedicure Luxury Care
Organic Sea Soul Pedicure
Do your beauticians bring their own mani-pedi kits?
Yes, our beautician brings their own manicure and pedicure kits which include all necessary tools and beauty products.
How long does a manicure and pedicure take?
It usually takes 30 to 60 minutes