Prettification has been a feature of society from the beginning of civilization. The art of beauty transcends all boundaries, including gender, caste, nationality, creed, and so on and that's why in this modern world, men have also started to enthusiastically groom themselves. From the maintenance of their skin to their hair, they have indulged a lot in self-pampering. However, they usually overlook the maintenance of their nails and pay the least attention to the proper care of their nails, but man! This little ignorance can be your biggest problem in the long run. In this blog, we will discuss how to do spa-like mani-pedi care at home and how maintaining a good manicure pedicure for men can be very beneficial to you and your nails.
Want To Do A Spa-like Manicure Pedicure At Home?
Your nails reflect your individuality and your personality. Whether it's a simple mani-pedi care session or a new fashion trend, you always want to look your best. With these amazing and easy steps to a manicure pedicure for men, you can flaunt your healthy-looking nails.
Fill A Bowl With Warm Water
A large basin is required for the manicure and pedicure for male at home. It should ideally be large enough to accommodate both hands or feet. Fill the basin halfway with warm water to cover the hands or feet.
There is no need to heat the water on the stove. It should be warm enough to immerse your hands or feet in, so take it straight from the sink.
Soak Your Hands & Feet For Several Minutes
Submerge both hands or feet once the basin is full of water. Allow the hands or feet to soak for around 10 minutes to allow the skin and nails to soften.
If your basin isn't large enough to soak your hands or feet at once, use two smaller bowls to soak both hands or feet at the same time.
If you must soak the hands or feet individually, the water will most likely have cooled by the time you are ready to soak the second hand. Remove the old water and replace it with warm water.
If you take a warm shower right before doing the manicure pedicure for male at home, you can avoid soaking your hands or feet.
Scrub Your Nails With A Brush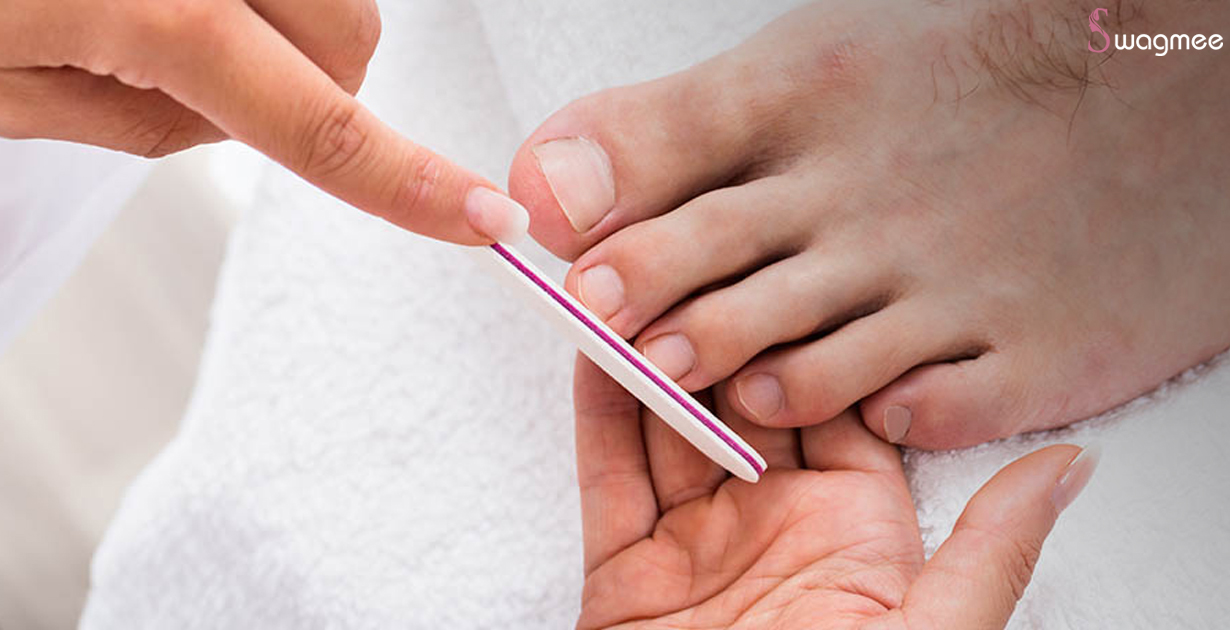 When you're done soaking your hands or feet, pat them dry with a clean towel to prevent them from leaking. Next, gently exfoliate the nails and surrounding skin with a nail brush for toes and nails to remove any dirt, filth, or loose skin.
Make sure to use a delicate nail brush for toes and nails that are gentle on the skin and nails.
Clean Under Your Nails
It is also necessary to clean behind the nails. Gently clean any debris or dust from beneath the nails with a nail pusher and cuticle remover.
When cleaning your nails, avoid using the pointed end of the nail pusher and cuticle remover to avoid injuring yourself. The tilted, rounded side is usually the most effective.
Rinse Your Hands & Feet With Warm Water & Pat Dry
Wash your hands or feet with warm water and soap after brushing your nails with a delicate nail brush for toes and nails and cleaning underneath them. Use a clean towel and pat dry your hands and feet.
To avoid drying out your skin, use a soap that suits your hands or feet. Antibacterial soaps are generally not advised because they are more drying than conventional hand soaps, do not clean as well, and contribute to bacterial resistance.
Trim Your Nails & Cuticles
Trim your nails to the correct length with a nail cutter. Keep the shape square because rounding the nails may result in ingrown nails.
Make use of a high-quality nail cutter. A stainless steel cutter is an ideal option, but check the feel of the pair as well to verify that your thumb does not fall off while clipping. Avoid cutting your nails too short. This exposes the nail bed at the tip of your finger, which may be painful until the nail grows back.
Apply A Cuticle Remover
The cuticle is a thin strip of dead skin that builds up around the base of the nail. To remove it, apply a small quantity of liquid cuticle remover to the bottoms of all your nails to soften the skin and make it simpler to remove. Allow the cuticle remover to stay on the cuticle for 30 seconds to 1 minute for the skin to soften adequately. To be sure, read the package instructions. Cuticle remover can be purchased in a medical store or beauty supply store.
Push Back The Cuticles
After the cuticle remover has softened the skin, remove the cuticles with a nail pusher and cuticle remover. Some cuticles can readily peel away, but others will need to be gently pushed back.
Note: Cuticles should never be cut, trimmed, or snipped. They are susceptible to infection.
Smooth The Edge Of Each Nail With A Nail Filer
While nail trimming can get your nails to the appropriate length, it frequently leaves them with a harsh, uneven edge. Gently file the edge of your nails using a nail filer or a nail block to make them soft and smooth.
It usually just takes a few strokes to file the edge of your nails. Instead of going back and forth, file your nails in the same direction. This helps to level out the form of your nails for a neater appearance.
Buff The Nails Until They're Smooth
Nails can grow ridges, giving them an uneven surface. Gently buff your nails using a nail buffer to make them smooth and even.
Pay close attention to the directions that come with your nail buffer. One side is normally intended for buffing away ridges and smoothing the nails, while the other is used for buffing shine into the nails. For the intended effect, choose the appropriate side.
You can buff your nails to give them a slight sheen that isn't as noticeable as a shiny finish. However, some men dislike the shiny appearance, so use caution when buffing.
Massage Cream Into Hands & Feet
After you've filed and buffed your nails, hydrate your hands, feet, nails, and cuticles with hydrating hand cream. Circularly rub it into your hands or feet until it's absorbed. Massage the cream into your skin to increase circulation to your fingers and toes.
Mani-pedi care might seem like a trivial subject for men but it is not just a matter of keeping the nails nice and clean. Not only women but men should also maintain a healthy nail care regime to protect their nails. Along with that, you can book yourself for Swagmee's amazing manicure pedicure service for men, where you can get amazing mani-pedi service with O3+ Pedilogix Bubble Gum Manicure Pedicure Kit at your doorstep at a reasonable cost.
So, why are you wasting your valuable time? Visit the Swagmee website and book your slot for a salon at home Chander Nagar, Ghaziabad, Delhi, Noida, Gurugram, Greater Noida, and Faridabad.
FAQ's
What do you mean by "mani-pedi care for men"?
A manicure pedicure for men is a manicure that is quite similar to that of women but does not include the services of nail polishing or art designs.
Is it strange for males to get mani-pedi services at home?
The answer is no because all genders must pamper themselves. It is usually preferable to have clean-looking, manicured hands, and pedicured feet whether attending a meeting, interview, or date.
What is O3+ Pedilogix Bubble Gum Manicure Pedicure Kit and what are the benefits it contains?
O3+ Pedilogix Bubblegum Manicure Pedicure Kit is ready to pamper and beautify your hands and feet by relaxing harsh, dry skin. It is a streamlined combination of manicure and pedicure basics. The skin on your hands and feet will be cleansed, moisturized, and smoothed using this 6-step routine package. It also takes good care of your nails. The fact that it is a single-use item is its best feature.
The following are the few benefits that you can get by using the O3+ Pedilogix Bubble Gum Manicure Pedicure Kit:
It cleanses, moisturizes, and smoothens the skin on your hands and feet.
It reduces the swelling of feet and hands.
It imparts a cool feeling, which relieves stress and fatigue.
It helps to repair and soften rough, hard, and cracked heels.
It removes pigmentation marks and signs of aging.
How can maintain a mani-pedi care regime profitable to you?
Well, maintaining a mani-pedi care regime can be profitable to you in numerous ways:
It provides your nails with deep cleansing.
It boosts blood circulation.
It ensures the good condition of your nails.
It also provides you with a de-stress and blissful time.
Should I cut my nails before a mani-pedi care session?
Actually not, there is no need to cut your nails before getting a manicure or pedicure as buffing, cutting & filing of the nails is a process in the manicure or pedicure.