Face bleach is shrouded in a cloud of doubts and uncertainties, aside from its instantly recognizable odor. It is said to help with tan removal, pigmentation removal, blackhead and acne removal, pore cleaning, and oil control. However, few women are aware of how many of these are true and how many of the face bleach benefits are genuine.
Have you ever been perplexed by the debate over natural skin bleaching's benefits? Don't worry; we've decided to answer all of your questions in this blog and give you step-by-step bleaching instructions for tanned skin. Excited?
What is the rationale behind skin bleaching?
Natural skin bleaching agents are commonly used to lighten the appearance of dark, pigmented skin conditions like blemishes, age spots, and freckles. This procedure is referred to as "natural skin bleaching." To accomplish this, bleaching creams, soaps, and even pills are used. Professional in-house treatments for this problem include chemical peels and laser therapy.
Bleaching agents, on the other hand, have a unique mechanism of action. The amount of melanin that your body produces determines the color of your skin. Melanin is a skin pigment produced by melanocytes, which are skin cells. The number of melanocytes in each person is the same, but the amount of melanin they produce differs. Melanin is more abundant in darker-skinned people's cells.
What are the benefits of bleaching skin?
Bleach helps in the removal of tans and uneven skin tones. When you rinse off the bleaching cream, it exfoliates the top layer of your skin, making it appear brighter and more glowing.
The most common causes of dark spots are sun exposure, hormonal changes, and aging. Skin discoloration can be caused by dark spots, acne, and freckles, which can be covered up with bleaching.
Unlike waxing, hiding your facial hair with bleach is a painless process. You can easily try it at home without the assistance of others.
What are the ingredients that are used in skin bleach?
The main component of skin bleach is hydrogen peroxide, which is made up of a variety of chemical substances. It tans your facial hair and removes tan by reducing melanin production in your skin. Another known bleaching agent used in natural skin bleaching is sodium hypochlorite. The interactions between sodium hypochlorite and human skin are complex and not fully understood. However, it works in the same way as hydrogen peroxide.
Skin lightening agent Hydroquinone is also used in skin bleaching. It cures various types of hyperpigmentation. These bleaching ingredients improve the appearance of your skin. It's essential to realize that bleaching does not make your skin fairer.
What is the best way to bleach your skin at home?
If you're thinking about using bleach at home for face, you should exercise extra caution and take extra precautions. There are a few things to remember before and after using the bleach cream.
What safety precautions should be taken before applying skin bleach?
Bleach should not be used on any skin that is inflamed or injured. Bleaching aggravates skin problems such as open wounds or rashes.
In general, bleaching makes your skin more sensitive. Before using bleach on your skin, you should avoid using any harsh cleansers. It's possible that it'll irritate you to the point of being painful.
48 hours before your scheduled bleaching appointment. It will act as a safety net for your skin, and you will be able to tell if your skin is adversely affected by the bleaching.
Bleach should not be applied to any sensitive areas of your body, such as your eyes or brows.
If you become irritated, keep something cool on hand to help you. Any cold compress, such as ice cubes or chilled water, would suffice.
Protect your hair from bleach damage by tying it up tightly with a band.
Every brand includes an easy-to-follow set of instructions in the packet. Those instructions must be strictly followed.
What is the procedure for skin bleaching?
Now that you've done a patch test to ensure you're not allergic to bleach, you can continue with the process to get glowing skin.
What You Need
Bleaching cream for the face
Powdered facial bleach
Cotton swabs
With the help of these simple steps, you can bleach your skin in as little as 30 minutes or more.
Step 1: Cleanse and prepare your skin
To remove impurities from your face, wash it with cold water and a mild facial cleanser. Before applying the cream to your face, test it on your hand first. To reap the most benefits out of your bleaching cream, choose one that is appropriate for your skin type.
Step 2: Apply the bleaching cream to your skin
Mix together the cream and powder from the bleaching packet thoroughly. Apply the solution to your face and the areas you want to bleach gently. It must be used in the direction of hair growth. Check that the mixture is distributed evenly.
Step 3: Leave the bleaching solution on for a while
Apply a thin layer of bleach over your lips and a thick layer to your forehead, cheeks, and neck. Leave it on your skin for not more than 8 to 15 minutes. If you go over this time limit, you may experience itchiness.
Step 4: Rinse the bleaching cream from your skin
To remove the bleach, use clean cotton balls and cool water. Use water to thoroughly cleanse your face. You can clean your face with a face wash, but avoid scrubbing or exfoliating it.
Step 5: Apply a hydrating moisturizer to your skin
Using a soft towel, pat your skin dry. If you're feeling uneasy, you can rub an ice cube all over your face. To allow your skin to breathe, apply a light moisturizer.
What are the tips for post-bleaching skincare?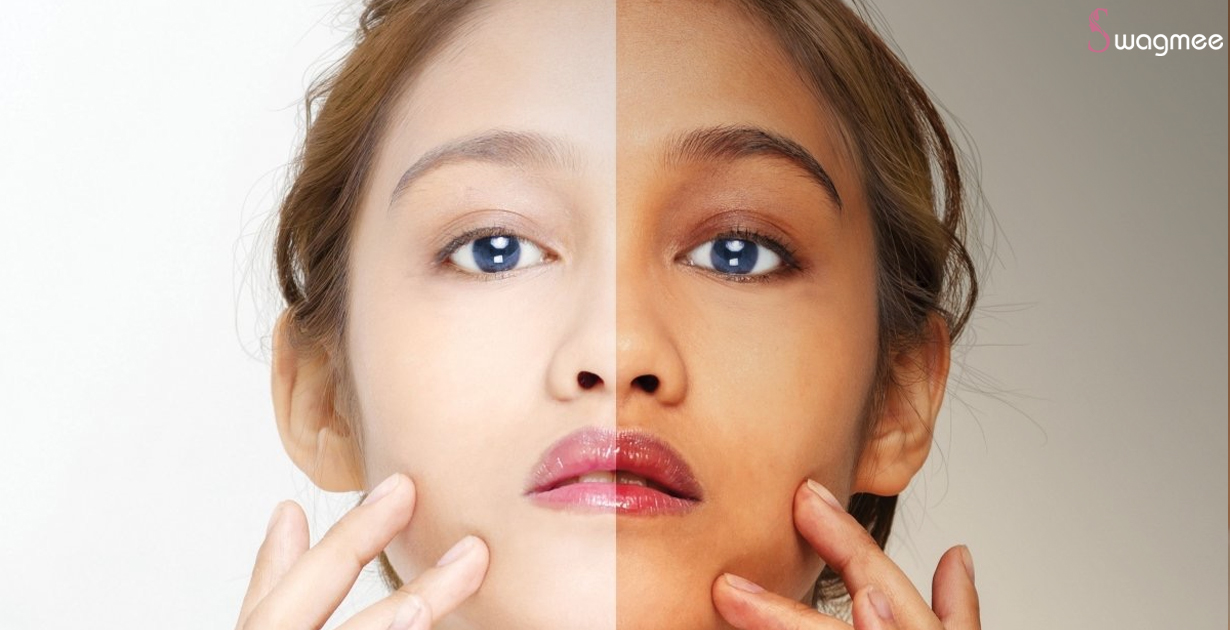 The production of melanin in your skin is increased by exposure to sunlight. It is best to avoid going out in the sun right after bleaching.
If you go outside, you must wear SPF protection. Choose the most appropriate sunscreen lotion for your skin type.
Bleaching your skin regularly is not advisable because it can harm it. Only repeat your bleaching session after a 4–8 week break.
Skin bleaching has no significant health benefits aside from temporarily lightening the skin. Bleaching does not provide a long-term solution to your skin pigmentation problems.
If you have any specific questions about your skin type, it is best to seek advice from Swagmee's beauty experts, as it is always best to seek advice from a professional. We understand your skin-related concerns and strive to provide the best skincare services possible. So, what are you looking forward to? Make an appointment for a salon at home Shahpur Bamheta and experience the professional beauty services at your doorstep at a low cost.
FAQ's
Is skin bleaching safe?
Like everything else, bleaching is safe when done in moderation. Bleaching your face on a regular basis is a no-no because it irritates your skin and leads to redness, patchiness, and acne. Between bleaching sessions, acne breakouts may occur; keep a gap of at least 15 days between bleaching sessions. Use organic and natural face masks to combat tanning, dryness, and pigmentation if you spend a lot of time outside.
How often should one bleach?
It is advisable to bleach once a month because using bleach too often can thin the skin. Bleaching on a regular basis can result in redness and acne breakouts. Follow a regular facial care regime to get healthy and flawless skin.
What should you keep in mind when bleaching?
The following are some considerations:
Before applying the product to your face, test it on your arm.
Check the ratio of face bleach to applicator.
Do not apply bleach around the eyes, lips, and private parts of the body.
Do not step out into the sunlight after applying bleach.
Do not apply bleach during pregnancy.
Is skin bleaching permanent?
No, bleaching is not a permanent treatment. It is only temporary, and its effect lasts for 25–30 days after application. It's usually done every 30 days to keep one's face looking fresh, clean, and free of blemishes.
How can I make bleach at home?
To make natural bleach for your face, you can try the following recipes:
a) Potato bleach
Peel and grate a potato.
Make a paste using rose water. (If you are a dry-skinned person, then you can add some honey to the paste.)
When it's dry, apply and wash away.
b) Cucumber bleach
Peel and grate a cucumber.
Squeeze out the juice and mix in aloe vera juice.
Apply and wash off after some time.