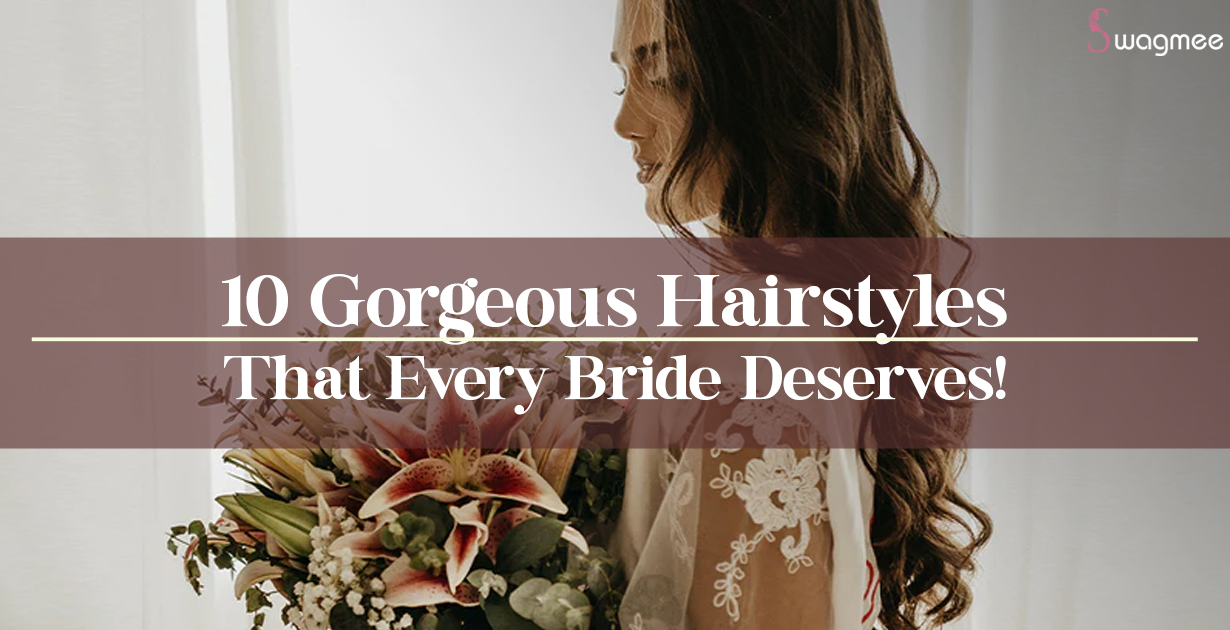 Your wedding is one of the most important days of your life, and you've been looking forward to it for a very long time, so you want everything to be perfect from top to bottom. What makes you ignore your hairstyle, then?
Never forget that a grand wedding isn't just about wearing a dress, jewellery, or lots of makeup; it's also about the hairstyle you choose to wear. On your wedding day, your hairstyle can enhance your look and make you a moment stealer. Yes, your hairstyle is one of the most significant aspects that everyone notices, so it is crucial to work on it. In this blog post, we'll talk about some incredible hairstyles for women in this blog post that will make your special day spectacular!
Side-swept Curls
A simple yet stylish way to show off your gorgeous locks on your wedding day is with side-swept curls. Paired with some framing wisps, this hairstyle at home will make your natural beauty shine. It's all about elegance and a stunning appearance in this fashion! This is a popular wedding hairstyle for brides in America. This elegant hairstyle for brides for a wedding will go well with your lovely dress. You can also add a floral touch with floral jewellery.
Accessorizing Your Braids
When it comes to your special day, nothing compares to going overboard. One of the hugely popular southern bridal hairstyles is this one. The best bridal hairstyle at home for the wedding that you can think of is more about accessorizing with hair jewellery, flowers, and patches stuck around the length of the braid to make the whole look more stylish and elegant! It is suggested to wear this hairstyle with a saree for a stunning traditional appearance.
Loose Braids
If you have long, curly hair, you can always go for a loose braid. If you want to give the braid a little extra volume and character, you can get your shiny hair slightly curled. Regardless of the attire, this hairstyle for women looks stunning. You can always accessorize it with beautiful hair accessories to make it look less simplistic!
The Beautiful Bun
Another lovely hairstyle for your special day is a sleek and elegant bun! A bun will keep your tresses in check and prevent them from flying out and settling your baby hair down, in addition to giving you an elegant appearance and allowing you to wear your hair up. To hold your bridal dupatta or wedding veil in place, accent your bun with some lovely beads or hair jewellery, like a tiara or red artificial roses. Messy buns and low-slung styles are also fantastic options for wedding hairstyles for women.
Stacked Wavy Bob With Rose Jewellery
Look stunning at your wedding or on the big day of your best friend by styling your short stacked bob in the most feminine way. Simply add texture, create waves, and adorn the hair with stunning pearl white roses.
Romantic Outward Curls
When it comes to wedding hairstyles for women, nothing can be more romantic and beautiful than soft curls cascading down the shoulders of a gorgeous bride. Golden blond hair with textured outward curls is just perfect for those quixotic vibes. Add some Calla lilies to this lovely at-home hairstyle to elevate your beautiful look.
The Senorita Bun
This bun is a combination of French and Indian styles; it has a simple, elegant appearance from the front and is tightly braided at the back. Red roses or floral jewellery are elegantly placed on either side to complete the French senorita look. This bun expresses a modern fusion of two bridal hairstyles and will stand out as one of the best wedding hairstyles. It can be worn for a woman's special day or it can be appropriate for other post-wedding and pre-wedding functions. This is one of the most popular hairstyles for women to wear at weddings.
The Braided Bun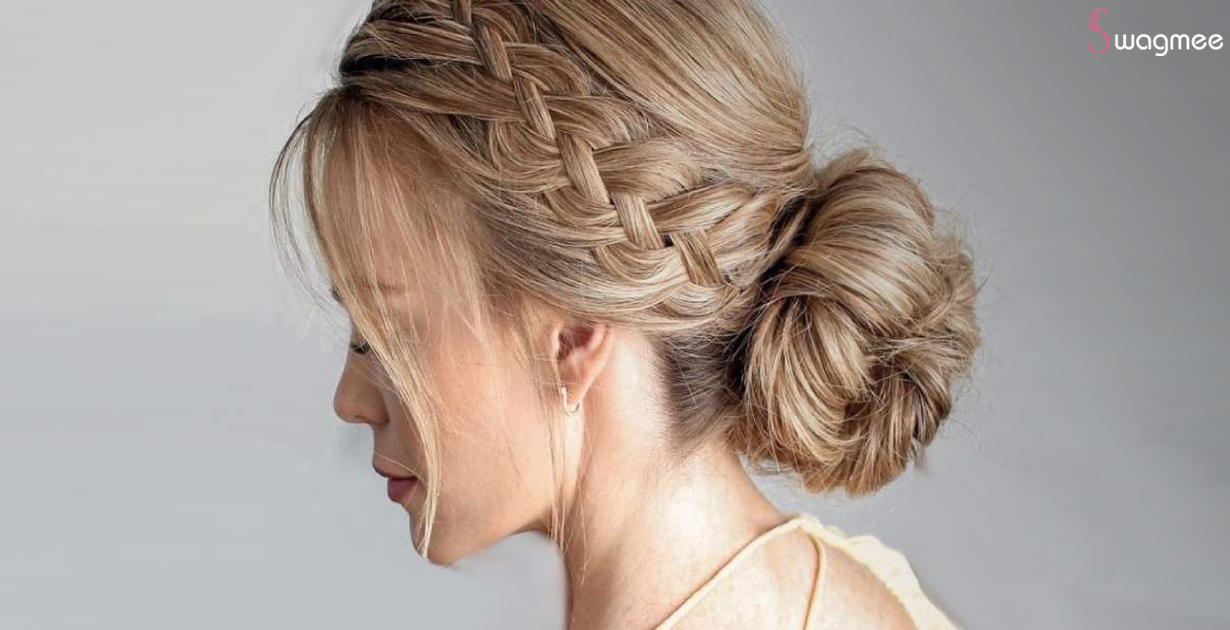 When you're perplexed, this braided side bun is all you need because it's simple but still manages to look incredibly elegant and sophisticated. The braid and bun eventually converge on the side, giving your hair an unkempt but gorgeous appearance! If you want to try something new, give this wedding hairstyle for women a try; it's distinctive and different.
Half Tied
In this bridal hairstyle, some of the hair is left loose and some of the hair is tied at the back. You can choose to keep your hair natural, add a little volume in the front, and accessorize with some flowers or hair jewellery.
To give your hair a funky appearance, add a few braids or twists that go to the back of your head. This gorgeous hairstyle at home has a simple yet stunning appearance. Put on a lehenga and this hairdo to effortlessly look stunning!
Braided Loose Hair With Light Curls
For this stunning hairstyle for women, brides should braid their front hair all the way back to their heads, leaving the other half of their hair loose with just a few curls. Due to its simplicity and quirkiness, this hairstyle is one of those that is better suited for pre-wedding events. Additionally, for a finished appearance, you can choose to accessorize it with some pretty pins and hair wreaths.
A stunning and gorgeous hairstyle doesn't have the power to enhance your appearance but can do wonders on your wedding day if you wear the ideal hairstyle. That is why it is very crucial to pick a sophisticated but elegant hairstyle that suits your personality and, of course, your wedding dress too! Well, if you are still perplexed about which hairstyle would suit you, then you are absolutely free to appoint yourself for Swagmee's professional hair care and pre-bridal services that will transform your overall look on your D-day. So, why are you wasting your time? Take full advantage of Swagmee's at-home salon services at an affordable cost, by booking yourself for a salon at home Chander Nagar, Ghaziabad, Faridabad, Gurugram, Noida, Delhi, and Greater Noida and be the moment-snatcher now!
FAQ's
How can all the upcoming brides choose hairstyles that are ideal for weddings?
For all the upcoming brides, here are some suggestions for selecting the ideal wedding-worthy hairstyle:
Before visiting a hairdresser, always do some research to find your ideal hairstyle.
Consider your bridal dress.
Schedule a home trial appointment at the salon.
Always pick a hairstyle that is true to you.
Always pick a hairstyle that works best for you and the weather.
Which should be done first when getting ready for the wedding—makeup or hair?
When you do your hair first, it has time to dry or set, so when you finish your makeup, your hair will be ready. It can be exhausting to style your hair, and sweating with makeup on your face makes your pores clog and cause breakouts.
Before the wedding, should I wash my hair?
It is suggested that the night before the wedding, you wash your hair and add some mousse for better texture. Your hair will become nice and malleable as a result, making it easier to style and groom on your wedding day. Your hair must not be slippery if there are any flowers, accessories, or veils to attach.
How far in advance of a wedding should you have your hair cut?
A haircut is suggested one to three weeks before your wedding.
What hair care advice do you have for all the upcoming brides?
For all future brides, consider the following pre-wedding hair care advice:
Follow a strict hair care schedule.
Care for your hair properly.
Less shampooing your hair.
Trims cannot be negotiated.
For shiny hair, eat healthy foods.
Keep yourself hydrated.
Hair oiling is essential.