Eyebrow shaping is a technique for grooming brows. Neat brows can make a face appear cleaner and more attractive. Women and men both shape their brows. Eyebrow threading, also known as threading, is a popular grooming method.
Threading is an Indian hair removal technique. The practice has gained popularity in the Middle East and Western nations. Middle Easterners in Western countries were receiving this service long before Europeans and Americans became interested. However, the popularity of threading grew as European and American women became interested in it.
Threading the brows is faster than other hair removal methods like full waxing and plucking. Another advantage of threading is that you don't have to have your brows done as frequently. It is the simplest and cheapest method of hair removal that has been passed down through many generations in the Indian subcontinent. The technique is a safe and effective way to shape your brows. Our skilled artists at swagmee can thread your brows in as little as 15 minutes. Threading the upper lip, sides, chin, and forehead, on the other hand, it can take up to 45 minutes to complete.
Threading, as the name implies, involves the use of cotton thread. So, if you have waxed, tweezed, or done any other type of hair removal in the previous two weeks, avoid scheduling a threading appointment. Threading causes little discomfort. Yoga, herbal medicine, massage, and meditation, which were introduced by eastern people, are now very popular in the Western world.
Why and how is threading beneficial?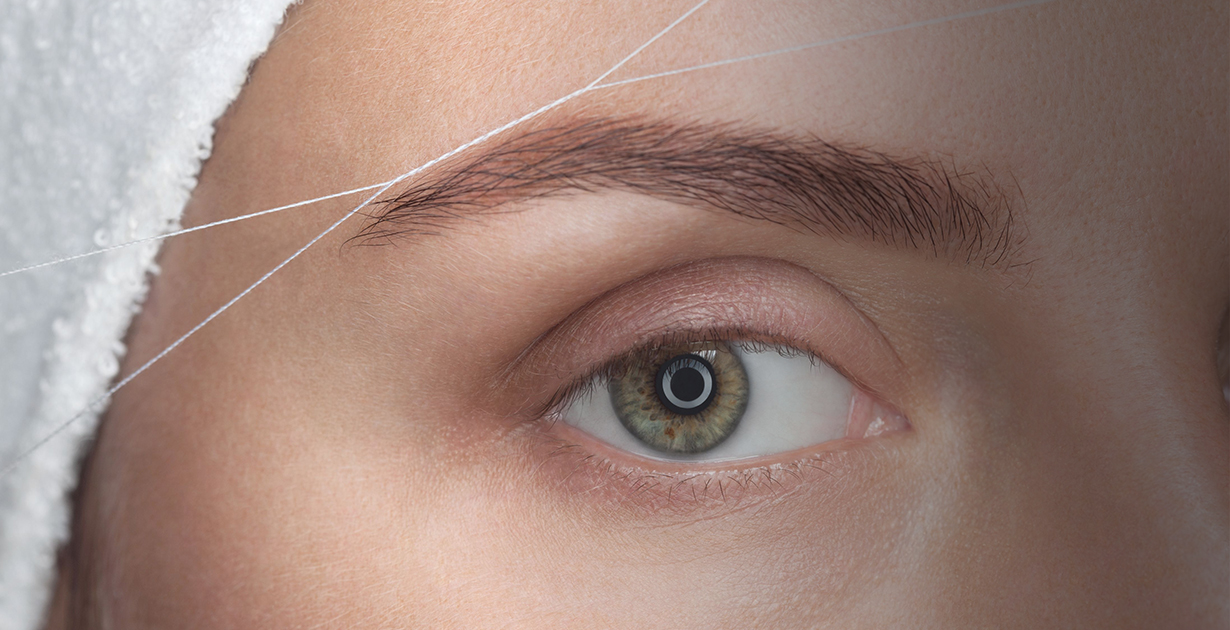 Communicate with a beautician such as Swagmee about the shape and size of your brows. We apply eyeliner, lashes, and eyebrow Threading home service at the Swagmee at home salon.
Eyebrow threading contains no chemicals and has no negative side effects. A threading artist goes through your hair row by row, creating a clean and defined shape for your brows.
Threading removes only hair, not skin. Waxing removes an upper layer of skin from your skin, causing wrinkles to appear before their time. To soothe the area, apply a soothing gel containing rosewater, aloe vera, or tea tree.
Threading traps and pulls the tiniest hairs, even those that are difficult to grasp with your best tweezers. When plucking, you can be as precise as your patience (and time) will allow.
You can conceal puffiness with foundation, but you should avoid wearing makeup for a few hours later. It is so precise that it can remove hairs finer than those removed by waxing or plucking. However, waxing is much more difficult to achieve a precise finish. It's also not appropriate for some people, such as those with sensitive skin, those undergoing chemical peels, or those who use retinol.
While selecting a salon, ensure that the beautician is experienced and that the salon is clean and safe. Many things are done to achieve attractive eyes. Waxing and plucking can frequently result in stray hairs around your brows. Its origin is unknown, but women in India have used it for centuries as a simple method of removing facial hair. Some approaches are more gentle than others. If you catch stubborn hair, plucking can make your eyes water. Threading is more tingly than anything else because it is so quick. You might wince once or twice, but that's about all there is to it. Try it with swagmee where you can believe us for doing the best and painless threading in the comfort of your own home.
Threading your brows is the most precise way to shape and clean up your brows. The most beautiful feature of our face is our eyes. You will never break out or experience an allergic reaction. Threading or waxing your brows when there is dirt or oil buildup can result in post-treatment pimples. Before beginning, a trained beautician will ensure that your skin is clean.
Even with all of the advantages of threading, waxing is not going away. Everyone wants to be noticed by the public, but only a few are blessed with that vigour in their eyes. Because there is no need for intensive skin preparation or the use of additional products, It has become a popular method of hair removal. We want the world to see our beautiful eyes, not just what we see with them. Unlike tweezing, eyebrow shapes is much less painful and removes a large number of hairs at once rather than one at a time.
A long piece of thread is usually twisted into a mini-lasso shape. This will only frustrate your skin. And brow threading is one of the beauty techniques that is currently gaining popularity in the Western world. Threading is quick, and under the supervision of a professional, they can quickly and efficiently remove hair lines, greatly speeding up the process.
The soft cotton string is also free of harsh chemicals, unlike other hair removal methods. Those with sensitive skin may benefit from this. You can also save time by downloading the Sagmee Salon at Home application, which allows you to receive the best salon services at your convenience. Threading does not use the harsh chemicals found in waxing, which is ideal for sensitive skin. Your skin may itch slightly after the procedure, and you may notice redness or changes in pigmentation for a short period.
The most significant advantage of threading is its precision. It is the primary tool used to remove facial hair. For healing and relaxation, the western world has been exploring eastern philosophy. It is not as painful as waxing or plucking, but it is still painful. Make sure that the salon's thread, brushes, and scissors are new and sterile. As a result, it is more precise than waxing for shaping brows. Threading, as opposed to waxing, removes even the finest hair.
Threading is less painful than waxing.
Threading is suitable for hair removal on a flat surface of the skin, such as your brows, upper lips, and chin, but it is not suitable for hair removal on the bikini line. You can achieve any brow shape you desire while maintaining a perfect arch every time. To pick up hairs one at a time, the aesthetician holds one end of the string between their teeth and rolls the other end over the hair follicles.
FAQ's
How does threading provide a specific shape?
Threading can remove an entire row of hair, resulting in a more defined shape and a straighter line.
Is it Frustrating?
Depending on your skin's sensitivity, it may be slightly painful, but it is far less painful than waxing or tweezing.
What parts of the body can be threaded?
Threading can be performed on any part of the face. The eyebrows are the most commonly threaded hair, but you can also thread your chin, upper lip, forehead, neck, middle brow, and sides of your face.
Is it safe to thread?
Without a doubt! In fact, many people consider threading to be the most sanitary and long-lasting hair removal method available! Simply put, we use anti-bacterial 100% cotton thread. That's it!
Can I use makeup when going for threading?
Avoid wearing makeup when getting your brows threaded. Add no makeup to your brow threading appointment. No kajal or a thin liner, either.