INTRODUCTION
This Karwa Chauth, why not try something new to look your best? There are so many options when it comes to dressing up and doing your makeup – you can go subtle or glam, traditional or trendy. But no matter what you choose, make sure you keep these top tips in mind.
Experiment with different makeup looks until you find one that you love.
Don't forget to accessorize! A pretty scarf or necklace can add a lot of personality to your look.
Stay hydrated and eat healthy throughout the day – you'll need all the energy you can get for the big night!
Get a good night's sleep before Karwa Chauth – nothing wrecks your look worse than fatigue!
Take care of your skin with a good skincare routine. This will help keep your makeup looking fresh all night long.
Have fun with it! The most important thing is to feel comfortable and confident in your skin.
Want to look like a goddess for Karwa Chauth? Swagmee's expert professionals can assist you with that. It is widely recognized as the best "salon at home" service in Greater Noida, Swaran Nagar, Surajpur, Pari Chowk, Gurjinder Vihar, Surajpur Industrial Area, and Golf Course.
WHAT IS THE IMPORTANCE OF KARWA CHAUTH?
Everywhere in the nation, women celebrate Karwa Chauth as a time to pray for their husband's long life, good health, and success. Karwa Chauth is significant to almost all regions of the country.
On a full moon day, the ladies observe Karwa Chauth by fasting from sunrise to moonrise. After praying for the longevity of this husband and also praying to the moon god, the ladies then break their fast.
It's that time of the year again! Karwa Chauth is just around the corner, and you want to make sure you look your best. But what are the best tips for looking your best?
Well, we've got some top tips for you. First of all, pay attention to your dressing style. Put on an outfit that makes you feel beautiful and confident.
And don't forget about your makeup. Make sure your skin is well hydrated, and use a light foundation to give you a dewy finish.
You'll be prepared to rock Karwa Chauth in style when you complete your ensemble with some understated jewelry and bold lip color.
DRESSING FOR KARWA CHAUTH
Now, it's time to dress up for the occasion! This is a big day, so you want to make sure you look your best.
Choose bright colors: This is a festive day, so go all out with your outfit. Opt for bright colors that will make you stand out.
Wear traditional clothes: If you have traditional clothes that you can wear on Karwa Chauth, go for it! You'll feel more connected to the holiday and your husband will love seeing you in them.
Accessorize well: Make sure everything from your earrings to your shoes coordinates well with the rest of your look.
Pay attention to your hair and makeup: these are two of the most important aspects of any outfit. Make sure your hair and makeup are done well and enhance your features.
MAKEUP FOR KARWA CHAUTH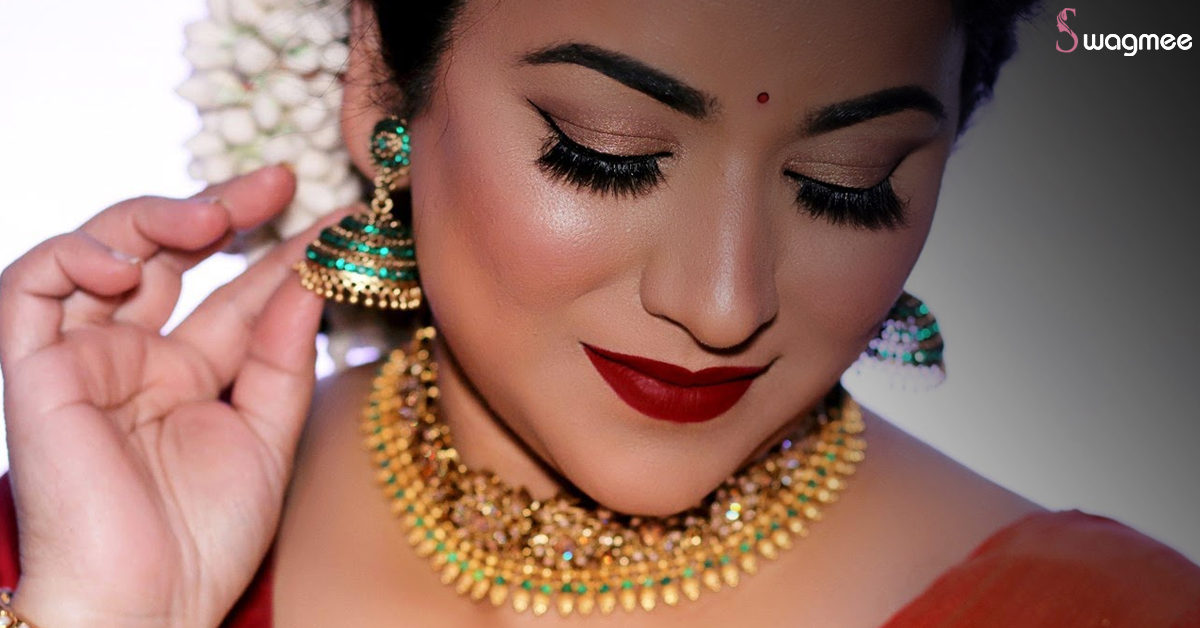 So, it's the big day and you want to look your best. Here are a few tips for doing your makeup right:
Kohl is your best friend. Make sure to line your eyes with a kohl pencil to make them look bigger and brighter.
Go for a nude eye shadow. A light brown or nude eye shadow will look natural and will complement your outfit.
Curl your lashes and apply mascara. Your eyes will appear brighter and more alert as a result.
Bronzer is your friend. Apply a light bronzer to the apples of your cheeks to add some color to your face.
Don't forget the lip balm! Choose a natural shade of lip balm that will hydrate your lips throughout the day.
HAIR FOR KARWA CHAUTH
This year, surprise your husband by looking your best at Karwa Chauth. Here are a few hair tips to help you out:
Ensure that there is no product buildup and that your hair is clean.
Tie your long hair up in a bun or braid. This will keep it out of your face and make it easier to manage.
If you have short hair, try a sleek ponytail or a half-up, half-down style.
For extra volume, use a curling iron or hot rollers to add waves or curls to your hair.
Now choose from the best hairstyle and get your hairstyle done nicely and to right at your doorstep with the best "hair care services at home" in Noida, Greater Noida, Ghaziabad, New Delhi, and Faridabad. Book your Karwa Chauth packages with Swagmee today and take advantage of unbelievable deals.
KARWA CHAUTH TRADITIONS
You want to look your best because Karwa Chauth is soon approaching. But what does that mean?
There are a few traditional ways to dress for the occasion, and most of them involve wearing bright colors. You could go with a sari or a lehenga, or if you're feeling adventurous, you could try something new like an Anarkali.
Make sure whatever you decide on gives you a sense of confidence and beauty. Remember to accessorize as well! On Karwa Chauth, jewelry is a must, so pick pieces that express your style.
Keep your makeup natural-looking by choosing hues that will bring out your features. The eye-catching quality of kohl eyeliner makes it a popular choice for Karwa Chauth. You can finish your look by adding some lip gloss and blush.
CONCLUSION
There you have it: a foolproof guide to putting your best foot forward during Karwa Chauth! It might sound cliché to say that your inner beauty shines the brightest – but there's real truth in that statement. Your power to make others smile doesn't lie in the choices you make with your clothes or makeup, but in your presence and kindness as a person. And it doesn't matter whether you decide to go dressed down or glam for Karwa Chauth: no one is going to judge you for what you wear, just how much fun you're having. So relax, enjoy the day, and most importantly: make sure everyone has a good time.
FAQ's
Does Swagmee provide special Karwa Chauth packages?
Swagmee offers special Karwa Chauth packages starting at just ₹499. You can book your package using the provided link. Karwa Chauth Special
What is the best hairstyle for Karwa Chauth?
All of the hairstyles mentioned in the blog are fantastic, but if you must choose just one, go with the traditional long hair tied up in a bun.
What is the most auspicious color to wear for Karwa Chauth?
Red is arguably the most popular and auspicious color for the occasion.
Can we book more than one swagmee service at once?
Yes, you certainly can! You can book as many services as you want at the same time.
Can we call Heena Services at home for Karwachauth?
Yes, you are welcome to use our best Heena services for any occasion.