Everybody comes across the fact that facials are for women or salon visits are meant for girls. Facials aren't just for blushing brides; anyone who wants a healthier glow for their skin can benefit from one. Facials for men is not a popular concept. These days the busy schedules don't allow us to enhance our look or maintain ourselves. That is why we have created a guide to take you up to the world of facials and their benefits that includes exfoliation, extractions, steam, removal of blackheads and many process. These tips can help motivating oneself to not only visit salons but arrange salon at home visits for quick and desired results.
What Exactly Is A Facial?
A facial is defined as "a treatment performed by a qualified professional designed to address the skin." says Swagmee. Cleansing, exfoliation, massage, extractions, and a mask are usually included. These days, the term "facial" is more of an inclusive term. They were primarily used to treat acne.
A single treatment is not enough for a facial. Men's facials have moved from the spa to the dermatologist's office. Laser facials and acupuncture are now included in this category. The impact is the primary distinction between a spa facial and one performed by a dermatologist.
How Frequently Should Men Get Facials?
Facials for males should be performed 4 to 6 times per year in an ideal scenario. Put simply, you can go every two months or when the seasons change. It is the best time to prepare your skin for the change in weather.
Reasons For Men To Get A Facial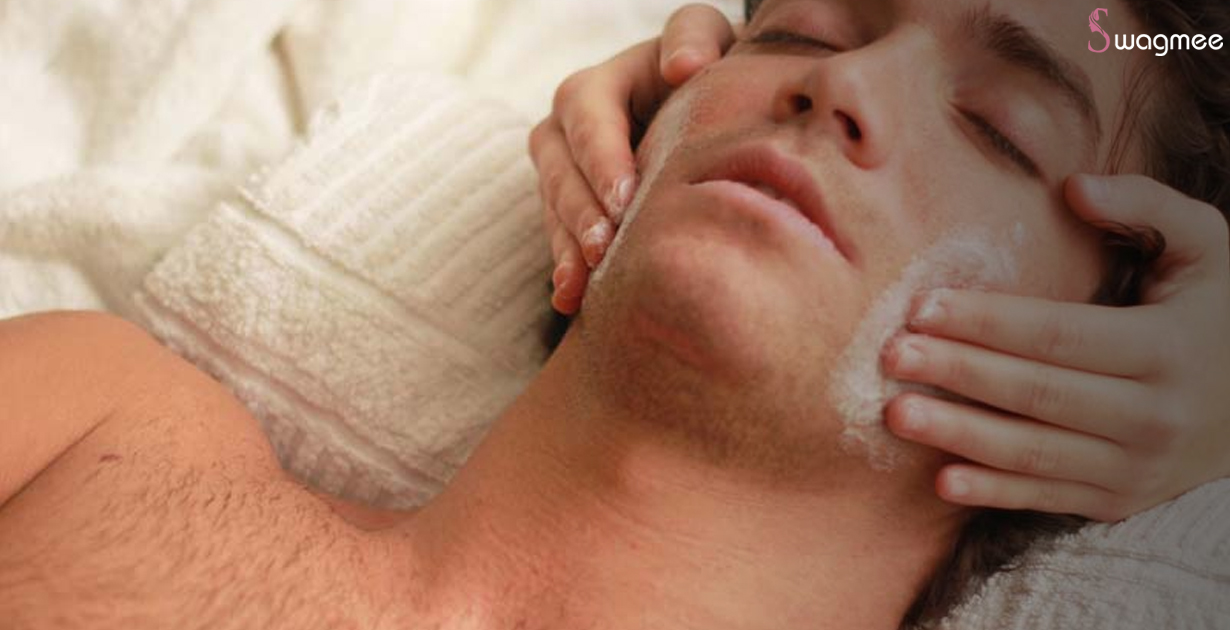 A facial is like a fairy godmother; it can completely transform your skin in a matter of minutes. Here are some of the reasons why men need facials:
1. Facials Support in Deep Pore Cleaning
Extraction is the process by which the beautician removes blackheads from your pores, bursts zits, and removes pimples. It's not like squeezing a pimple. The benefit of extraction is that the beautician can use retinol to clean the pores and reduce their size, improving the overall appearance.
2. Facials Provide More Effective and Safe Exfoliation
Exfoliation improves the penetration and effectiveness of the products you use by removing dead skin cells, improving skin tone, reducing pore size, and improving the penetration and effectiveness of the products you use. Professional exfoliating products, as compared to home scrubs, can reach deeper layers of the skin and remove more dead skin cells.
3. Facials Boost Your Perception of Your Skin
When you get a facial, the expert will take a closer look at your skin through his expert lens and inform you about the type of skin you have, how to care for it, and what products to use.
4. Professional Tools for Your Skin
So, apart from using superior products during a facial, beauticians and dermatologists use instruments to truly improve your skin. There are several LED lights being used, and some of them use radio frequency, electric current, and ultrasound.
Male Facial Features
There are many different types of facials for men that cater to different skin needs:
1. Acne on the Face
The main advantage of this type of facial is, of course, the reduction of facial acne. The therapy should help to restore skin balance by reducing redness and inflammation. Using regular treatments can help you avoid recurring outbreaks.
2. Facial Anti-Aging
In facials, hyaluronic acid, collagen-infused serums, and glycolic acid are all used to help restore skin firmness and reduce the appearance of lines and wrinkles.
Getting these facials on a regular basis may help your skin look younger, suppler, and smoother.
3. Facial Deep Cleansing
Aside from having blemish-free skin, a Deep Cleansing Facial treatment removes toxins, excess oil, dead skin cells, and dirt from your skin, making it feel and look fresher and giving you that youthful radiance.
4. Facial Exfoliation
Exfoliation is the removal of dry, dead skin cells from the surface of the skin. It's one of the most important parts of your daily skincare routine, not just for your face but also for your entire body. Exfoliation can help with a variety of skin issues and increase blood circulation, resulting in healthy and radiant skin.
5. Facial with Oxygen
As we grow, the oxygen levels in our skin naturally decrease, contributing to wrinkles and fine lines. This is where an oxygen facial comes into play.
This specialized skin treatment is intended to rejuvenate your face by replenishing oxygen levels in your skin, smoothing out wrinkles, and restoring oxygen levels in your skin.
How to Get Ready for a Male Facial
Preparing a facial is not a difficult task. All you have to do is keep a few things in mind before getting a facial as there are chances that what you are expecting from your facial may have flaws.
1. Simply shave it
Shaving is a natural form of exfoliation, so it is beneficial to shave for better results. Do not, even so, shave right before your appointment. Shaving can cause skin irritation and sensitivity to cosmetics, so shaving the day or evening before is a far better option.
2. It Isn't Magic
Prepare not to be excited. You may well not notice the effects of the facial right away. Depending on how it appeared previously and your specific skin issues, your skin will most likely appear more moisturized and smooth. Exfoliation or extractions may result in some redness, but this is usually temporary.
3. Without discomfort
It may be that you have taken many facials but sometimes these exfoliation and extractions may cause you irritations. But with a swagmee salon you can take facials in the comfort of your own home. At ease, you set your appointments as per your hectic schedules and groom yourself right at your door step. The facials are not massage, it is the method of extraction and exfoliation.
Now you are ready for your facial. Be sure to follow all the steps and rebook your appointment before your next service as proper facial follow up helps you better understand your skin and what type it is. So be sure to book it before the date passes.
FAQ's
What Facial Is Best for Men?
Consider your skin type and the problem you want to address when deciding which facial is best for men. Look for products that are appropriate for your skin type. For the best results, cleanse and moisturize your face twice a day.
What is the duration of facial effects?
Because the effects of facials can last for 4-6 weeks, they should be scheduled every 4 to 6 weeks. To reap long-term benefits, regular care should be combined with a competent routine.
Is it necessary to shave before a facial?
Yes, because shaving is a natural exfoliator, it is best to shave before a facial. However, make sure you shave at least a day before your facial and not right before.
Can I Exercise After a Facial?
If you haven't worked out in a while, you might be tempted to do so before your facial, but it's best to wait until the next day. Sweat and increased skin heat may irritate your newly healed skin, as well as harbour bacteria.