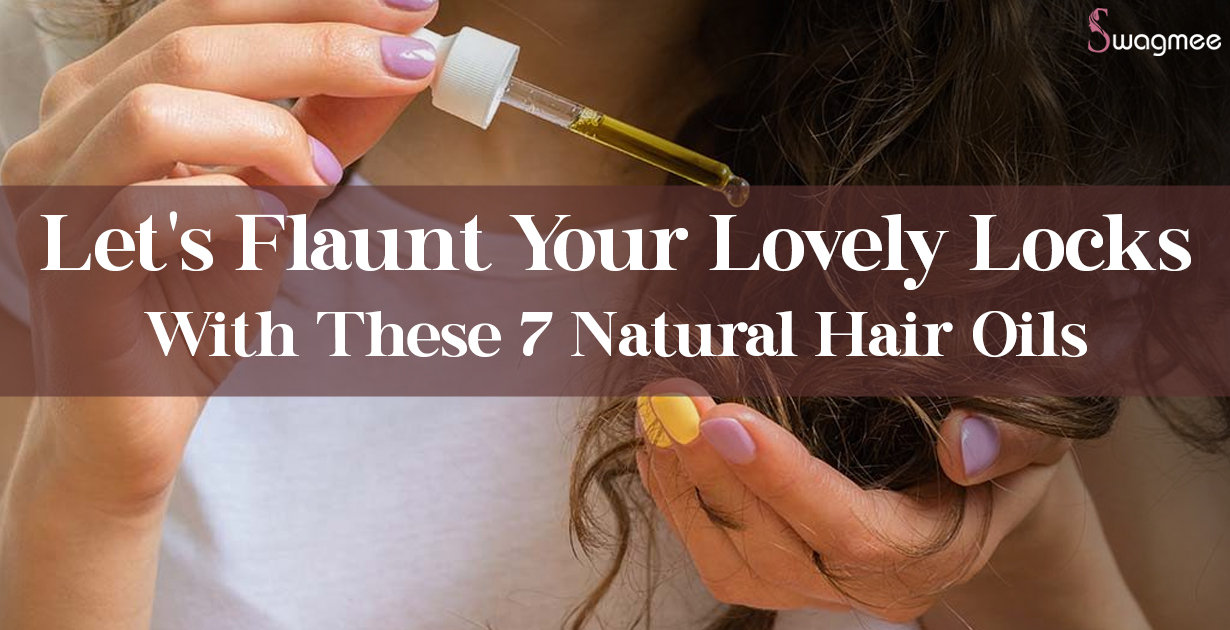 You experiment with numerous hair treatment at home for healthy & lustrous hair but you usually overlook the method that has been practiced in India for an extended period Massaging your scalp with oil has been practiced in India for years, and you usually see your mother or grandmother that they always advise you to massage the hair with different hair oils. Well, you cannot massage your scalp with numerous oils at a time as every oil affects your scalp or hair in a different way. Therefore, it is important to apply the correct hair oil as per your hair & scalp needs. In this blog, we will understand the importance of different hair oils, what is the benefits of the oiling, and what is the appropriate way of oiling the hair?
Benefits Of Hair Oiling
In your daily life, you usually tackle a lot from your daily travel, overloaded workload, and so on. In such hectic conditions, you overlook the pampering of your hair, sometimes, you even overlook the oiling of your hair and that can result in an excessive amount of hair breakage, split ends, and frizzy & dull hair. It is very important to oil your hair properly because oiling hair has infinite benefits. Below are some benefits of the hair oiling:-
It protects your hair from daily wear & tear.
OIling your hair sometimes can reduce hair fall.
Oiling keeps your scalp healthy.
It hydrates & moisturizes your hair.
It maintains your hair gloss & shine.
It enhances your hair texture and keeps them healthy.
Appropriate Way Of Oiling Your Hair
Hair oiling is not something that is limited to its benefits, it is very essential to know about the proper technique for oiling your hair. Appropriately massaging your scalp is a very essential step in a hair treatment at home for retaining a healthy & dandruff-free scalp that can lead to healthy hair growth. The correct way of oiling hair is as follows:-
Massage the oil into your scalp in a circular motion with your fingers.
Apply the leftover oil to your hair using your palms.
Overnight, cover with a towel or shower cap.
The next day, shampoo your hair while it's still damp and thoroughly rinse it.
Maintain regular circumstances. Coconut oil can also be used to condition the hair.
What Kind Of Oil Should Be Used According To Your Need
The most important thing with a hair treatment at home is to use the correct oil as per your need. Most of you are unaware of the fact that you should use the oil as per your hair conditions. It is very important to know about your hair type & scalp type. Here is a list of various oils that you should apply to your scalp for healthy & luscious hair.
Virgin Coconut Oil
Virgin coconut oil is the most popular hair oil on the list of hair care at home, particularly in South Asia. Lauric acid is its main fatty acid. It has a high affinity for hair protein, which means it bonds with it and may easily penetrate the hair shaft. As a result, it is one of the greatest oils for reducing protein loss in both damaged and undamaged hair. Due to its low molecular weight, the oil is light and may easily penetrate the hair shaft..Coconut oil is a wonderful choice for most hair types because it can deep condition and provide natural protection.
Sesame Oil
Sesame oil lowers frizziness and may help prevent split ends in dry and frizzy hair. It is rich in calcium, copper, phosphorus, iron, magnesium, manganese, and zinc. Sesame oil also deeply conditions the scalp and smoothes the hair shaft. Its antibacterial and antifungal properties may help in the prevention of dandruff.
Almond Oil
Almond oil is thinner than sesame oil but thicker than coconut oil. It is a fantastic oil for your hair care. Almond oil contains vitamins B, K, and E. Vitamin E contains anti-oxidant properties. It increases hair growth in those who took vitamin E orally for a specific period though it's crucial to remember that outcomes may vary greatly when applied directly to the hair. Biotin is another name for vitamin B7. It may also help in hair development, albeit evidence is limited, particularly when applied topically.
Moroccan Oil
Moroccan oil is another name for argan oil. It's abundant in vitamins A, C, and E, as well as antioxidants and omega-3 fatty acids. It works as a natural conditioner and strengthener for the hair that gives your hair natural moisture that improves your scalp health too.
Bhringraj Or Amla Oil
Aside from the oils stated above, bhringraj oil or amla oil can be used on oily or dry hair. Both oils have a cooling effect and aid in the balance of your dry and oily hair. It also reduces hair loss. It reduces premature greying and promotes healthy hair growth.
Jaborandi Oil
Jaborandi is a tropical forest herbal plant from South America that is extensively used in shampoos and gels. It combats dandruff & itchiness that promotes hair growth. It is more therapeutic than most oils and may help in hair growth, scalp hydration, and the prevention of premature graying.It moisturizes the hair and may aid in the prevention of split ends and dandruff.
Moringa oil
Moringa oil is beneficial to dry hair. It includes oleic acid, which makes it a fantastic hair moisturizer. It also strengthens your hair follicles that nourishes your scalp. It is best to combine moringa oil with a carrier oil, such as almond oil.
Hair oiling is an Ayurvedic medical ritual that promotes healthy hair. Regular oiling may protect your hair from pollutants and the toxins included in shampoo. It may also improve hydration, gloss, and shine, as well as prevent hair loss. It is advised to oil your hair at the night for reaping the maximum benefits of the oiling. Besides, you can also book yourself for the salon at home Sainik Colony, Gurgaon, Faridabad, Ghaziabad, Noida & Greater Noida, and indulge yourself in the pleasures of several haircare treatments for women at your doorstep at a reasonable cost with the professional services. So, what are you waiting for? Visit our website and book your appointment now!
FAQ's
Other than hair oiling, what are some other ways of nourishing the hair?
Here are some other ways of nourishing the hair, other than oiling:-
Use chemical-free shampoo and conditioner
Dry your hair naturally
Use a wide comb while combing your hair
Do frequent haircutting
Wash your hair regularly
Why is oiling well for the hair root?
Oiling plays a vital role in the wellness of your hair root. It strengthens your hair. It helps to keep your scalp healthy. It hydrates the hair follicles.
What are some hair care services offered by Swagmee?
There are numerous hair care services offered by swagmee:-
Henna Application ( For Short & Long Hair)
Hair spa treatments
Root Touch-ups
What is the natural way of softening the hair?
Massage your scalp with hot oil can soften your hair naturally.
Which hairstyle should I wear while sleeping?
Generally, it is advised to make a ponytail before you step onto the bed.