Who wouldn't want to look stunning and perfect on their special day, whether it's your wedding or a family wedding? Everyone wants to look amazing on their D-day. However, you may be perplexed about the steps or things that must be included in your pre wedding package. The pre-bridal package provides everything you require for flawless and healthy skin. The Swagmee pre groom package provides you with all the services to make you look gorgeous on your big day.
The package includes various services. The initial steps in the basic session are:
Threading: Using a thread, you can achieve a cleaner appearance and fulfill a basic requirement by giving your eyebrows good grooming and by getting rid of any extra unwanted hair on your upper lips, chin, and forehead. Before your wedding, it is advised that you schedule yourself twice a month for this procedure. Depending on your comfort level, waxing or threading can be used.
Bleach: Choose the bleach based on your skin type, whether it's facial bleach or full-body bleach. Depending on the kind of facial that suits your skin best, you can take gold bleach or fruit bleach. Before applying bleach to your face, It is highly advisable to do a patch test.
Facial: If you want your skin to be cleaned deeply and nourished then start taking regular cleanups & facials. You should start taking it 4-5 months before your wedding. This session gives you a gorgeous glow and improves your skin condition. It prepares your face for makeup and gives you a natural glow.
Hair spa: Hair spa helps in making your hair frizz-free, and healthy. It may also reduce dryness. Your hair will feel more nourished, smooth, and soft. Moreover, it will be easy to make hairstyles for your wedding. You can book yourself twice or thrice before your wedding for attaining silky & smooth hair.
Haircut: Get a new cut a few days before your wedding so that it will be crisp and tailored to your face shape. Alternatively, you can trim it a week before your wedding if you simply want to get rid of your split ends.
Hair color: Changing your hair color three months before your wedding will allow you to determine whether the new color suits your personality or not. Additionally, some hair dyes can cause your hair to frizz and you might be allergic, so it's better to conduct a test before coloring your hair.
Body waxing: To attain buttery-soft & clean-n-clear skin, you should schedule your waxing at home appointment one week beforehand. You can use gentle skin moisturizer for the aftercare so that your skin would become even softer, smoother, and more radiant. Waxing is a rapid way to remove your body hair, and leave the skin looking cleaner and youthful.


Body spa: Get to the spa one to two months before the wedding. The massage will bring a radiant glow to your skin and make it soft and supple. Before applying any type of massage cream, conduct patch tests so that you wouldn't experience any type of skin redness.
Manicure: Your hands are the second-most-noticed body part after your face but nail polish and mehndi alone won't make them look attractive. You need to make more effort. Book yourself a week or 3-4 days before your wedding for a manicure at home session and treat your hands to look beautiful.
Pedicure: Who doesn't want beautiful feet on their D-day? To make your feet more beautiful you should book yourself for a wonderful pedicure session. With Swagmee affordable pedicure home session, you can attain beautiful feet at an affordable cost right at your convenience.
Several months before your wedding, make an appointment for your pre wedding grooming session. Knowing what works for your skin and hair and fits within your budget is essential for properly caring for your hair and skin. Pre-bridal packages are offered by many salons, but you should shop around to find the best deal for you because prices and treatments may vary. The Swagmee pre grooming package, however, takes care of the majority of your issues; it offers you all the services following your skin type after testing and evaluating your requirements.
So, what are you waiting for? Book your pre grooming package and book yourself for a salon at home Brij Vihar, Ghaziabad, Delhi, Faridabad, Gurugram, Noida, and Greater Noida and make your wedding day extra special and memorable.
The Aftercare Tips: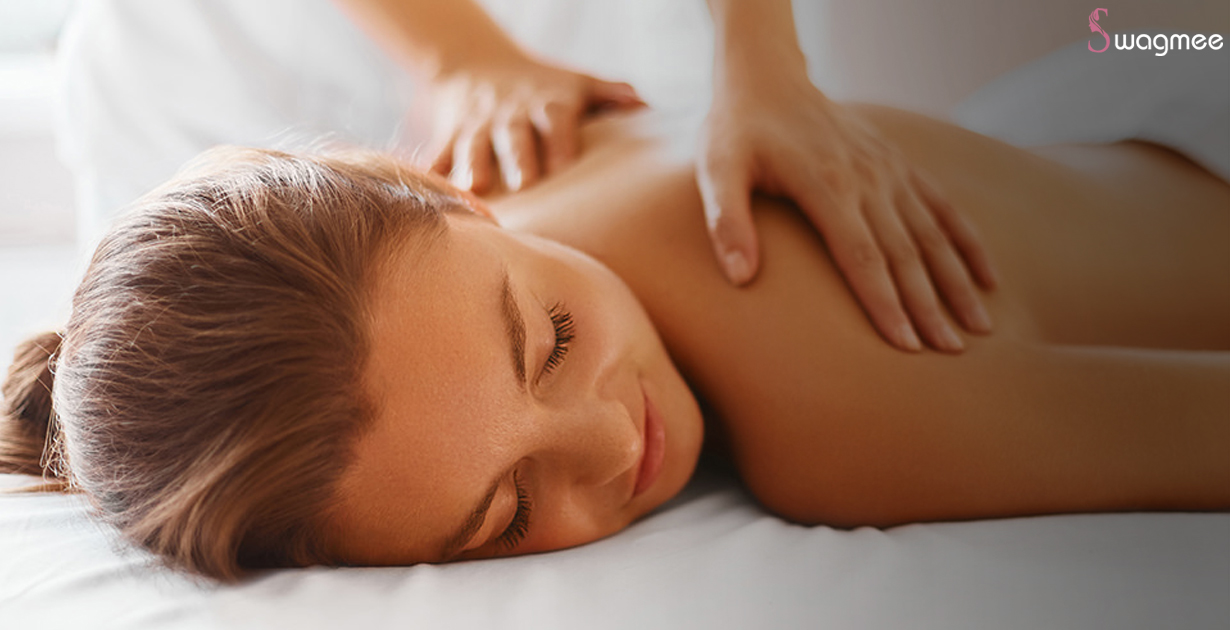 Try To Avoid Sunlight: Avoid going outside a few days before your wedding to prevent sun damage and tanning. Also after the pre bridal package, the skin may become more sensitive and prone to acne & pimples. After the session, your skin pores enlarge and capture dirt which might cause infection. Additionally, you don't want all of your efforts and sessions to be in vain. Apply sunscreen whenever you go out and cover your face to protect yourself from harmful UV rays and free radicals.
Drink Plenty Of Water: Keep your body and skin hydrated, water is a very important source to flush out all the toxins even after the beauty session you need to drink a good amount of water daily to flush out the toxins from the inside cause no matter how much you take care from the outside the inner health reflects your outer appearance. At least drink 3-4 liters of water daily for that radiant glow.
Maintain Your Diet: Eating healthy foods, including plenty of protein, vitamins, and nutrients in your diet, and adding a lot doesn't mean packing on extra pounds. Balance your diet, seek the advice of a dietician, and learn how much to eat each day, what to eat, and what to avoid. You can watch a few videos on youtube about health or just simply consult. For that radiant glow, cut out the carbs and junk from your diet and consume a lot of fruits and salads.
Exercise/Yoga: Do some exercise or any other physical activities or you can just do yoga. Yoga is the perfect way to make your skin breathe and make it healthy and glowing. It relaxes the muscles and promotes body circulation.
Do not take any tension: Tension is something that people cannot see but feel. But you can see it on your face. It will give you dark circles, puffy eyes, and headaches but will not give you a solution. So try to not think much and bring your mind to ease.
Beauty sleep: Keep your sleep healthy. Your body, your mind, and your skin heal while you sleep so provide them a good amount of sleep of like 8-9 hours to avoid all the skin issues.
FAQ's
Why is pre wedding pampering important?
Before your wedding, taking a day to yourself can help to calm your mind and relax your body. It will serve as a sort of respite and refueling from the chaos of the wedding. The best way to make the most of this day is to spend some time at a spa. You can contact Swagmee's body massage spa services whenever you want if you don't feel like going out.
Why is facial necessary before a wedding?
Facials have several skin benefits. It provides nourishment, removes dirt, cleans your face, and gives you a glowing look. Also, when the facial is properly done, your makeup sets perfectly on your face with no discoloration or graying out.
How much sleep do you need for good skin, and why?
You should get at least 8–9 hours of beauty sleep without any interruption for healthy skin and a peaceful mind. Good sleep can make your skin radiant and healthy; it refreshes your look and may reduce skin problems such as dark circles, puffy eyes, and scars.
How long should you wait before beginning pre-grooming sessions?
Booking pre-wedding grooming services three to four months in advance is recommended. The maximum and minimum lengths are respectively 5 months and 3 months. Schedule the meeting at least three months before the wedding.
Why is it important to maintain your diet for healthy and glowing skin?
A balanced diet provides you with enough nutrition for good health, healthy hair, and healthy skin. Foods that are rich in vitamin C, antioxidants, proteins, and other nutrients provide you with a lot of skin and hair-related benefits. Eating healthy doesn't mean loading yourself with excess food; instead, maintaining a balanced diet is essential to get all the nutrients.