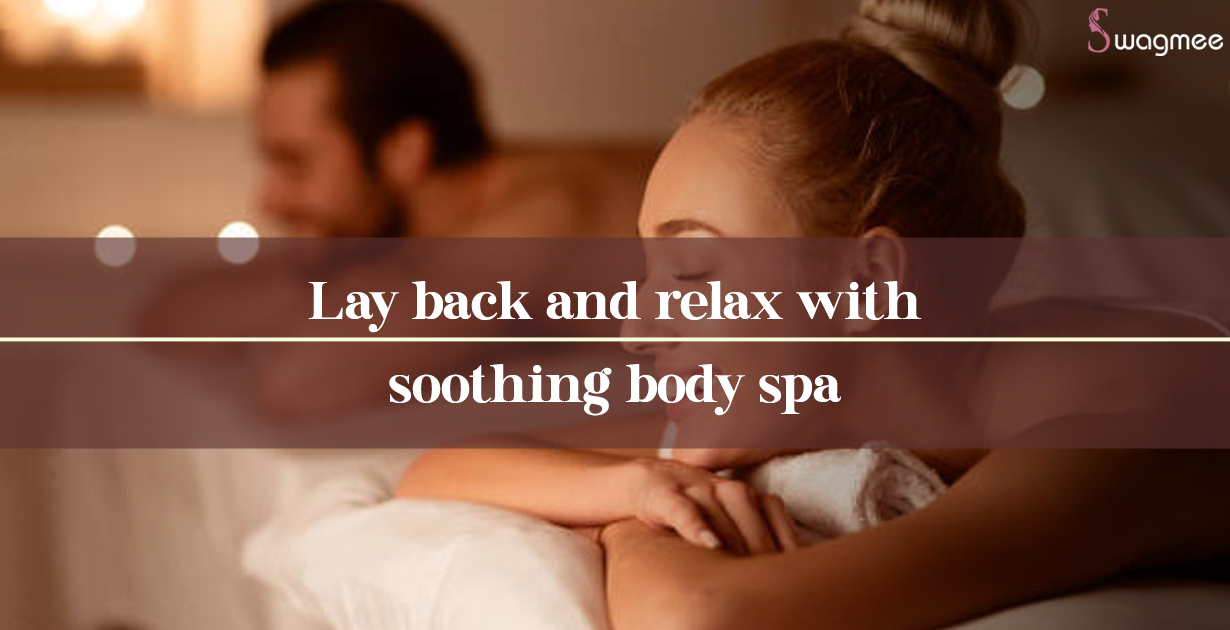 Spa therapy is a fantastic way to unwind and calm your body and mind. The best way to manage stress & body aches is to visit a body spa. A body spa at home is the most convenient to use. It is preferable to take a spa at home in comfort than to stand in line and travel to the location. With Swagmee you can reap the pleasure of seeking while considering all of your advantages. Its luxurious services ease up your mind and body and de-stresses you from all the stress.
Different types of body massage:
Thai Massage: Stretching, pulling, acupressure, and limb rocking techniques are all part of Thai massage. The masseuse uses his or her body, including the elbow, thumb, feet, palm, and knees, in this method. For people who have neck, shoulder, or back pain, this is the best option. It eases pain in muscles and joints, blood circulation, and spinal alignment. It has been used for a very long time and is an ancient form of technique.
Deep Tissue Massage: This style of massage concentrates on the body's deep muscles and tissues. It uses pressure and massage techniques to concentrate on the affected areas of the body. This massage is appropriate for those with internal pain and injuries; it also treats arthritis and stiff muscles. People who suffer from chronic pain might want to think about getting this massage.
Indian Head Massage: This type of massage concentrates on specific pressure points in the shoulders, arms, and upper back. Back pain, insomnia, anxiety, and other conditions are also eased by relaxing and releasing the tension in the tissues. Additionally, it improves blood circulation throughout the body and relieves tension in the back, neck, and shoulder muscles and it eases back, shoulder, and neck tension and encourages better blood flow throughout the body.
Four-hand Massage: The most calming type of massage is called a "four-hand massage," and it is given by two masseuses in perfect unison. This massage's vigorous, in-depth strokes effectively relieve physical discomfort while also calming the body and mind. You'll feel relaxed both physically and mentally after this massage session.
Stone Massage: In this type of massage, hot stones are used to treat certain body parts that are in pain. The stones are usually placed on the chest, spine, palms, shoulder, stomach, feet, and even face. Long, circular strokes, tapping, and other movements are employed in the technique. This massage relieves stress and improves circulation in addition to helping to treat chronic pain.
Aromatherapy Massage: This massage is more likely to be enjoyed by those who enjoy pleasant scents and surroundings. It assists in easing tension in the muscles, elevating mood, and lessening the signs of depression and anxiety. With soft and gentle pressures, some essential oils are applied during these techniques. An aromatherapy massage typically lasts between 70 and 90 minutes and concentrates on the head, shoulders, and back.
Trigger Point Massage: This type of massage concentrates on treating injuries, chronic pain, and stiff muscles. It targets the pain-producing trigger points and lessens discomfort in a specific area of the body. It also reduces tension and migraine headaches.
BENEFITS OF BODY MASSAGE:
Stress reduction: A relaxing spa session reduces stress and unwinds all chaos. The best part of taking a body massage is that the aftereffects last for a longer time like for days or sometimes for a week.
Enhances blood circulation: Your muscles become tense and stiff after a long day of work, blocking the flow of blood. Massage promotes proper blood circulation, relaxes the body's muscles, and relieves fatigue.
Pain management: Massage is a fantastic method for treating persistent aches and pains. To relieve your pain, you should seek the help of a qualified therapist who is knowledgeable about the proper methods for doing so.
Helps with lumps and toxins: Massage therapy removes toxins from the blood because it increases blood circulation, enables it to reach previously unreached areas, and facilitates the removal of toxins and lupus from that specific area.
Improves flexibility: Your body cannot make full movement due to muscle stiffness and strains. The therapy loosens the muscles so that it becomes flexible and strong.
Balanced sleep cycle: Massage is the best therapy to get your sleep back on track if you have insomnia or if something has disturbed your sleep cycle. Going to bed with relaxed and loose muscles will automatically improve your sleep since massages provide both mental and physical relaxation.
Boosts immunity: Massage lets the blood flow and improves the circulation of the body which leads to detoxifying and getting rid of lumps from the body, resulting in a better defense system.
Reduces tiredness: Massage therapy boosts immunity, provides better sleep, reduces muscle stiffness, and improves the sleep cycle which makes you feel energetic and less worn out.
Assists In Treating Depression and Anxiety: Stress, agitation, and lack of sleep are the main causes of depression and anxiety. All of these are decreased by massage, which also promotes sounder sleep, calms the mind, and releases endorphins that give you a jolt of energy.
Reduces swelling and pain due to any injury: In the event of an injury, professional massage therapists are hired to take care of your athlete. Within a few sessions, a skilled massage therapist eliminates all of your pain and swelling.
Getting a massage is not only a pampering treat but also a good thing for your health, it has plenty of benefits both physical and mental. Although massage is not a professional treatment for any particular disease, it does help with relaxing the muscles and pain. It is a technique of pressing, rubbing, and giving relief to your muscles, skin, and ligament. You can visit swagmee's website for seeking spa at home services and book yourself for a salon at home Arun Vihar, Delhi, Ghaziabad, Faridabad, Gurugram, Noida, and Greater Noida to de-stress your mind and soul at an affordable cost right at your doorstep.
FAQ's
What services does a body spa include?
A full body massage includes legs, arms, chest, thighs, neck, back, shoulder, etc. it is up to the customer what part they want to be massaged and what parts shouldn't be touched. It's better to book for a back, neck, and shoulder if it's for your first time and if you feel comfortable with the touch then the next time you can go for a full body massage.
What is the best time to take a massage?
The best time is usually after exercising because of your body or if you want to sleep then you should take it late in the day or evening so that you can go to sleep after that. People have different reactions to massage. Some are sleepy and some feel energetic after a massage so choose your time according to your comfort.
Why should spas be taken regularly?
A spa is beneficial for both body and mind. It eases your muscles' pain and gets rid of extra work pressure. Some amazing benefits of spas are:
De-stressing: It helps in reducing physical stress and mental stress. It clears your mind, provides relaxation, reduces headaches, improves the sleep cycle, and reduces distraction.
Radiant Skin: Spa therapy is beneficial for your skincare as it removes toxic elements from the skin and dead cells, prevents wrinkles, cleanses your skin cells, and hydrates your skin.
Relaxes the Body: It relieves you from body aches, removes back pain, muscle tension, and body stiffness, and helps in recovering from injuries.
Blood Flow: Improves blood circulation, blood pressure, and cardiovascular health.
What should be taken care of while going to a spa?
Make sure you remove your makeup products from your skincare products.
Take a quick shower before using the spa.
Drink plenty of water before and after the session.
Check on the spa dress code.
Don't wear outdoor shoes.
Do not apply perfume and deodorant before and after the spa.
How are spas beneficial for body health?
Spa therapy improves the blood circulation of the body, relaxes the tissue and releases stress and tension, cures chronic pain and injuries in the body.
How are spas beneficial for mental health?
Reduces mental stress.
Helps in fighting depression.
Relaxing the mind and bringing it up at ease.
Helps in improving the sleep cycle.